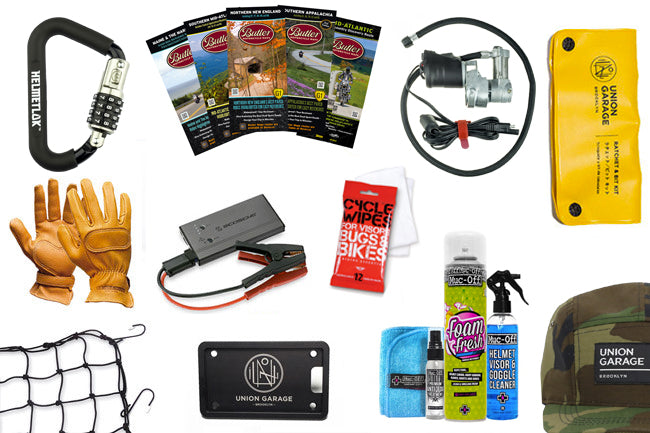 2019 Gift Guide: 30 under $100
The handy annual sub-$100 gift-guide for picking out a perfect, pre-screened present for that motorcycle-riding loved one in your life—without breaking the bank.
Cycle Wipes — $9.95
For routine helmet cleaning on the go, look no further than Cycle Wipes. This packet of 12 wet wipes is specially formulated for motorcycle visors, plastics, headlights and turn signals. The resealable packet fits into a jacket pocket or can live unnoticed at the bottom of any bag or even under your seat, and it's safely formulated specifically for the polycarbonate shields used on motorcycle helmets.
---
Butler Maps — $15
Go full analog with Butler Motorcycle Maps. These state and regional moto-specific maps are the product of tens of thousands of miles of scouting. Each one is scrupulously compiled and beautifully presented. They're tear-proof, waterproof, and even the "G1" gold-standard street maps contain plenty of dual-sport tracks in addition to the best paved routes around. Each map is riddled with local-knowledge and hidden gems, like restaurant picks, historical sites, and dirt roads worth the detour.
---
MotoPressor Puncture Repair Tool  — $49
The MotoPressor Puncture Repair Tool combines the four tools essentials for tubeless tire repair into a single handy-dandy multi-tool. The tool contains a pair of pliers, a rasp, an insertion tool and a utility knife, which is all you'll need to fix most punctures. And because the repair strings are pre-vulcanized, you can forget about that pesky little tube of glue.
---
S100 Cleaner — $10-60
The S100 line of cleaners and polishes is the go-to cleaning product for motorcyclists in the know. The company's various products have been shared by word-of-mouth for years. The lineup includes three standout bottled cleaning and polishing products, or pick up a complete all-in-one cleaning kit—a perfect sure-fire gift for any motorcyclist.
---
Rok Straps — $15-26
Bungee cords are for the birds. Your best bet for inexpensively toting an extra layer, helmet, or even small bag of groceries is a $10 elastic mesh cargo net. But for serious loads, look no further than Rok Straps—available in three sizes. Even the smallest set is capable of holding heavy loads in place at death defying speeds, however we recommend the big 60" set, that'll hold anything from a 6-pack to the largest bag (or bags) you could conceivably load onto your pillion seat.
---
Emergency cable repair kit  — $18
Meet MacGyver in a can. If you've ever had to sit on the side of the road waiting for a rescue because of a stupid snapped cable, this Emergency Cable Repair Kit needs no further explanation. It comes with two steel cables and enough ferules and miscellaneous end-bits to bodge your way out of a jam. This is by no means intended to be a permanent solution but it'll give you a fighting chance at getting back on the road after a clutch or throttle cable snaps.
---
"Lone Rider" by Elspeth Beard — $20
If you missed this pioneering motorcyclist's presentation at the shop this fall, you can still catch the archived live-stream on the website. And the best complement to hearing her live cliff notes is to read her new memoir, "Lone Rider," which recounts what it was like to ride clear around the world on a motorcycle solo in 1982.
---
Ultralight Travel Backpack — $25
This packable backpack fits in the palm of your hand—or stows under your seat—but deploys in seconds to offer 30 liters of helmet-swallowing storage on the fly. It'll carry just about any full-face street helmet. Or a basketball, or groceries on the way home, or just a six-pack, or two. This bag-in-a-bag is constructed from strong Tri-Max nylon with embroidery style over-stitching for added strength. Perfect for the motorcyclist on the go.
---
Battery Tender Universal Trickle Charger — $45
We've used and sold Batter Tender trickle chargers for years. These dead simple devices let you keep your battery topped off when parked for longer periods of time. Plus, their included SAE fused adapters allows you to not only plug into a Battery Tender, but also easily use key accessories: like a 
USB charging adapter,
or the 
nifty Voltage meter.
This new gold-standard "Selectable 800" model makes it easy. After you plug it in, toggle the button between clearly marked "Lithium Ion" or "Lead Acid." Set it and walk away – it'll automatically toggle from charge to "float" mode to keep your bike's battery happy and ready to go.
---
Union Garage 5-panel Hat — $25
These 5-panels are 100% made in USA—the hats are from Jersey, the labels are embroidered in North Carolina, and they're sewn together up in Harlem. There's a leather strap on the back with a cinch-clasp—one size fits all.
---
Muc-Off Helmet Care Kit — $40
This purpose-built, comprehensive helmet cleaning kit contains everything you need to give your trusty lid the compete spa service it deserves. It even comes in a nice presentable box—making it a sure-fire successful gift for any motorcyclist with the sense to wear a full-face helmet.
---
Union Garage Bit Kit— $25-45
This kit is stocked with made-in-Connecticut (really!) tool bits, ratchet and screwdriver handle and extension, and offered in a few different variations depending on your needs. It's also part of our
UGNYC Toll Roll
that we sell as a complete kit. We offer this kit with a choice of either ratchet wrench, and with or without the screwdriver.
---
"Total Control" by Lee Parks — $30
We want to keep you alive. You want to keep you alive. Reading this book will make you—or a loved one you gift this fantastic book to—a better motorcycle rider. It's really as simple as that.
---
Union Garage T-Shirts — $30
Did you know we now offer our best Union Garage shop shirts with the same super soft poly-cotton as always, but in women's specific styles? We do. Dig it.
---
Quad Lock RAM RAM Ball Mount — $30
We are inordinately excited about this latest phone mount from Quad Lock. Why? Because it's quite simply and very clearly the most sophisticated way ever devised to mount a phone to your motorcycle. How? It takes what we've already deemed to be the best phone-mount system on the planet, and makes it even better by allowing use of RAM Mount's multiple mount options, and infinite adjustability by way of ball-and-socket articulation.
---
Union Trucker hat — $30
Everyone should have a quality trucker hat or two in their closet, and now you can fulfill that basic human right while supporting your favorite independent motorcycle gear outfitter at the same time.
---
Precinct Riding Glasses (Clear, Tinted or Amber) — $20
These stylish black frames come with clear side-shields that can be easily clipped on or off. They come in clear, tint, or amber lens options, and most importantly carry a stamped-on ANSI Z87.1 safety rating stamped into their lens – which will get your out of a "no shield" ticket from New York's Finest, no matter what precinct you're in. Plus, it's just always good idea to wear proper eye protection while riding.
---
Knox Cold Killers Glove Liners — $35
Knox under-gloves help add precious warmth to the part of the body that gest cold the quickest. The gloves are made with an exterior softshell for wind-proofing, and use 3D mesh fabric on the inside so as not to sacrifice control. Think of them as a step up from a standard silk glove liner. They take up just slightly more room, but offer a big step up in protection from the wind and cold.
---
Alpinestars Rain Gear — $55-120
The Hurricane rain gear series from Alpinestars is made of lightweight, durable Nylon, with a waterproof/breathable coating. It packs down into an included stuff-sack and can be purchased as two-piece separates (jacket + pants), or as one glorious onesie—and everything's available in either either black or high-vis yellow.
---
Kryptonite Disc Lock — $35
Besides an up-to-date-insurance policy, or a pricey garage, this hardened steel yellow barnacle is the easiest way to safeguard your precious motorcycle while parking on the street. Not only does it prevent a would-be ne'er-do-well from simply walking away with your bike, it also broadcasts with obnoxiously bright colors that your bike is locked. Plus, the included reminder cable keeps you from an embarrassing and potentially damaging false start.
---
Leatherman Freestyle Multi-Tool — $40
The Freestyle has a steel clip for securing into your jeans pocket. It's light and slim enough to not be in the way, but always handy when you need it. The combination smooth/serrated blade is easy to flick into action, and can cut through anything from cardboard to a small tree limb. It's been dutifully field-tested with everything from fruit to fuel line. This shiv is made in Oregon from Stainless steel, so it wont rust when you wash between jobs.
---
SnapJack Bike Stand — $50
The SnapJack V2 is a collapsible bike stand for propping up the rear wheel for chain service, tire inspection and cleaning.  It deploys in seconds and takes up very little storage space. The design relies on your kickstand to cantilever your bike up off the ground just enough to work on it. A fraction of the price of a rear stand, it comes with a carrying pouch, anti-slip pads for working on smooth surfaces, and a strap to engage your front brake—just in case.
---
Union Garage Plate Puller — $60
A staple for any rider—metro NYC based, or not—looking for a classy way to fasten one's license plate down. Of course it also functions to help you remove the plate quickly and covertly in order to opportunistically dodge parking tickets. But we (wink) can't condone such shenanigans.
---
Helmetlok — $30
The Helmetlok is a carabiner-style helmet lock with an outward-swinging arm, a plastic coated body to protect your paint, and a 4-digit programmable locking mechanism that makes securing your helmet to your bike as easy as one could possibly ask for.
---
Italian Sporting Bikes Prints — $65
Italian Sporting Bikes of the 1970s — an exclusive poster series by Union Garage. Artwork by Sir Martin Squires. These illustrations were commissioned as part of a one-day motorcycle show in Brooklyn, and they'll look great on your wall forever. Available as the "full collection" shown here, or as glorious standalone single-bike posters.
---

Union Garage Hoodies — $55
These zippered soft cotton shop hoodies are thin enough to layer under almost any jacket, but still warm and comfortable thanks to a soft fleece lining. We have them in four different designs, including this brand new heather gray Block Letter edition.
---
MotoPressor Pocket Pump — $45
This Frankenstein looking pump is endearing for its pared down design ethos, and rugged get-it-done functionality. With no bells or whistles to go wrong, this powerful little pump plugs directly into your bike's battery and gets the job done quickly, every time.
---
Scosche Jump Packs — $80-150
Scosche jump packs promise worry-free phone charging and bike boosting for up to 1000-plus charge/re-charge cycles. Unlike other fly-by-night electronics companies whose products might last a few tries before failing spectacularly—when you need them most—each Scosche jump pack (pronounced skōsh) comes with a quality fuse-protected, spark-free smart design that's engineered right and backed with a quality guarantee. And now the company offers a brilliant Quick Connect lead for bikes with hard-to-access batteries. The heavy-duty lead simply lives on the bike full time, and doubles as a battery tender cable when not shot-gunning the electricity needed for a jumpstart.
---
Lee Parks Deertours— $95
We've had Lee Parks US-made deerskin gloves in the store since Day One, and they continue to be an indispensable favorite. We've seen folks come back to buy 2
nd
or 3
rd
pairs. They last for years—more if you've got them in a rotation with other gloves. And they offer some of the best dexterity in the business, without ever sacrificing protection. The deerskin is doubled up at the palm and knuckles, and holds up better in a slide than cowhide. Plus, this design minimizes the number of vulnerable seams.
---
Kriega US Series Drybags — $99-169
Another perennial can't-go-wrong favorite, the US series drybags from Kriega deliver fully-functional waterproof storage solutions specifically designed to be fastened down to just about any motorcycle. They come in 10-, 20- and 30-liter configurations—each of which can be fastened down on top of or onto the side of another Kriega US series bag, depending on how much storage you need. They stack like Legos, they're bombproof, and they come with a whopping 10-year guarantee to back it up.  
---
Skip the gift guide, save yourself from the agony of decision-making, and the anxiety of waiting for a package to arrive in time for the holidays—get that loved one a
Union Garage Gift Card.
We can even email you a print-and-fold e-version of a perfectly presentable gift card—good for any amount you want, and valid in-store or online.