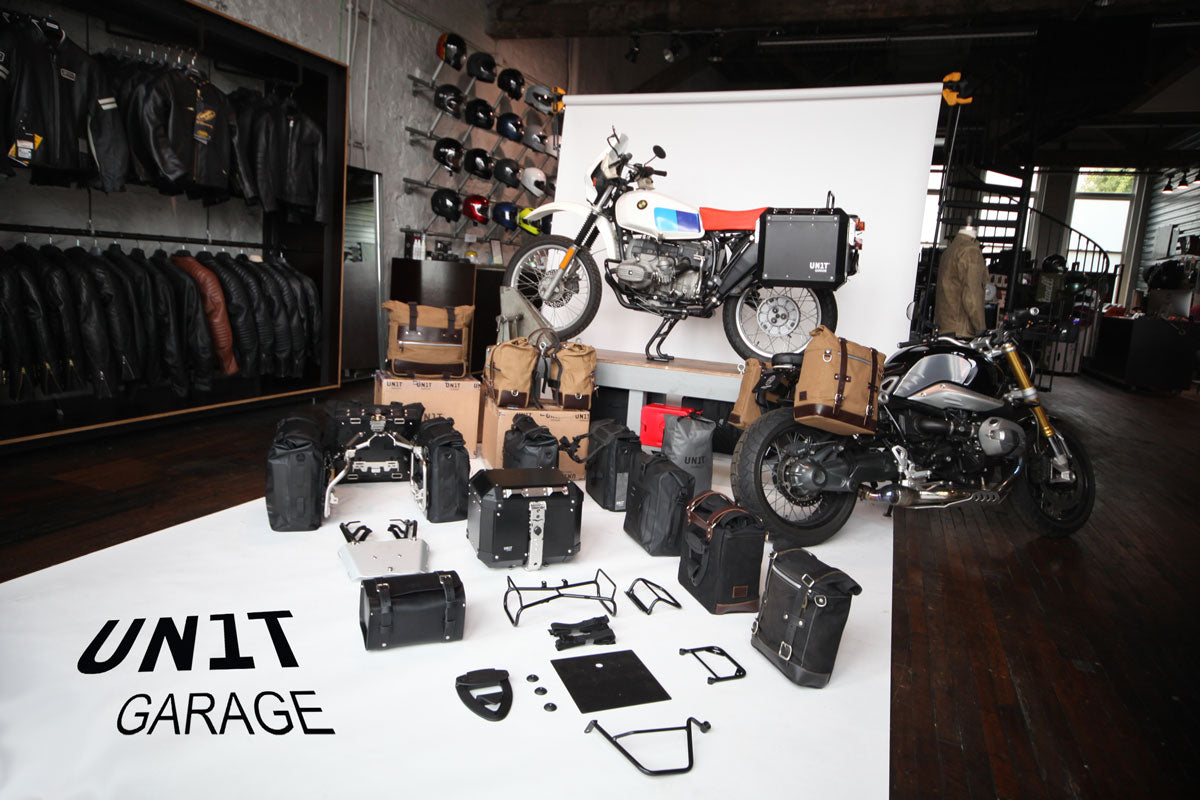 Buyer's Guide: UN1T Garage Racks and Bags
We've added the UNIT Garage motorcycle luggage lineup to our store catalog—including two parallel collections of model-specific motorcycle pannier racks, plus a whole gamut of soft bags and hard cases to go with them. 
The Short Story

At a glance, the complete catalog of UNIT Garage products we're bringing stateside consist of: 1) quick and convenient Klickfix Racks for a wide range of popular bikes; 2) heavier-duty ATLAS Series Racks: fully braced pannier racks capable of round-the-world travel; and 3) a collection of soft bags for both luggage platforms (choose from waxed canvas, or welded TPU), as well as aluminum ATLAS Hard Cases that are specific to the beefier ATLAS racks, but also work with many third party and OEM luggage loops. 

Last but not least: 4) Rear Racks ranging from low-profile parcel racks to heavy-duty expedition-grade options that'll accept the excellent ATLAS series 36L locking top box.
This complete ecosystem of racks and bags opens up all kinds of possibilities for what one can cleanly carry on a (qualifying) motorcycle, and we're excited to add a product line that so clearly encourages more adventures on two wheels—whether it's having some fun running humdrum daily errands, or conquering the work commute/weekend excursion/trips further afield. 

— The Full Spiel —
(reading time: 14 min)
Beyond our core catalog of protective riding gear—helmets, jackets, pants, boots, gloves—the bags/racks accessory category is a sentimental favorite and fast growing sideline here at Union Garage.

To quash any potential confusion, UN1T Garage has no official relation to UNION Garage, except that we are now supporting the brand's full luggage lineup stateside. The similarities between company names is pure coincidence. Also in common: taste in motorcycles, an appreciation for well engineered products, and a love of motorcycle travel.
We've dabbled in the UNIT Garage lineup of bags/racks for a few seasons and have been impressed with the quality and consistency, and how the product line has evolved to include more bag options, and more relevant bikes.

To date we've generally stuck to universal bags and bike accessories, but couldn't pass up the chance to jump in the model-specific deep end with UNIT's whole moto luggage collection.

The following sectional overview of the UNIT Garage product line covers everything you'll need to get started outfitting your motorcycle with a matrix of bag/rack options.

We also outline UNIT's rear rack and top box options, select accessories, a few potential DIY side quests, and in the telling hopefully answer some common concept and compatibility questions, and make it easier to shop the lineup, which we believe is worth the investment.

Let's jump right in.
// What are we Riding?
The UNIT Garage stable of supported steeds includes models from several major marquees, with a clear preference for Bavarians. A full third of the bikes covered are BMWs, including every generation GS model since inception 40 years ago; plus the R Nine T, and even some R18 products. But the company also covers Triumph, Ducati, Guzzi, Royal Enfield, Harley-Davidson, a couple Japanese entries, and more.
There aren't many viable rack/bag options for some of these bikes, and so the UNIT lineup opens up new doors for some underserved (but well deserving!) motorcycles.
Some models, like the BMW R 9T, have numerous options for both light- and heavy-duty rack/bag choices. One example: a single-sided Klickfix rack and small matching soft bag, with a low-profile Parcel Rear Rack to boot. Another example: full bagger status, with multiple options for locking hard cases and a matching top box—all designed to still work with a passenger, including all said passenger's luggage.
Other notable highlights of covered bikes include naked classics like Moto Guzzi's V7 lineup, 20+ years of classic Triumph variants, and multiple options for the otherwise hard-to-outfit Scramblers—both the various Triumph and Ducti renditions.

UNIT's design department is keeping pace, too, with a range of options for newer models, like Guzzi's centenary V100 Mandello, the latest 2023+ Ducati Scramblers, and other newcomers like the Ducati DesertX, Triumph Trident 660, and Aprilia Tuareg. 
Others worthy bikes warranting mention: the Harley Pan America, naked Japanese street bikes like the Z900 RS and XSR 900, and Husqvarna's 401 and 701 models.


// Klickfix - The Common Denominator
The key to the first (and breadth-wise, largest) tier of UNIT Garage racks is the so-called Klickfix bracket, which delivers a lightweight, easy-on/easy-off pannier latching mechanism with a diminutive rack profile that won't clutter up a bike's aesthetics with overkill engineering.
UNIT Garage makes Klickfix rack options for scores of bikes. Defined by two parallel bars set about 4 inches apart, this sturdy and simple rack design offers lockable, quick-fitting functionality for easily securing any bag equipped with the requisite Klickfix bracket.
The Klickfix motorcycle rack concept and matching bracket mechanism are the product of a little-known (to most motorcyclists) third-party German company called Rixxen Kaul.

This company mostly produces a wide array of bicycle bags and basket mounts, and this one fantastic motorcycle-specific Klickfix bracket, which UNIT Garage has smartly capitalized upon with a growing family of compatible racks and bracket-equipped bags.
Compared to traditional luggage racks, Unit Garage's Klickfix racks are purposefully smaller-scale more discreet than most other comparable systems. And thanks to some solid design work, they're well braced while remaining as unobtrusive as possible.
But despite their small size these racks provide an ample purchase for securing a Klickfix bracket equipped bag in place for anything from daily errands to weekend adventures.
// UNIT Garage Klickfix Bags
UNIT offers a smart range of soft bags equipped with an internal ABS panel for support, and a Klickfix bracket bolted to the back. See them all, including an a la carte/DIY bracket option, here.


There are two heavy duty waxed canvas options available in multiple canvas colors and leather trims, from Small/10-14 Liters, to Large/22-30 Liters.
In addition to an internal ABS support plate, these bags are made of canvas so heavy duty that it will stand open on its own. Thick leather panels reinforce the corners, and the larger canvas bag option comes with a removable plastic baffle than runs across the  bottom and partway up the sides, lending the bag extra structure and support, even while empty.

UNIT also offers a thoroughly more modern take with its waterproof/welded Khali Klickfix bag. This bag comes in any color you want, as long as it's black, and features TPU and Hypalon construction (think: truck tarp) with slick magnetic buckles, reflective accents, and a tight overall design. 

The Khali Klickfix bag expands from 20 to 26 liters and like UNIT's other Klickfix bags it comes with a shoulder strap for off-the-bike portage. Unlike the waxed canvas examples, the Khali bag is completely waterproof out of the gate, thanks to its welded TPU material spec and roll-top design.
Klickfix brackets, with or without a supporting ABS plate, are available a la carte as a DIY kit, so with a little elbow grease one can fairly easily add a bracket to a bag of your choice.

*To note: these Klickfix brackets come with a 10KG stated working load limit. In American English, that's about 22lbs, or just about exactly the weight of a 30-rack of 12oz cans.
Coming from an experienced German manufacturer, and judging by the fiberglass-filled Nylon construction, we're going to hazard a guess that there's some appreciable surplus safety factor built into the stated allowances.

That said, for those looking to regularly carry much more than these bags are officially rated for, we direct you to UNIT Garage's parallel rack series, the ATLAS lineup, conveniently located below.
/// UNIT Garage ATLAS Series Racks
UNIT offers its ATLAS Series Racks for more heavy-duty applications: longer trips, greater volume carrying capacity, higher ultimate strength.

These racks connect to specific set of bikes' subframes at three locations per side (versus two for the Klickfix racks), and are further secured by a fourth connection, in the form of a cross-brace running across the back of the rack. Model-specific instructions and all necessary metric mounting hardware come included. 
UNIT's general Atlas rack design wisely mimics the flat and offset exhaust-side profiles of the BMW GS series factory racks, and offers the same profile for any bike requiring an exhaust side offset. If an offset isn't required, then a given ATLAS rack will come with two flat-race faces. This means that while the variables between bikes vary wildly, the mounting profile remains the same.
It also means that all the UNIT Garage bags are reverse-compatible with both BMW factory luggage racks, and many other 3rd party racks.
These racks are precision bent from 18mm stainless steel with a 2mm wall thickness, and are offered in a matte black epoxy powder finish; with some options also offered in a silver shot-peeend and electropolished surface finish. 

And just as UNIT offers a Universal/DIY rack for the lighter-duty Klickfix series, the company also offers a DIY raw steel ATLAS luggage loops for anyone with a welder and a dream of mounting racks to their motorcycle. 
For many of the bikes UNIT covers, heavy duty racks like the well-braced ATLAS series are hard to come by. Got a Triumph T120 or older Street Scrambler? Harley-Davidson Pan America? UNIT offers both Klickfix and ATLAS options for these bikes.

They cover some of the usual suspects, too, including the 40+ years of BMW adventure bikes from the original r80 G/S through the 2023 R1250 GS, as well as other R bikes, and even have a single-sided K Bike Klickfix rack.
/// UNIT Garage ATLAS Series Bags & Cases 

UNIT offers several bag and case options designed for its heavy-duty ATLAS racks. In a novel take, UNIT has grafted a mondo-sized leather-trimmed waxed canvas pannier to its locking ATLAS hard luggage plate, marrying locking and quick-release functionality with heritage aesthetics—all in a package that will plug-and-play with any ATLAS series racks, and many OEM and aftermarket factory racks.

UNIT also offers a standout Khali series ATLAS bag that combines flexible and durable roll-top waterproofing with a hard locking plate. Got a better idea? UNIT also offers open-source ATLAS Series Locking Luggage Plates a la carte, effectively offering an open-source option for hard core moto-touring.


Both soft-bags come ready to fit a flat rack, or can be ordered with the offset configuration to fit cleanly on a contoured exhaust-side rack.
And if you're looking for aluminum hard cases you'll be hard pressed to find a better looking range of options than the ATLAS hard bag lineup. 
Like the Klickfix lineup, if we had to pick just one, the Khali series ATLAS soft bag is a very attractive option as it's fully seam-sealed, rugged and ready to go. All the benefits of the lock-able, easy-on/easy-off hard cases—plus all the benefits of a heavy-duty soft bag. It's the least expensive ATLAS bag option, too.




And again, because the basic ATLAS rack design mimics the dimensions used by BMW and others, and because there is some adjustability built into the bracket plate with the top and bottom rail clasps, and the position of the rubber bump stops, these bags will plug-and-play with a wide variety factory OEM and third-party heavy duty luggage racks.


/// Bringing up the Rear: Tail Racks & Top Boxes

We didn't plan on bringing in UNIT Garage Top Boxes or bike-specific rear racks, but once we saw the quality in person—and realized just how damn functional they are, we couldn't resist. 

UNIT offers a range of tail racks for select bikes, which we've taken the liberty of breaking down into two main groupings—lighter-duty Parcel Racks, and beefier ATLAS Rear Racks—both of which come with cleanly integrated passenger grips as a bonus.
The Parcel Racks, aka 6-pack racks, come with a "stated" 5kg/11-pound load limit, and are intentionally minimal in their design to best blend into a given bike's design, while still generating a surplus space for strapping down any manner of soft bags, a sack of groceries, a Chinese takeout order, an Amazon return... you know:
parcels
. 
Go low brow with a simple
cargo net
lashed over top. Or go high brown with the bespoke
UNIT Garage Leather Top Box.
If you want to go bigger, steer towards a heavier-duty Atlas Rear Rack if available for your bike, which doubles the "stated" capacity to a full 10kg/22lb, and can be configured in a variety of ways. The ultimate setup is to configure it with an
ATLAS AL-5 Top Plate
, with its 3-boss stud configuration is ready to accept the corresponding cam-lock found on UNIT's beautifully made
ATLAS Aluminum Top Box. If your bike isn't supported, but another company makes a sturdy tail rack for it, the design of the AL-5 Plate makes it fairly straighforward to adapt to a 3rd party rack. Besides the Top Box itself, the Atlas Top Box Plate has strap slots around the perimeter, making it a versatile, multi-function platform.
UNIT also offers a couple of adapter kits to mount it's AL-5 plate onto factory bikes' OEM platforms, like the HD-Pan America, the BMW 1200/1250 GS, and the KTM 790/890 + Husky Norden 901.
The UNIT Garage ATLAS 36-liter Top Box
will easily store any size full-face helmet with room to spare. There's an elastic cargo-net organizer built into the top lid for gloves, rain gear, etc; and the bottom portion is lined in 2.5mm Neoprene to help cushion its contents.
/// Who/What/Where: Meet UN1T Garage


UNIT Garage is a collaboration of founder Fabio Marcaccini, a one-time road racer and later 5x Paris-Dakar Rally competitor with decades of international riding experience, and business partner Michiel Verstockt, the designer we can thank for all the mounting holes lining up.


UNIT Garage partners Fabio Marcaccini and Michiel Verstockt at the 7-day Transanatolia Rally in Turkey, 2020.

Together, this duo punches way above its apparent weight class, putting out an impressive array of motorcycle accessories and "hard parts"—everything from full-on fuel tanks and bodywork kits, to custom exhaust systems and suspension. And, of course, why we're here: the bags and racks.
UNIT has done some impressive work in designing and manufacturing its growing assortment of sturdy steel racks, reverse-engineered to work seamlessly with a discerning array of motorcycles. The UNIT product line comes with a factory fit and finish, and enables users to adapt a range of stylish and functional storage solutions.
From its design studio in San Clemente perched above the Adriatic Coast, UNIT Garage has developed a growing family of smart rack solutions. And surprisingly, nearly all the UNIT Garage products in this Buyer's Guide —anything that's made from aluminum, steel, canvas, or leather—is 100% made in Italy.


/// The Bottom Line: Union Garage Review
TLDR: Is it expensive? Yes. Is it worth it? Also yes.
Small-batch, bike specific, high-quality, and made in Italy, where product ships from — none of these things are cheap. But cheap ain't good; and good ain't cheap. And at the end of the day, there's no other product on the market that hits quite the same notes as the UNIT Garage catalog of bags and racks for the specific set of bikes that UNIT covers.
We're always scanning new products to add to the store, and while many end up being "good from far, but far from good," the UNIT Garage lineup holds up to scrutiny.
Get as close as you like—the welds are sound, the bends are precise, the finishing is consistent, and most importantly everything fits up and hits the factory mounting holes as if direct from the factory.
The further we got into building out this UNIT Garage Buyer's Guide, the more confident we got in representing the UNIT Garage brand.

This has been our biggest single-brand product launch effort to date, by sheer volume, with close to 100 individual products nested under the UNIT Garage Brand Page.

This product line is exactly the type of niche, high-quality gear we love seeking out and integrating with our own collection.
"Touring" is a big part of the DNA here at Union Garage. Traveling on two wheels, both near and far, is one the best parts about riding motorcycles, and the UNIT Garage bags/racks lineup are a clear means to that end.

Between the lightweight Klickfix collection, and the Heavy Duty ATLAS Series product—UNIT Garage has a lot to offer, and we're excited to help grow the brand in the American market.
Speaking of U.S. sales, hawk-eyed shoppers will notice that our price tags end up being about the same as you'd pay ordering through UNIT directly (which includes shipping from Italy, plus currency conversion fees, etc)

So why buy from UNION Garage?
Those sweet loyalty points, for one. Gucci Italian-made motorbike bags and racks are a great way to rack up 5% cash-back bucks to put towards your future gear purchases.
Almost all the UNIT Garage products qualify for free domestic shipping from Union Garage USA. And unlike ordering from Italy direct, there are no international shipping headaches or hidden duties—we handle that part.
We can also help coordinate any warranties, not that we've seen any yet. And we can work with you on returns and/or exchanges, without needing to ship product all the way back to Europe.

We have tried to break down the UNIT collection in an easy to understand way, and we're standing by for any installation or compatibility questions. Hit us up at support@uniongaragenyc.com with any questions.