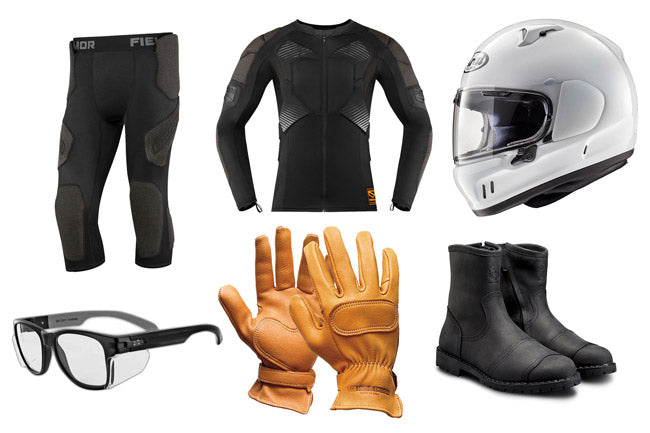 Gear for the Distinguished Gentleman
*Reminder - The Distinguished Gentleman's Ride happens this Sunday, September 29. We have a Team (and invite you to join it!), but regardless of what squad you're with, all registered riders are invited to our pre-ride Coffee Social and Portrait Session—from 7:30-9:30 in Industry City.
// Now, for the gear. Start with the 
Field Armor Kevlar-lined underlayers from Icon
. Each comes complete with multiple die-cut D3O armor panels, each sheathed in abrasion resistant Kevlar layer. These layers fit discreetly underneath whatever outfit you're wearing to provide clandestine protection with way less bulk than a traditional armored jacket or pants.
The skin is the largest organ on the body, but your brain is the most important. If you're adhering to the retro theme, the 
NEXX XG200 throwback dirt helmet
provides classic styling with modern fiberglass construction. Plus it has a mega-wide eyeport for an unhindered field of view in tight conditions.
Also retro, sort of, the 
Arai Defiant X
takes some of its styling cues from tracker race helmets of yesteryear. And because Arai is Arai, and they stick to their "r75" round outer shell and trademark external hinge plate—the silhouette of this top-shelf upright/standard street lid isn't altogether that different than one would have seen sliding sideways in a 70's era dirt track oval. Old is new again. And Arai is as cool as ever.
Other notable and obvious retro helmet choices include the 
Bell Bullitt
, and the 
Bell Moto 3
(now available in a great black-on-black colorway). And if you must ride a 3/4 open-face, we're partial to the 
Bonanza from Biltwell
. Since the DGR is all about seeing and being seen, you might find yourself rolling with the shield up, or running a dirt or open face helmet with no shield at all. This is where the 
Precinct protective riding glasses
come in. So named because no matter what borough precinct you're in, the NYPD officer who pulls you over for an opportunistic "no-shield ticket" can't ignore the 
ANSI Z87.1
high-impact rating clearly stamped directly onto the lenses—legally required to ride in NYC. 
Seriously.
Last but not least—the extremities.
Keep your hands swaddled in high-dexterity, highly abrasion-resistant USA-made 
Lee Parks deerskin
—also available in black. And for a dapper black boot that provides support and ankle protection on the bike, but can be worn off the bike, too, look no further than the 
Belstaff Duration boots
, a Chelsea style design with a waterproof liner, ankle armor, and a lux leather outer.