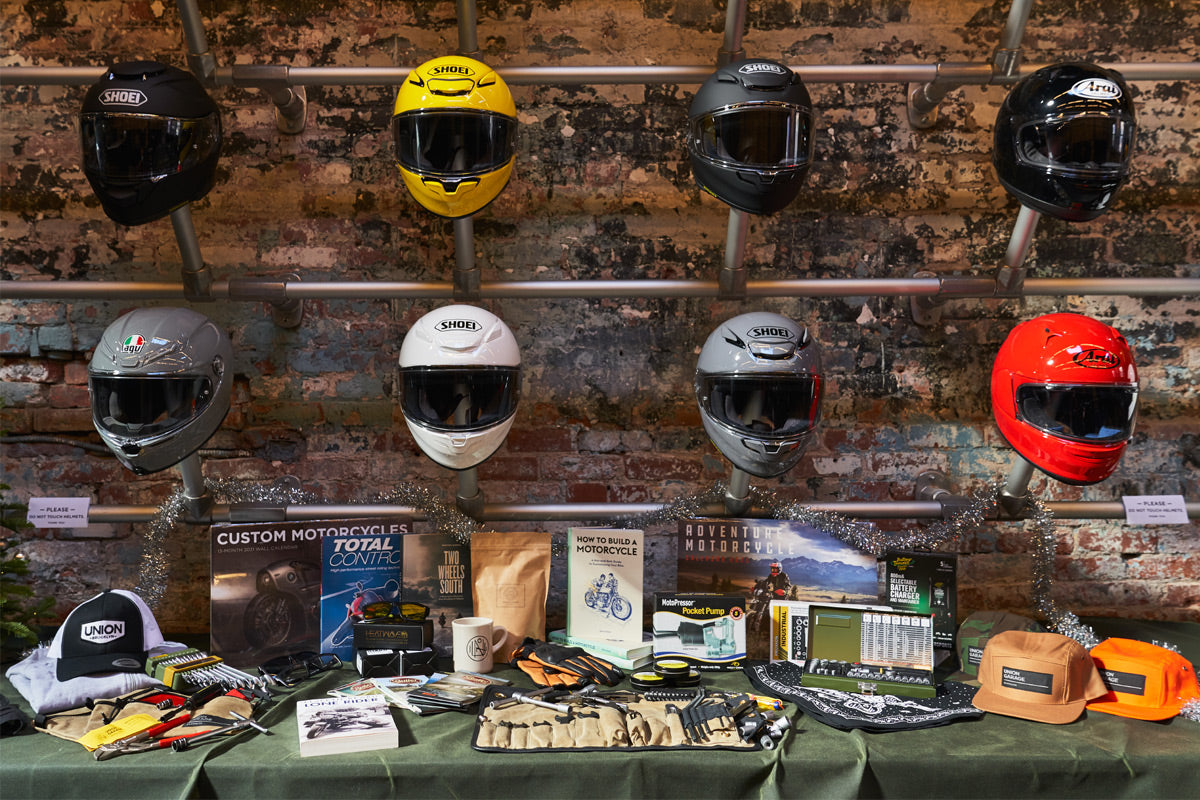 2020 Holiday Gift Guide
We've got a bounty of great gifts for the motorcycle lover in your life—everything from favorite evergreen options (hats, maps, t-shirts, assorted shop swag) to a few new products we're proud to just finally launch, like two different house-brand toolkits, a minimalist Dyneema wallet, and some good old fashioned house-blend coffee staples.
Arriving just in time to stand in as the ultimate game-winning holiday gift, we've just released a limited edition, over-the-top tool roll for that special gear nerd in your life. Or, for yourself, because this year's been a bitch and you deserve a lasting present for getting through it. 

Our new Uber Deluxe Tool Roll now comes with a healthy portion of German Proxxon tools, an upgraded SOG multitool, and a bunch of other bits we think you'll find useful.
We know that everyone can't wantonly indulge a fetish for exotic Bavarian hand tools, so we're also introduced the Union Garage Toolkit Lite – a bundle of great go-to tools in an all-new, simple but beautifully rugged zippered pouch that we sourced from our friends at DMADA in Idaho 

COVID-19 has totally sidelined our complimentary in-house coffee service—a favorite staple of our in-store shopping experience. So we're making the same coffee experience available to you at home.
We now offerer both Union Garage Diner Mugs, as well as our favorite "House Blend" whole-bean coffee, to put in said mugs.
And for the coffee table, we've got a bevy of books that deserve a spot in your home, including a fantastic new illustrated hardcover called "How to Build a Motorcycle," from the editor of Sideburn Magazine, and beautifully sketched by Adi Gilbert 
Other notable mentions on our bookshelf include "Lone Rider" by Elspeth Beard, "Total Control Training" by Lee Parks, and "Two Wheels South," by Matias Corea.
An evergreen present for any motorcycle rider is a quality map. We carry the full catalog of Butler maps, available for immediate in-store pickup or easy shipping. These maps are waterproof, tear-proof, and are meticulously plotted specifically for motorcyclists.


Looking for something more seasonal? What better way to say sayonara to the dumpster fire that has been 2020 then by putting up a inspirational new 2021 calendar in the garage or home office?
We've got two options to choose from – the 2021 Custom Bikes calendar by Bike EXIF/Iron & Air, and the Adventure Motorcycle calendar by Upshift Media.


A highlight of 2020 was finally launching our armored D3 Moto gloves in collaboration with Lee Parks Design. These American-made deerskin beauties feature the best touchscreen-enabled fingertips in the business, unbeatable fit and dexterity on the controls, and now for the first time ever in a Lee Parks glove: D3O knuckle armor built discreetly in.

And one of the best parts about launching this new website has been quietly incorporating gear reviews from customers. Don't take our word for it, see what verified owners of these gloves have to say.

After you fall in love, protect your investment with some Lee Parks LeatherAide, specially formulated to preserve, protect and waterproof any leather product—especially these gloves.
If you're looking to keep money *in* your wallet this holiday season, you might as well make it a satisfyingly designed and incredibly durable Union Garage Dyneema wallet. Made for us by our friends at Hawbuck in Chicago, these minimalist billfolds hold just what you need to without the added girth of a traditional leather back-breaker.
////
And then there's always the old fallback—Union Garage Gift Cards offer instantaneous satisfaction, can be sent via email, and are guaranteed to please.


////
The store is open regular hours 7 days/week daily through an early 4PM closing on December 24. Order today for local pickup or select the shipping method of your choice at checkout—we're doing our best to get orders out the same day as they are received.