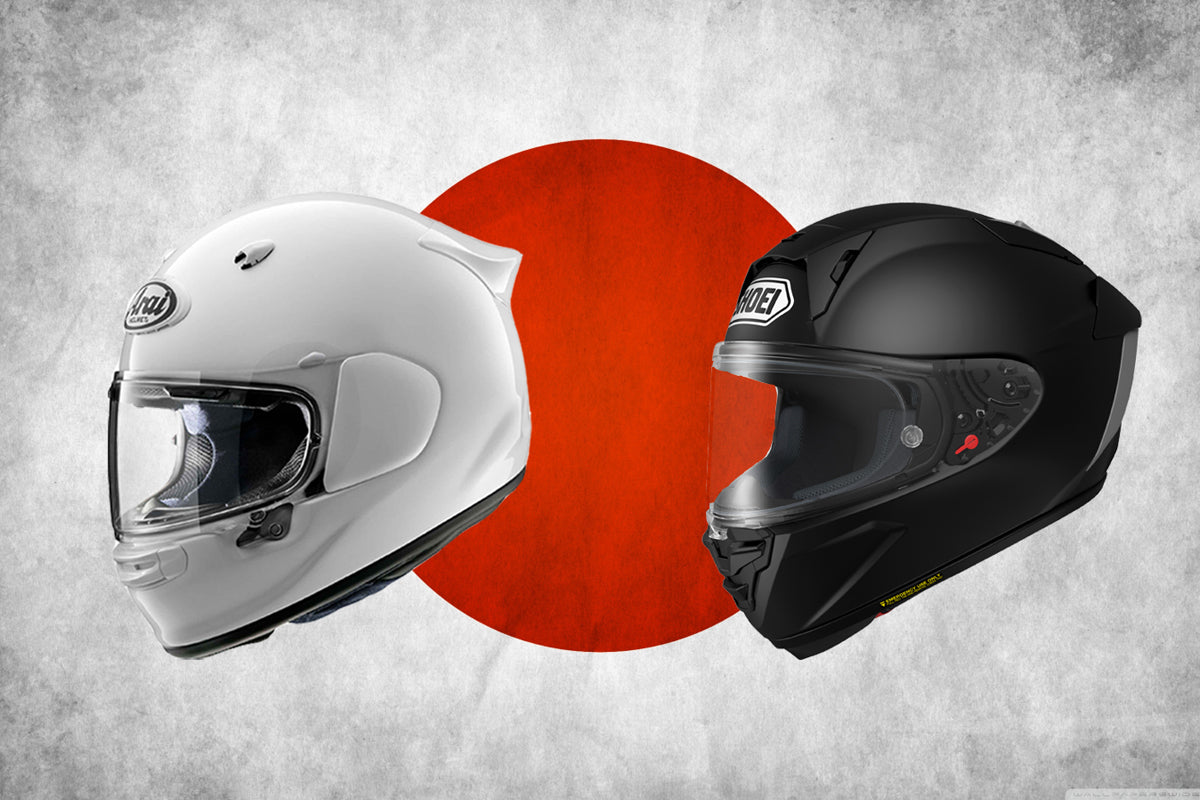 With Love From Japan
Two notable new premium helmets just came onto the U.S. market this season — both supercharged with features, hand-laid fiberglass shells, fastidious paintwork, and all the right safety certs. And on the whole, they represent decades of iterative improvements from their respective Japanese manufacturers: Arai and Shoei. 
---
Hawk-eyed gear nerds might note that both these new Aria and Shoei models have been available for a couple seasons already in Europe under the "Quantic" and "X-SPR Pro" monikers, respectively. And that's almost right.
While they share the same silhouettes, these helmets have been formulated with different shell and EPS construction to meet the U.S. SNELL and DOT standards, plus even more for the Shoei.
In the exchange these helmets are a wee heavier than their European counterparts. But we're not going to quibble over a few grams; and are officially of the mind that the more safety certification stamps on the back of your helmet, the better. 
TLDR: This is already our new favorite Arai. Priced just $30 more than Arai Signet or Quantum, the Contour-X apple doesn't fall far from the Arai family tree in terms of build/spec, but quite notably, this new entry fits the most common head shape in North America, so it'll open Arai to a much larger swath of riders.




The Contour-X offers a new-for-Arai pair of vents hidden behind the central-forehead Arai logo/switch. And then there's the micro mullet/spoiler. We think it works, both functionally, and aesthetically, but if you don't dig the scoop, we can set yours up with more mainstream Arai street helmet aesthetics by borrowing a rear vent directly from the Signet-/Quantum-/Regent-X catalog. The rest of the trim is customizable, too. AND - there's a factory-fit Sena unit specific to the Contour-X, offering full Bluetooth functionality with HD Speakers, and all operated via a svelte hardly'd-know-it's-there 3-button control panel.

//

The Full Spiel:
The standard bearers of the Arai lineup for the past several seasons have been the Signet-X and Quantum-X, which present a great balance of features, function, and Arai's legendary build quality.
But these helmets, by design, don't work for everyone. That's because they're very intentionally designed for head shapes that fall outside the middle of the bell curve. If you've got a long-oval head, the Signet is the best option going. If you've got a rounder melon, the Quantum-X will be your best friend.

But for the meat of the U.S. market, where "intermediate oval" heads predominate, Arai has for the last several seasons left the North American motorcycling population oddly underserved, with a big gap between the intentionally down-spec'd "entry level" $579 Regent-X, and the way up-spec'd Corsair-X, with its aggressive, Klingon-like intake manifold of vents and race track pedigree, with a matching price tag—solid colors start at $869; the custom carbon unobtanium race version is north of $2k.




For $749, the latest Contour-X brings a fresh aesthetic and a sharp set of features, joining the "X" family of Arai street helmets as a missing crown jewel. We don't know what took so long but we're glad the Contour-X has finally arrived. 
FIT Options
Arai makes a big deal about the 5MM extra clearance for getting this helmet on and off. And that's fine and well but we're more excited that this helmet inherits all the other Arais' multitude of options for alternate cheek pads and center pads to fine-tune the fit. 
Embrace the Mullet. Or ditch it.
The Contour-X gets a distinctive rear spoiler that Arai says is wind-tunnel tested to the Nth degree. the Contour's little micro mullet offers just a little extra party in the back, and it doesn't look out of place, even on a classic bike. The fact that all Arai helmets since motorcycling's glory days of the 1970s all share the same shield-plate silhouette helps give even this most modern of Arai helmets a classic look and feel.



That said, we've already started playing around with hacking this helmet. The QVR type rear vent (used on the Regent, Quantum, and Signet) is a direct bolt-on. So if you would rather have a standard exhaust duct on the back rather than the wind-tunnel tested Contour spoiler, we can make that happen.

Note, besides the QVR Duct, you'll ideally also install a matching QVR slider mechanism found on the other Arai helmets, as it has an interface that the QVR Vent locates into. Arai Americas lists this part for $9.95 and because of the screws going into the shell, prefers to sell to dealers only. Other custome swap-outs include side pod covers, chin vents, and the 3D Logo/vent switch.




We're happy to install custom vents onto any Contour-X. You can hold onto the old parts should you ever want to switch back. 
X Marks the Spot
Since it shares the same X-Series shield as all the other Arai helmets (Regent, Signet, Quantum, and Corsair) there are plenty of shield options for the new Contour-X.
In addition to Vas-V dark shields, upgrade possibilities also include light-tint "Transitions" Pinlock inserts, or upgrade to the excellent Pro Shade system, which adds a dark-tint Robo cop style exterior sunshield that fits up/out of the way when you don't need it, and is always there when you do.




Communication is Key
Another great upgrade is a Contour-X-specific Sena Bluetooth device called the ACS-10, which is the closest thing to a factory communication system you'll find us endorsing.

Say goodbye to having an electronic barnacle hanging off the side of your helmet, and say hello to the sleek and savvy Sena ACS-10. Or don't, because you'll hardly notice it's there. The only visible telltale is a small 3-button panel that sticks to the lower-left side of the helmet. Fun fact: We compared this to the old Arai-specific Sena 10U, and it's just about identical, except for the upgraded speakers. Which means the ACS-10 will work with any modern Arai helmet - the Contour-X, but also the Regent-X, Signet-X, Quantum-X, or Corsair-X.


Note: Sena themselves, as well as some lower end companies like Torq, offer a raft of helmets that come with communication devices built in, we steer well away from these.




We much prefer to start with a helmet from a premium brand that knows what they're doing, then add the electronics; not let the electronics companies come up with a helmet.
Next in Line: Shoei's New Street Sleeper

Introducing the Shoei X-Fifteen. the latest in a long line of race helmets. Some guy named Marquez has been wearing a version of the exact chassis in Moto GP for the last couple of seasons, and it's just now available in a DOT/SNELL/ECE/FIM version for the U.S. market.

We're not a race shop, nor do we pretend to be. So why are we talking about this helmet?

The short story: it's an absolute sleeper of a street helmet. It's better vented than any other helmet Shoei makes, yet stays quieter than most. And it carries no fewer than four safety certifications, making it the safest rated helmet we've seen in 10 years of hawking helmets.
The Long story starts with "Safety First" (…and 2nd, 3rd, and 4th)
Helmet buffs might say this helmet is old news, and is actually the same as the X-SPR Pro that's been available in Europe publicly for a couple years. And such skeptics would be nearly 100% correct.

Truth is, the X-15 is a bit heavier than its Euro doppelgänger, and that's because the U.S. version is built to pass *all the tests* — DOT, of course; plus the latest ECE 22-06, and the rigorous SNELL standard, which demands a "double-hit" event in the same spot on a given test helmet, a test that leaves most ECE-only rated helmets chucked into the "Fail" bin at the Snell lab.
But there's more: beyond those better-known safety standards the X-15 also hits the full quadfecta by also passing the vaunted FIM certification.

We're not going down the rabbit hole of parsing the particulars of the various helmet testing agencies' nuanced strategies for ensuring safety. We instead maintain that the more safety cert stickers on back of a helmet the better, and that makes this the easiest helmet to endorse ever—it's got em all.
Whether you're on the racetrack (safest place to ride) or cruising local back roads, or dodging urban or suburban traffic (arguably the least safe place to ride), the X-15 is ready for service.
If the point of a helmet is to protect your noggin in the event of a get-off, then this helmet is certified to be the the safest option on the market.
There are other aspects to note here that are not covered by the impact standards, like a latch to keep the shield firmly locked down; and extra safety switches at the hinges, to further keep the shield from going anywhere, even while hurtling down the road face first. 
Wind-Tunneled up the Wazoo
In what might seem like a contradiction, the X-Fifteen offers superior protection, but it's also very good at going very (very) fast, if that's your thing.
The helmet got an extra dose of wind tunnel testing to boast X and Y claimed gains of decreased drag/increased efficiency. It's even got multiple fastener positions built into its cheekpads, so it can be adjusted to full-on race/track mode, or left in its stock configuration, for upright-position, heads-up street riding.

But here's the thing: ignore the Marquez pedigree, skip the flashy race graphic livery options, and the X-Fifteen makes an incredible everyday street helmet.
This seems somewhat intentional from Shoei, as the helmet comes with pockets built into the interior to house speakers for a universal bluetooth communications system of your choice. And the fact that it's offered in a short pallete of solid color options—classic white, gloss black, and matte black.
Get Mic'd Up
Because the X-Fifteen it doesn't have the "hip cut" on the side of its shell like like the RF-1400 does, which confounds the use of most comm devices' mounting clips, the X-15 helmet is a bit quieter. And importantly, because the design presents a classic clean/flat edge, it'll easily accept almost any type of aftermarket bluetooth comm system clamp.


Not only is this helmet quieter than the RF-1400, it's also got even more vents—seven in total; with an optional extended chin curtain spoiler to quell wind noise from incoming air. We always say that how well any communications device works is actually a function of how quiet your helmet is, and the X-15 is going to give you Town Car quiet for enjoying full phone functionality and audio streaming while on the go.
See Clearly, Now
Replace the tear-off posts with standard issue PinLock posts (a free option we're happy to make happen) to achieve a cleaner look. Because let's be honest you're likely never going to be using tear-offs . Or even upgrade to a transitions shield for 24/7 auto-tinting versatility. And if you select a gloss black or white, the big Shoei decal can even come off if you're looking for a more anonymous look. (This doesn't work for Matte black. Don't ask us how we know…)
Fine-Tuned Fit
The X-Fifteen follows Shoei's intermediate-oval fit pattern—which is to say it fits most folks here in the North American market quite well, right out of the box.

Furthermore, like we do with all our Shoei helmets, as an authorized dealer we can set riders up with custom head and cheek pads as needed. We offer all these pads aftermarket, but if you're getting them along with a new helmet, we can swap them out at no charge.


Like other Shoei helmets the X-15 comes in four shell sizes. That's one less than the Arai platform, which comes in five, but we think Shoei wins with less, because it provides dedicated shells for medium and large, respectively (Arai makes medium and large, the two most populars sizes by a long shot, share the same shell.)
Each of the X-Fifteen shells come with a standard 9mm head liner, but can be swapped for a thinner 5mm or thicker 13mm option. The head-liners are shell-size specific. The cheek pads are universal between shells, and are offered in four sizes.
Why are premium helmets so expensive? This is part of it—all the infrastructure and engineering to offer so many different supporting accessories.