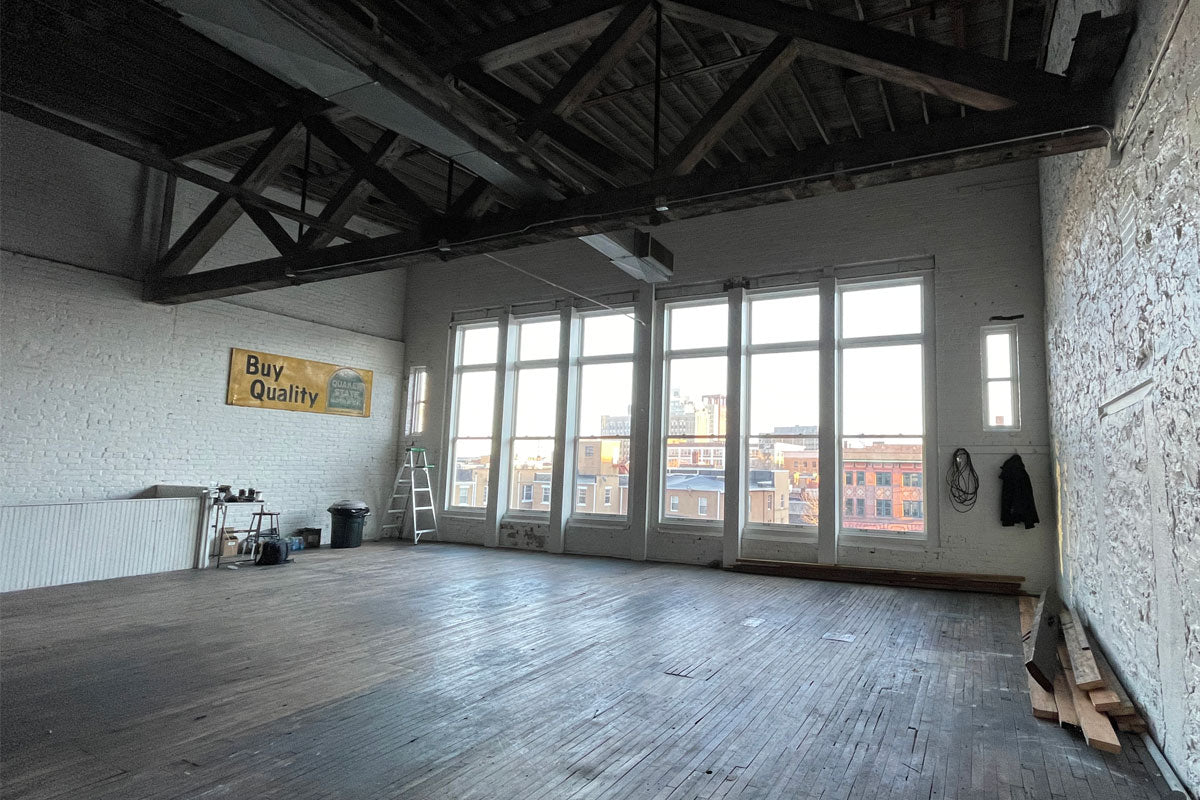 Union Garage is Moving
Hi. In case we haven't met before, I'm Chris Lesser, the owner of Union Garage, and the guy who writes all our product copy and long-winded newsletters.
I have some very big news to share today: After nearly 10 glorious years of hawking Quality Motorcycle Gear on Union Street in Brooklyn, Union Garage is moving.

This upcoming Sunday, 2/13, will be the last day our current brick-and-mortar location will be open to the public.
No, we're not going to California. Year-round riding weather and multitudes of motorcyclists…that would make too much sense. Never say never, but not just yet.
Instead, we're keeping operations firmly planted on the Right Coast, all under one roof—albeit a slightly more glorious roof...with massive timber trusses and 10-foot-tall windows.

We are staying within a 60-mile striking distance of the city, in the outer reaches of the Tri-State Metro Area orbit. And for the first time since 2012 our operation will not be headquartered within New York city limits.

Details on exactly where the shop is relocating to, and when we'll re-open in the new space, will all be revealed in the coming weeks.
/// Last Call Moving Sale 
The brick-and-mortar remains open every day for regular hours until Sunday, 2/13, and of course we're going to have a big Moving Sale, starting now.


The Moving Sale will be modest but broad. And significant because lately prices have all been going up, not down. What it definitely will not be is a liquidation event—we're moving, not dying. 

Instead, this is one last week-long promotion to help us lighten our load, and also to help our loyal local customers get one last crack at shopping the OG UG showroom.
 
To be clear: this is an in-person, in-store sale only. The last of its kind. No phone calls or online purchases; you've got to schlepp down to Union Street in person if you want to score a deal.

Online promotions will certainly follow, but this sale is for the brick-and-mortar showroom, only.
 
We are spreading this event out over a whole week precisely so we don't get a crush of people in the store all at once, for obvious reasons. For best results, we encourage you to try to avoid the busiest after-work rush hours, and stop in earlier in the day.

After next Sunday every lock, stock and barrel is getting packed up for UG 2.0.
/// What's Next?
For the short-term, consider this a move to The Cloud, because our online store operations will remain open 24/7 without interruption as we break down the circus and get set up in our new digs.
For those customers who have only ever shopped from afar and have never visited the physical store, this move should ultimately lead to an even better online shopping experience.
One of our greater goals in this reorganization/relocation is to do a better job at delivering our proven in-store experience to a wider online audience. I'll be sending out regular updates as we go, plus we've got a whole laundry list of new products already queued up to launch online in the coming weeks. So watch this space.
We've been quiet on social media lately, but tune in to follow our progress on Instagram.
And in case you missed it, we did just recently go live with our biggest online product drop ever, with the introduction of the John Doe brand to the online store.

/// Credit Where it's Due
First, Thank You to all those who have walked through our doors and supported us—during the first few years at 103 Union ("the submarine"), and then ever since 2015 at the current showroom at 101 Union.

Grand Opening at 101 Union; Circa 2015. Feels like yesterday.

If you've shopped with us, your patronage, feedback, loyalty, and shared interests have kept us going all these years. Many friendships have been forged, each of which is appreciated. And we look forward to welcoming you up to the new showroom once it's ready.

And second to none: Thank You to all our collaborators and contributors behind the scenes. Most of all: thanks our staff and alumni, almost all of whom were customers before coming to work here, and who have helped kept the machine moving along.
 
By collective effort our team has earned a gilded 4.9-star rating on over 175 Google reviews—not one of which was solicited. And yes, I'm awful proud of that.


In no real particular order, THANK YOU to all our fabulous stringers, seasonal staffers, and full time employees whose teamwork has made (and will continue to make) the dream work:  Marisa, Henry, Conrad, Emmet, Alex, Ryan, Dan, Mike, Ike, Castrulli, Danielle, Amy, Adam, Giorgio, Nick, Vidal, Brendan, Daniel, David, Derek, Kai, Skyla, Taylor, Will, Tony, Noah, Anastasia, John, Alek, and anyone I'm forgetting.
 
It should go without saying that moving is always bitter-sweet, but I'm genuinely excited for the next chapter—a new location, new products in the pipeline, new adventures, more riding of motorcycles. I do hope you'll continue to follow along. 

Best,

Chris Lesser
Owner/Founder