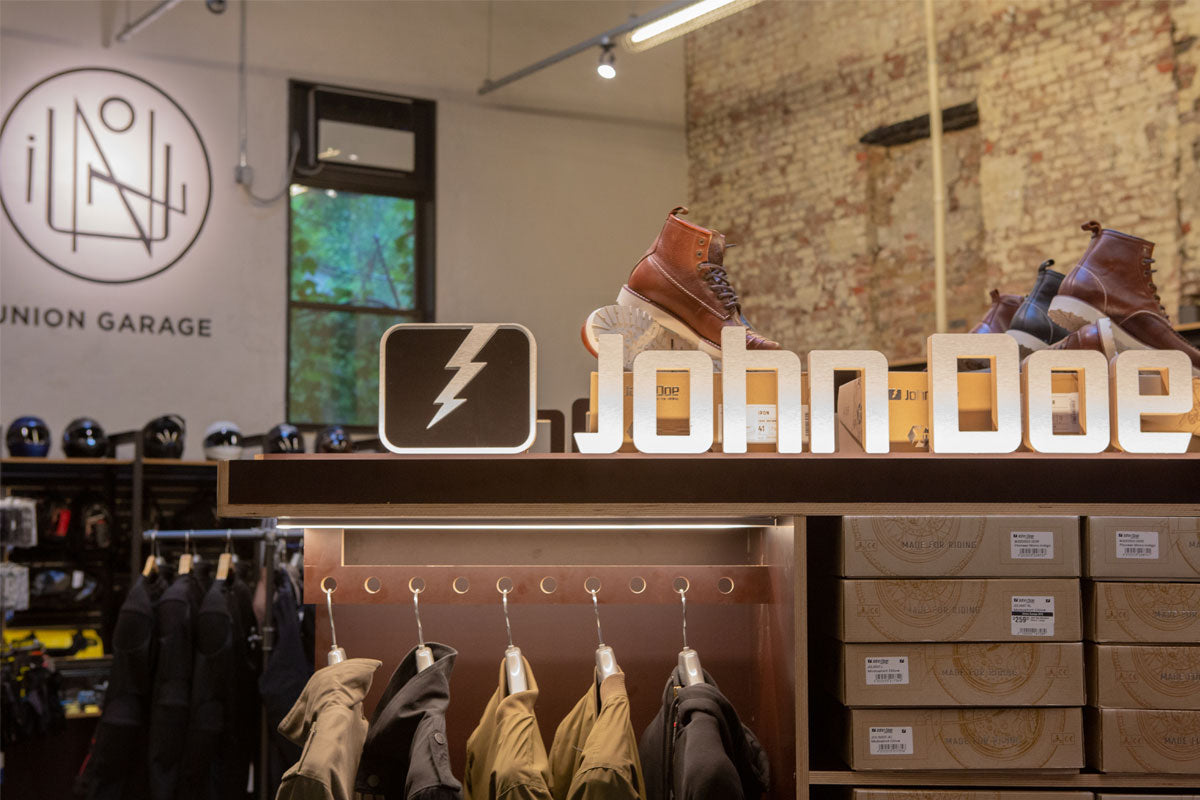 Brand Intro: Meet John Doe
Union Garage is now the exclusive U.S. retailer of John Doe, an upstart German brand that's taking the European continent by storm.
Good looking, high-performing, and a great value—we're happy to add the John Doe brand to our shelves. Actually, the company supplied its own shelves for us, made out of the same phenolic Fin-ply our other fixtures are cut from, and since sometime last season the company's AAA-rated jeans and Motoshirts, in particular, have been hard to keep in stock.
After an off-season reset, we're finally caught up, restocked, and ready to roll with John Doe. 
The jeans all use the same single-layer technology, paired with the best armor adjustment system we've seen to date, to deliver AAA-rated slide protection in a product that you'll not just be able to, but will actually want to wear off the bike.


Fan favorites include the slim-cut Pioneer Jeans (shown above) the straight-leg Taylor Jeans, and a heavy-duty cargo called the Defenders, shown below, which comes with a smart cut and plenty of protection.
Also pictured below is the John Doe Motoshirt, a AAA-rated low-key looking garment that tests about as high as we've seen in years of selling look-a-likes. Plus, it's got low-key branding, super functional zippered vents, and has a great cut. It's available now in four men's options and two women's.


Besides its savvy tops and pants, the company's footwear lineup—all of which is made in Portugal—is also worth a look. The Neo motorcycle shoes are great warm weather options.  
The John Doe leather boot lineup, in particular, blend traditional construction with subtle safety features—leaving little to want for.
Shop the whole John Doe collection now, in-store and online.

And note: if you're not seeing your size or color choice, use the "email me when back in stock" feature and we'll let you know when it comes in.