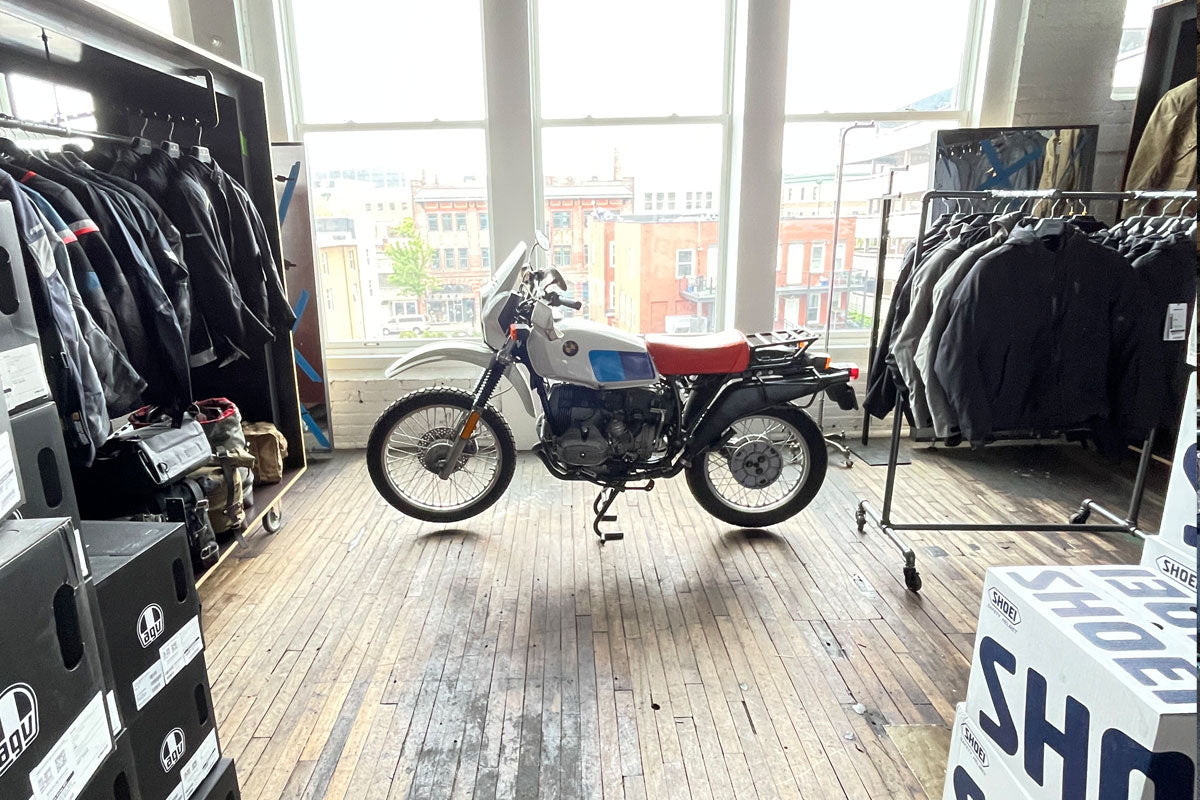 The State of Union: Spring Showroom Update
First the big news: we've traded our old digs at 101 Union Street in Brooklyn for a 102-year-old former factory building in downtown Bridgeport, Connecticut.
*Apologies if that statement made you spit-take a drink onto your screen.

Yes, we've left the best borough in the greatest city in the world for a relative unknown: an off-the-radar "deindustrialized" port town on the outer edge of the tri-state megalopolis that, chances are, you've never been to.
To be clear: this is just a progress report—we are still wrapping up the buildout of the new brick-and-mortar showroom, and we are at least a few weeks away from an official opening.
We very much look forward to updating Google Maps with the new address and rebooting the Union Garage showroom experience in our new space, so please stay tuned for grand-opening details.
Until then, our online store has and will continue to operate daily as we finish nesting here in the new treehouse HQ.
And in very much related news: we're hiring.
/// What's been taking so long?

Turns out, picking up and moving a ten-year-old, inventory heavy brick-and-mortar store across state lines, and then up into a third-floor loft all while maintaining continuous online operations is a bit of a circus act. 
Besides the physical move and buildout, in the intervening months since we closed up shop in Brooklyn we've kept busier than anticipated juggling online store with some light rennovation work. This has been a great problem to have, and we are ever grateful to all who have been shopping online with us.
During the early stages of the transition it felt like we were doing business from an active shipwreck—picking and packing orders from a rolling ocean of boxes and display fixtures in various states of assembly.


[Left to right: The first pallet of helmets arrives at the showroom; chaos ensues...]
We've also been receiving new inventory faster than we've been able to get the online store updated, so stay tuned for a backlog of exciting new product drops from some of our best brands: Belstaff, Klim, John Doe, Spidi, and TCX, in particular.
As of this late spring writing, we've nearly come full turn, from shipwreck to just about shipshape, and we're looking forward to skipping to the fun part.
/// Back up: why the move, and why Bridgeport?!
The short and simple answer is that after nearly a decade in the same spot, it was time for a change, and this move, however seemingly unlikely, actually just makes the most sense for the business.

Our real estate search certainly didn't start in Bridgeport, a place we're just getting to know, but once we found this unique raw space things fell into place quickly, and here we are.
"Well lit" is an understatement. Sunlight pours in through a full wall of 10-foot-tall windows, and the 20-foot ceiling is buttressed with massive timber trusses spanning a full 40 feet across the open space. The old-world cathedral-like vibe of the loft fits nicely with our mission of being a non-denominational church for motorcyclists.
And without getting any more sanctimonious, suffice it to say the new joint is proving to be a nice place to show up for work.
For most of its life this building served as a machine shop. Before our racks of jackets and assorted gear displays covered the floor, this open loft was filled with heavy equipment stations (including a few hometown Bridgeport mills) that for generations chewed through metal and shvitzed cutting oil across 3,000 square feet of battered oak floors.
[Iconic and locally made Bridgeport mills like this one once filled our new showroom space.]
We recommissioned the building's mothballed freight hoist to transport the entire store upstairs for the move, and use the thing daily for shipping and receiving.
This old building has seen a lot, but we're fairly certain we are the first to ever roll motorcycles across the old floors.



Romantic waxing about the architecture aside, we fully understand that for some diehard New Yorkers, Bridgeport may as well be Kazakhstan.

But for diehard New Yorkers *with motorcycles,* we'll politely suggest that a trip to the new store will be worth breaking out of city limits for.
The showroom will no longer a 13-minute hike from the F Train, but we are now a short 3-block walk from Bridgeport's Transit Center, with regional rail service via Amtrack and dozens of daily Metro North trains from Grand Central.
Another couple blocks there's year-round ferry service from Port Jeff, Long Island—walk-on for a quick trip, or bring your bike onboard and make a day out of it.
And we're literally two minutes off Interstate-95 in downtown Bridgeport, with plentiful private parking. We'll miss many things about being in Brooklyn—the increasingly traffic-choked BQE isn't one of them.
Once opened, the new location is about an hour's ride from NYC—easy on a Sunday morning, with loads of optional scenic routes to and from.
At the end of the day, for anyone coming from New England, from upstate New York or Long Island, or even from upper Manhattan at certain times of the day, the new showroom will be as easy or easier to access than ever.
//// The next chapter
For those who have exclusively shopped online with us, the coordinates of the new showroom won't immediately matter much. 
We're still out here in the ether, filling orders and answering questions via phone and email—business as usual.

Going forward, we'll be giving the online portion of the business more relative attention than it's gotten in the past. And even once the showroom is open, it won't be a 7 days/week operation. We're aiming for 4 days/week to start, with the rest dedicated to the curating the catalog, developing new products, and real-world product testing (aka: riding more).
Even with relatively reduced days of the week, we're very glad to soon again have a place to invite folks in to shop and experience the operation firsthand.
The physical store has always been like a laboratory – we get to see first-hand which products survive, thrive, or die in the petri dish. We can get real-time feedback—plus we get to see a wide spectrum of bikes, and meet the personalities piloting them. And in the exchange, we aim to provide a 5-star helmet fitting and in-store shopping experience, complete with a side of amateur barista service.
Will our modified business formula work from the new locale, a state that doesn't even have a helmet law? We have no idea!
We've got some momentum and experience behind us now, but just like when we hung a shingle and opened the first little 300 square store, there are no guarantees this will work.
That unknown is all part of the adventure. We're here for it, and if you're reading this, you're part of it too.
/// Help Wanted

Incidentally, this is a lot of work, and we're looking to hire a few new team members to help with retail operations in our recently renovated Bridgeport, CT, headquarters. Job duties range from staffing the showroom (both in-person, and virtually: through phone, email and chat) to helping ship and receive product.

On top of the basics, there's potential extracurricular work related to web development, sales, and marketing. 
If the role sounds amorphous, it's because it is. We have some core responsibilities we need immediate help with, and we can build the rest of the job around the right candidate(s).
Retail experience is not necessary, but we do require a motorcycle endorsement, and at least basic knowledge of—and genuine enthusiasm for—the gear we sell. Full training will be provided.
Local-ish, and interested? Or know someone who is? We are now accepting part- and full-time applications — no phone calls, please. Instead send an outline our your interest and a resume to jobs@uniongaragenyc.com.