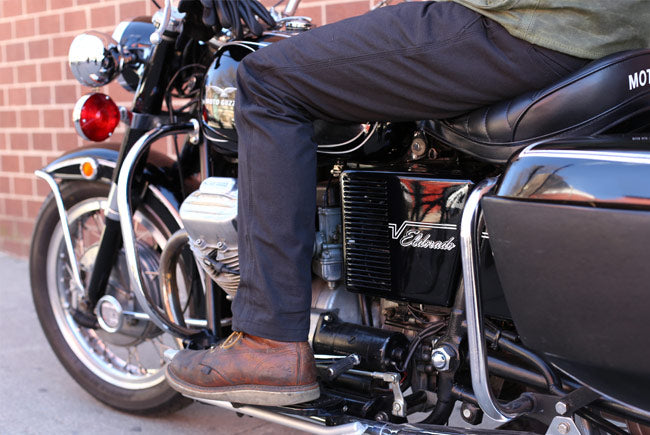 The Moto Pant We've Been Waiting For
First of all, it's available in a no-frills,
all-black black option.
 That's as NYC 101 as avoiding eye contact on the subway. Next, these pants are thankfully totally devoid of conspicuous branding—a notable show of constraint for any Euro brand. (Bravo, REVIT!)  We also carry the
Alpha in tan
, which is equally low key and looks like a cross between a khaki and a Carhartt.
And the fit?
Fughetaboutit
. The design of this pant is just as "no-bullshit" as its refreshing lack of branding—it has a straight leg, a slightly higher rise in the back and is cut slim, but not skinny.
It's perfectly suited to trotting down subway station stairs or pulling all-day double-duty in an office, or on a job site.  And on the bike, a subtly gusseted crotch panel provides just enough to make the pant more comfortable in the saddle, yet is hardly perceptible when walking around in civilian life.
New York City has 6,000-some-odd miles of roadway, the majority of which is governed by a 25-mph speed limit. So the need for sheer abrasion resistance is somewhat less here (or in any congested urban environment). The need for armor remains, of course, even at slower speeds—think: city sewer grates, swerving cabs, streets lined with chopped up pavement or slimy cobblestones.
The Alphas deliver both impact and abrasion resistance. For armor, the Alpha gets the incredibly thin yet somehow still CE-Level-1-Rated SeeSmart knee protectors, included. Complementary hip protectors are $20 extra, and highly advisable. You'll hardly know they're there.
Abrasion-resistance duties come courtesy of REVIT's proprietary PowerShield, a sort of aramid fiber that they claim performs better than leather in a slide. This wunder-knit is located discreetly at the seat and the knees of the pants.
The shell material of Alpha is no sacrificial lamb, either. Cut from 10oz Cordura Denim with a slight stretch to it. It's also got some Coolmax worked into the fabric, to help keep things cool. All exterior seams are triple stitched for added seam-burst strength—something a lot of other companies ought to take note of. Abrasion resistance here is on par with any other casual crossover pant we carry—except maybe the double Dyneema-knee/seat $450
Rokker Chino
, which also accommodates beefier armor.
One last feature worth mentioning is the reflective strip sewn into the outside seam, for a little bit of extra visibility when cuffed. Extra reflection is good, of course, but this feature threatens to spill the beans on otherwise totally clandestine moto pant. If it bothers you, simply spend $10 and have the pants hemmed.
 //
Sizing note #1 - Alpha's size range is offered in a short, regular, and long version. The "regular" is actually a 34-inch inseam, which in pretty much every other scenario is longer than the average human being's outseam. Besides the fact the Dutch are an uncommonly tall people (REVIT is based in The Netherlands) there are two reasons for the daddy-longlegs sizing. 1A.) The Alpha pants were designed with allowance to be cuffed, which exposes the reflective strip sewn into the triple-stitched outside seam. And 1B.) while straddling pretty much any motorcycle, whatever pant you're wearing will naturally ride up 1-2" at the cuff, depending on position of the pegs and the resulting angle of the knee—so that extra length comes in handy while riding.
Sizing note #2 —the armor is non adjustable, and moves up 1" with the short and down 1" with the long, relative to waistband of the standard size.
Sizing note #3: The true waist size on these pants is 2" over the nominal size. See this picture for reference— the "30W" measures 16" across laid flat (32" total), and so on.
*Of these NYC neighborhood-named products, we stock one, the Flatbush, and it's a lovely piece (even though it has nothing to do with the fast gentrifying neighborhood south of Prospect Park.) It deserved to stay in the lineup another season or two but sadly it's been discontinued. If we've got your size it's a steal at the new closeout price.