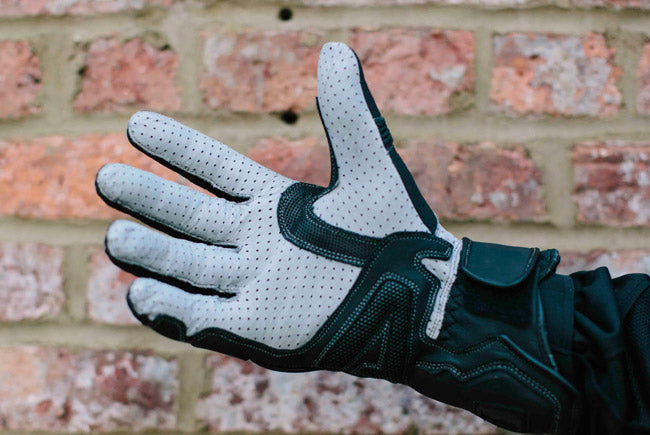 Seven Gloves for Summer
Think armored sweatpants, but for your hands. The Striker 2's are comfy, protective, and convenient with their iphone-enabled fingertips. This glove gets an upgrade over its predecessor with a flexible but plenty protective 3D SeeSoft knuckle guard, offering comfortable and confidence-inspiring protection that doesn't feel out of place like hard-edged knuckle protectors fond on cheaper gloves. The sides of these summer gloves are built from two-way stretch material for flexibility and breathability, while all the critical parts are made from tough-but-soft goatskin.  
REVIT has improved upon the original Fly glove by adding more extensive perforations for breathability, and also adding a touchscreen-friendly fingertip—all without changing the $90 pricepoint. A hard-shell knuckle seriously helps mitigate the sting of catching that minivan's side mirror while lane-splitting up the FDR. Lightweight, comfortable, still Burt Reynolds approved. This glove is also offered in a women's version—same construction, but with a narrower palm and slightly longer fingers.
This 2.75-plus-ounce deerskin may be supple and offer surgical-glove-like dexterity, but it's still more abrasion-resistant than cowhide. And that's just part of what make these superior riding gloves. Unlike cowhide that can shrink or stiffen after they get wet, deerskin stays soft and supple through years of regular use. And they breathe exceptionally well—even the black color option, but the tan does run a bit cooler in traffic. These made-in-Oregon gloves are our best-sellers for good reason, and we have them in stock in sizes sizes XXS through XXL.
  This glove is (quite obviously) designed for the dirt, but it does pretty damn well on the open road. We grabbed a pair of last summer for a four-day trip up to Nova Scotia in 80- and 90-degree weather and they provided ample ventilation without sacrificing much in the way of protection. Take a hand off the bars and shake it out in the wind and the whole glove is quickly air-dried, ready for more miles. It's got touch-screen-enabled fingertips, a leather palm perforated for breathability, and a hard knuckle protector backed with soft foam for comfort.
This is the only glove in this summer-special that is fully waterproof. Not coincidentally, it's also going to be the warmest. But thunderstorms are as much a part of summer as swimming holes and splattered bug guts on your visor. These gloves are a great choice for year-round riding, and thanks to an OutDry treatment, they'll bead water off without soaking it up like most "waterproof" gloves, which rely on an internal membrane to act as the last line of defense. The result: a well-armored (check out that double-scaffold protector), decently discreet, very waterproof leather glove at a fair price. Doing a long, multi-day trip this season? Unless you live in Arizona, bring a waterproof gauntlet.
Gauntlets are normally known for their full-coverage protection—both from the road and the weather. But this long-cuff option from ze Germans is meant to battle the heat, not the rain. Amply ventilated, this summer savior features a tactile kangaroo-skin palm that would breath well on its own, and breathes even better thanks to micro perforations throughout the whole palm panel. Hard knuckle armor atop the glove is also vented to bring even more air in. For as supple and dexterous as the kangaroo skin is, it's also just about the toughest leather available. The body of the glove is backed with panels of Kevlar to prevent break-through in a slide, and padded SuperFabric palm protectors deliver great protection and slide capability without weighing the glove down.
If you're in search of a great-fitting, fully-protective, amply ventilated short-cuff glove for summer, you can stop looking now because this about as absolute as it gets. Made from supple but still suitably thick goatskin leather, these gloves are built to breathe and deliver the tactile feel of a performance glove—but they've got a lot more armor than your (or our) average motorcycle glove. It's basically a Moto GP glove built for street riding, with a trick wrist strap that cinches and straps down in one fell swoop—using a cam action get a nice snug fit every time. Outseam stitching at the bottoms of the fingers eliminates any potential pressure points, and an aluminum allow back-of-wrist slider (same as off REVIT's Moto GP Jerez option) provides plenty of confidence.