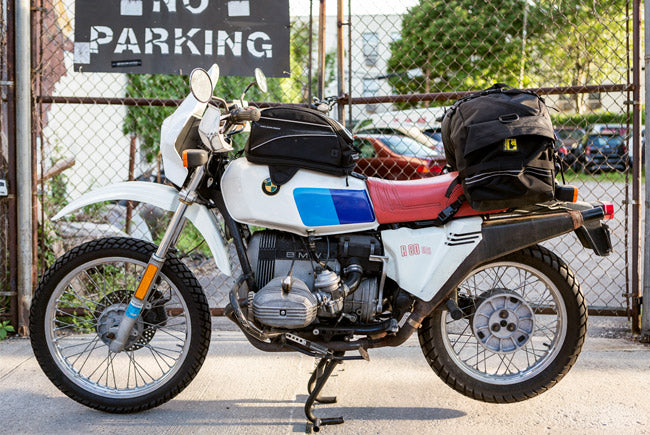 Ride Loaded: Seven Motorcycle Bags Worth Wanting
  The Wolfman Beta Bag is the ultimate Fanny Pack for Motorcycles. Made in the USA it offers pillion-hugging storage to the tune of 45-liters. Run it with panniers or without, on practically any bike.
The Overland Duffel is a versatile tail pack that can be used as a business causal briefcase, a shoulder bag, or a backpack. It comes with all the straps and hardware at an incredible bang for the buck.
The Wolfman Renegade Double-Ender is a simple, effective storage tube that comes with universal straps to lash onto any bike, plus it includes backpack and a shoulder strap for off-the-bike toting. Access either end of this completely submersible waterpoof bag. Or fill it with ice and use it as a cooler and be a hero on your next group ride.
This Nelson-Rigg tank bag will hold a few extra layers, lunch, or with the expansion chamber (17-27 liters) it'll swallow up a whole helmet too. It's available in in strap-style or magnetic versions.
When all you really need is a place to stash your phone, wallet, and extra pair of gloves and a snack, we've become big fans of this small bag. It comes with universal mounting straps, an included rain cover, and can be upgraded with these nifty magnets to latch onto any steel tank.
Kriega Dry Bags are some of our best-sellers. They're stacked like Russian dolls on this Ducati for effect, but each of the 10-, 20- or 30-liter options can be mixed and matched and stacked like Legos. There's also a slick tank-bag adapter to run any of them on top of your tank. The 20- and 30-liter options come with shoulder straps, and they're all super-duper waterproof and come with a whopping 10-year guarantee.
Ortlieb Saddlebags will fit on pretty much any standard bike, and can turn even the sparsest of cafe racers into a passable grocery getter. Each of these 25 liter bags uses a sturdy roll-top design to keep the elements out. They install and remove in mere seconds, and are yet another example of German engineering brilliance.