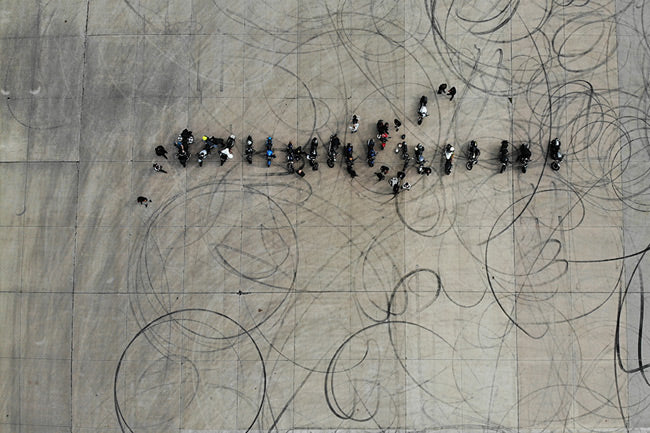 Video: September RSD Shop Ride and Pop-Up
This September has been hot and fast on Union Street in Brooklyn. Two weeks ago we were all out on the sidewalk under swirling dark clouds, holding down a couple of event tents as late summer storm gusts tried to rip them out of our hands. We were setting a launch party for the Roland Sands Design Pop-Up Shop, and mother nature was being a real bitch.

But at least there was a breeze
—the day before that sidewalk storm burst we were sweating through our shirt unboxing all the new gear for the RSD showcase, in 90-degree temps with 75 percent humidity, and zero wind.We thought the installer might die of heat stroke putting the full vinyl wrap on the storefront in the blazing midday heat, but he got the job done, it looks phenomenal, and we got the shop open on time.
For the opening night of the Pop-Up we hosted a party with a taco bar from Lobo Brooklyn, a cooler full of ice-cold Modelo, and we welcomed Boo the pinstriper from Japan for the first of two days at the shop. Boo was in town for the Brooklyn Invitational, and he obliged us with the live-action entertainment as he knocked out custom paint jobs on helmets, gas tanks, fenders and whatever people wanted to stand in line with. Boo was kept busy all night.
When we first started chatting about doing a pop-up almost a year ago with Rob Ramlose, the apparel brand director at RSD, we targeted September as an easy choice—the seasons would be turning and the leaves would just be starting to crisp up.
And after an August that was equal parts oppressively hot and depressingly wet, we were ready for a cold snap. We got one last dose of summer-in-the-city heat at the outset, but ever since we launched the pop-up the weather has gotten progressively better. After that initial sweltering curveball, it's dropped a solid 20 degrees in two weeks.
/// TIME TO RIDE
The following Saturday we rallied early in front of the store for a Shop Ride. Rather than taking a standard run through the woods and twisties of Bear Mountain in Harriman State Park, and in light of our guests from Southern California, we decided to make this a local run.
Instead of bee-lining for a bridge to escape the city, like we normally do, we went the other direction—into the belly of Brooklyn. A group of about 20 showed up hours before we normally open to rally for the ride. After gas and coffee intake we set out down the Belt Parkway towards Coney Island. The elevated roadway passes over Gravesend on the left, a fitting name for the massive subway yards that houses hundreds of slumbering subway cars. On the right loomed the Verazano bridge, which we rode under as we rounded the end of Brooklyn.
We hoped that our SoCal friend was taking all this in as we rumbled down the Belt. We passed the Ferris wheel at Coney Island and headed for Floyd Bennett Field, a decommissioned airfield that's been inexplicably left open to the public. We took a break and reveled for a few minutes in the open space. Floyd Bennett is a true playground—clearly evident in the photos we got from the drone showing layers of donuts scorched into the old acres-wide concrete runway. This might not be a big deal for someone who lives in a place with wide open spaces, but for space-crunched New Yorkers, Floyd Bennett is something else.
After a few drag races we put our gear back on and shot over the Marine Parkway bridge, which is a least favorite for motorcyclists because it's paved in steel grate panels that pull the front wheel in every damn direction, every damn time. Surviving the bridge, we pulled up at the Bungalow Bar at Rockaway beach.
After a quick bite on the open air patio on the water, we got back on the bikes and headed over the Cross Bay Bridge and onto a portion of the Jackie Robinson Parkway—the closest thing to a twisty motorcycle road in all of Gotham. It lasted all of about 2 miles, but was a worthy little detour.
When the Parkway ended we started the slog over surface streets to Williamsburg. We proceeded to engage in some judicious lane splitting and miraculously kept our motley crew of 20-some bikes together, with a squad ranging from an early 80's XS650 chopper to a 2018 BMW 9T. Ramlose from RSD had a big smile on his face, even if he couldn't believe what crappy condition some of the streets were in.
Apparently they don't get too many frost heaves in Southern California. Finally we reached our final stop in Williamsburg, at the 10
th
annual Brooklyn Invitational. This show has evolved from its punk-rock roots into a world class exhibition of custom motorcycle builders.
Yes, there were plenty of choppers inside the show and out, but there was plenty of variety, too. One of the best R9T builds ever seen, from Cherry Company. Plus a dual-motor CB750 motor drag bike (punched out for a total of 1,650cc's!) from Mitsuhiro Kiyonaga, with paint as outrageous as its top speed— 173mph, clocked on the El Mirage dry lakebed.
The bikes in the show were all worthy contenders. And the crowd alone was worth the trip.
/// Leather Weather
Now at the end of September, the weather forecast has crystalized into what we've been waiting for all year—these perfect fall temperature days that just beg you to go rack up miles on a motorcycle. Even during the hot and frantic early days of this month, we knew it would all be worth it as we unboxed the 2019 RSD collection of new jackets and gloves for the first time. We'd only seen these jackets in catalogs and line drawings before that, but holding them in-hand confirmed our suspicions that this was the strongest lineup of from RSD we've seen to date. Two jackets stand out in particular—the men's Jagger jacket, and its sister, the Mia.
These pieces are made from plentifully thick Buffalo cowhide, matte black and styled just right with some discriminating quilting that adds a dash of vintage styling to an otherwise thoroughly modern jacket. They both come with zip-out black softshell hoodies, which are seam sealed and fully wearable on their own. With the liner zipped in you won't need much to stay comfortable in even the chilliest weather. With the liner zipped out, and with hidden vents opened up—two intake vents at the shoulders; two exhaust vents at the back—this jacket does well on even unseasonably shweaty September days. Like all new RSD jackets, the Jagger and Mia come with included Knox CE armor at the shoulders and elbows—a smart upgrade from previous RSD armor.
The new Signature Series Ronin and Clash also met our high expectations—everything we love about the perennial RSD best-sellers, but with thicker leather and the same hidden ventilation system of the Jagger. We've got a slew of RSD gloves in-store this month too—every model the company makes, in fact. But two models have risen to the top.

Sometimes known as Leather Weather, to ride in the fall in and around New York City is to experience the absolute pinnacle of motorcycle appreciation. It's when you can suit up with all the gear you know you're supposed to wear on a regular basis, and it actually makes you more comfortable, not less comfortable.

We're happy to have the entire 2019 RSD collection on hand to help supplement our standard offering, leaving very few excuses not to have good gear this season. Come check out the Pop-Up between now and the end of the month.