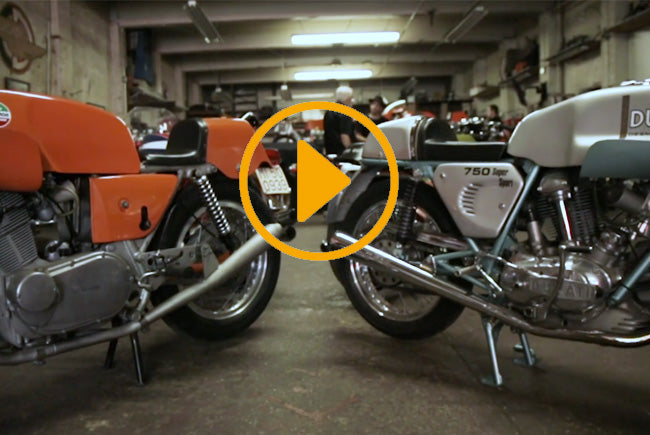 Video: Italian Sporting Bikes of the 70s
Why "Italian Sporting Bikes," and why specifically from "The 1970's"? We hope that once this presentation is made these questions will answer themselves. But in short, this was a very special time for motorcycling. A confluence of factors—social, economical, technological—gave the motorcycle world a decade of some of the most unforgettable and soulful designs of all time.
Manufacturers realized that if motorcycles were no longer going to be a means of economical household transportation, then they damn well better be fun. Hastened by Japan's onslaught of mass-produced, well-made, fast, and affordable machines, the Italian firms of the 1970's—namely Ducati, Laverda, Moto Guzzi and MV Agusta—kicked their design and production efforts into high gear, and came into the decade swinging. This show was curated by Peter Boggia at Moto Borgotaro.
And thanks to generous sponsorship from Alpinestars—which incidentally also got its start in Italy around this time—we were able to bring together 20-plus pristine, original-condition motorcycles that collectively define this incredible era.

Special thanks to the owners of these bikes for loaning them to the cause: John Bloy, Robert Machinist, Stuart Parr, Robert Pettinicchi, Eric Lindemann, and Ken Salamone. And extra special thanks to director Roberto Serrini for pulling this gem together. Here is a recap by photographer Peter Domorak taken the day of the show.


As with our #25yearsofBMW show, we photographed all these Italian Stallions in the studio in 360-degree pan-o-vision. See the full interactive motorcycle show.