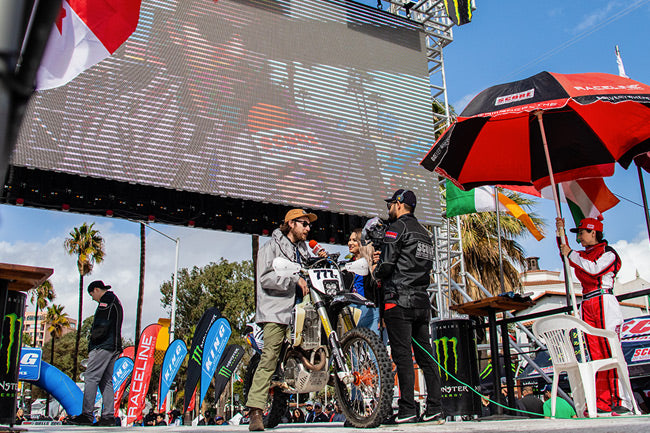 At the Baja 1000 with Union Garage Sponsored Rider Dave Dunn
Dave Dunn is lining up Saturday morning, November 23, at 3AM PST, to hurl himself and his Husky 501 at top speed in a round-the-clock race through the desert in pursuit of glory at the Baja 1000 in Mexico.
Glory in this context is code for "survival." Statistically, more than half the 15 entrants to this year's Pro Moto Ironman solo class will not finish. We've been happy to help Team Mystery Moto get geared up properly to stay protected, and we look forward to following along on the adventure. [UPDATE: Scroll to the bottom of the page of the epilogue.]
Dave is mounting an amateur assault on the longest, most dangerous, most badass continuous off-road motorcycle endurance race in the world. He's not a professional sponsored rider; he's had to buy his own bike, his own van, and come up with budget to support a team of friends and family to pull off this bucket-list challenge.
Last minute mechanical checks in Ensenada before the race.
He doesn't have decades of off-road experience, either. And all that is exactly why we wanted to help sponsor the guy. He is an unlikely hero. An everyday motorcycle enthusiast who's criss crossed the country several times over on bigger adventure touring bikes, and who committed to riding the Baja for the sheer challenge of it. Hailing from—all all places—Nantucket, Massachusetts, Dave's traveled a long way, literally and figuratively, to line up at the start line of the Baja 1000.
He's backed by a close-knit team of friends and family and applaud the effort. Don't be fooled by the fact that he manages a country club on a island off the coast of New England, it just takes one rock solid handshake with Dave, a year-round local on the island, to realize how serious he is about racing Baja.
Just like many folks had never followed the Dakar rally before Lyndon Poskitt's heroic and entirely accessible Malle Moto documentary came out, we see Dave Dunn's Baja campaign as a fresh perspective to get behind and watch first-hand what it's like to tackle one of the world's most famous races. The Baja 1000 is revered (and feared) for its treacherous terrain, and also for the booby traps laid by vigilantes along the course. Yes, booby traps. 
We'll admit to having never watched the Baja 1000 before, but we're absolutely looking forward to seeing it unfold this year. There's already been a little bit of drama with uncommon storms bringing rain and mud and a 24-delay to the start of the race.
Good thing Dave and his team are used to shitty New England weather! Photo: Jonathan Nimerfroh[/caption] Generally the motorcycles start at 3AM in order to get ahead of the trucks and their choking dust. With a mud-bogged course, dust won't be as much an issue. But it'll still be critically important to getting along as much of the course as possible before it's utterly chewed up by Baja's massive 4x4s. Dave's race number is 777X —"because we needed all the luck we could get."

Follow along live via the Live Tracking Feature at the website for the 2019 Score International Baja 1000.  You can also follow along live on Instagram by following @uniongaragenyc, @heresdave, and the team account, @mysterymoto. All photos by Jonathan Nimerfroh; video shot and edited by Daniel Sircar.
/// Now, onto the gear.
Not coincidentally, it was at
Lyndon Poskitt's Ride Report Presentation
at the shop last spring where we first met Dave, who rode his 1200GS down from Nantucket to catch Lyndon's talk. When we got wind that Dave was making a run at Baja, we offered to help on the gear end, and had a great time playing the role of official gear squire to the campaign. While most of this equipment is outside our regular purview here in concrete-bound Brooklyn, it's no secret we love riding dirt, and it's been a fun exercise to consult with some of our best brands to get Dave properly outfitted with equipment that's suitable for this epic adventure. Here's the kit we sourced for him:
//
Adventure Spec
is a UK brand dedicated to lightweight offroad adventure gear. We're looking at bringing the company's Trail jacket and pants in next season, and for the 2019 Baja Dave Dunn will be well protected with the company's Atacama jacket and in-boot pants. Both pieces are well suited to Baja racing with their combination of super-tough 1000D fabric at impact zones and 6.6 military-spec open-knit Nylon, which lets copious amounts of airflow in without sacrificing protection. The jacket is compatible with Dave's Leatt neck brack, and the pants tuck neatly into his tall Sidi boots. 
For a helmet Dave's first and only choice was the
Shoei VFX-Evo
, a strong but lightweight Japanese-made fiberglass shell adventure helmet designed to be worn with goggles. The helmet sports some of the most innovative features we've seen in Shoei's 80-year history. Namely, it features M.E.D.S., a new way of approaching helmet design that takes the edge off the rotational energy so often tied to concussions.
Find out more about what makes this helmet special.
For boots
Dave selected the
Crossfire 3 TA from Sidi
– which has become a fast favorite in the Italian bootmaker's lineup ever since its debut in 2018. It's a well armored off-road option that's ready for anything from shredding local woods trails to all-out desert racing. It has an ankle pivot system designed to provide a hard limit of foot/ankle hyperextension, and it also gets copious shin protection, a reinforced toe and heel cup for taking hits from trailside debris, and it works well with any size calf or any brand of knee brace with an innovative upper closure system. And the best part is that for all that whizbang tech, any experienced old-school cobbler can resole this boot once its tread reaches the end of its service life. "TA" stands for traditional application, and this Italian-made off-road boot blends old and new tech into a premium package. For gloves and goggles to protect Dave's eyes and hands (very important pieces of any puzzle!) we went with
KLIM Dakar Pro gloves
(at Lyndon's recommendation) and
Viper Pro Off-Road goggles.
The gloves offer a healthy dose of goatskin leather and Poron HD flexible knuckle protection to beef up the traditionally minimalist dirtbike glove design spec. We sourced two sets of goggles for the race, each outfitted respectively with double-lens clear and smoke lenses for daytime and nighttime use. The "Pro" model of these goggles is a nice upgrade over standard Vipers for their beefier nose guard and extra-wide outriggers to keep a secure fit against the face.
In order to pack along important sundries like snacks, a first aid kit, backup batteries and phone and other essentials, the
Kriega R8 Waistpack
offers quick-access storage that's totally water- and dust-proof. A good wasitpack keeps undue strain off the shoulders and plunks it down around the hips to help maintain a nice low center of gravity. Putting all that gear in the wasitpack saves the shoulders for a
Kreiga Hrydo 3 hydration pack
—and with all the other gear designed to ventilate in the hot desert terrain of Baja, taking in enough water is a key part of the Baja 1000. The Hydro 3 has a 3-liter storage compartment, a 100oz bladder, and Kreiga's patented Quadloc harness system to keep the weight from sawing through the shoulders.  

//// UPDATE AND EPILOGUE ///
After 345 miles and 13 straight hours of flogging his single-cylinder Husqvarna 501 to its limits, our man Dave Dunn unfortunately had to pull out of the 52nd annual Baja 1000 over the weekend.
We caught up with Dave on Sunday for a quick chat—a phone call was easier than typing out a race report on a phone. "My right hand is a claw right now and I can't bend my right ring finger at all," he reported. "Physically I'm otherwise feeling fine. Just sore ands stiff. I've raced and done hare scramble and some endurance stuff, but when you throw it all together for 13 hours—or 24 or 34—no matter how fit you are there's just no preparing for it." Dave though his race might end at Mile Marker 133, when an ATV ripped passed him then stopped short right in front of him after rounding the corner.
Update: Baja is Brutal. Dave Dunn snapped this selfie sometime during his 300-some miles of Baja
He had to shoot off the trail to avoid a collision with the ATV, but that didn't leave time to dodge the 3-foot-tall round boulder he hit heat-on—sending him flying over the bars into the brush, and sending the Husky somersaulting off the trail. The first 130 miles up until that first big get-off went smoothly. Dave was in the top 30% of his class and said the bike felt good. Dave was shaken but got back on and kept racing for another 200+ miles. At some point a baseball sized rock kicked up from a passing vehicle smacked him in the face at 50mph. It knocked his head back but the Klim goggles and Shoei VFX helmet held the line. He also encountered a giant v-shaped trench cut across the trail—a suspected man-made booby trap the course is famous for. The rut caused Dave to slam his chest into the bike's metal navigation tower and nearly sent him ass over teakettle again.
Dave Dunn made it about halfway through the Baja 1000 before making the hard decision to pull out of the race.

Then the mechanical issues started manifesting. "Everyone came down to race in the desert, and nobody was expecting the mud," he said. "Because of the rain the mud on the course turned into a kind of slurry, which caked all over the bike like clay and kept it from running cool. I was boiling over and getting serious clutch fade issues. On some technical sections I couldn't shift gears unless I just mashed on the shifter at risk of detonating the transmission."
"After the last pit I couldn't get the bike to start again. We had a spare battery, but if it died in the mountains that's where I would have had to leave it." Dave had a decision to make. Stop the campaign that he'd spent over a year preparing for, or try to limp his bike into the second night, when the 800-horsepower trucks would start baring down behind him. The only thing warning approaching trucks of his presence were the blinking red LED lights clipped to the back of his Kriega backpack. And even if those lights stayed if they all stayed on (Dave said he saw a Disco of lost LED's blinking along the trail) they wouldn't do him any good caked in mud.
With all the factors at play conspiring against him, Dave knew he couldn't continue to race safely. On top of the trucks, he was headed for more mountain sections—off-camber shale paths that were difficult to walk, let alone ride. "Someone went over a cliff in a UTV and had to get medevac'd in a helicopter. That's not how I wanted to end my race."
Instead, Dave will race another day. He's already planning some upgrades to his bike—a new clutch, new water pump, less restrictive radiator hoses—and he expects to return to Baja in March to find retribution in the San Filipe 250.
//
Big kudos to Dave for having the cajones to attempt such an ambitious race. We're thankful to have gotten the chance to play squire to the campaign, and to have something to follow along with on an otherwise unremarkable cold November weekend in New York.