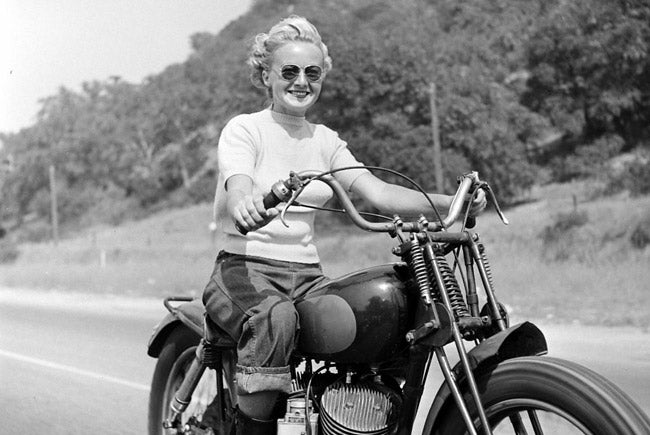 Women's Weekend at Union Garage
It all starts this Saturday night, 10/1, at 8PM with another installment in our Ride Report speaker series. On deck: Tracy Motz, the head of marketing for REV'IT! USA. Tracy has more than 100,000 motorcycle miles under her belt and still moonlights as a certified MSF riding instructor, but she wasn't born an expert. Back in 2005 Tracy quit her job on Madison Avenue, bought a Honda Shadow, and set out on what would become a life-changing motorcycle trip that started in New York City and ended in Argentina—a full three years later. Tracy will be the first to admit how little she knew about what she was getting herself into. Her lessons were learned the hard way, and she'll be sharing stories and tips and presenting an extremely abridged 30-minute version of her mega motorcycle trip—complete with archival digital photos and newly digitized camcorder clips.
Kim Crawford Wines
. Attendance, food and wine are free, but please RSVP so we know you're coming.
Whether or not you can make this Saturday night's presentation, don't miss out Sunday when we'll be hosting an all-day Women's Open House and Sale. We're going to kick it off by opening up an hour early—at 11 AM— for a complimentary girls-only brunch and day-long sale on select women's gear. (guys can come too, as long as they bring a lady friend). Gourmet coffee, bagels, fruit—and what's brunch without a Bloody Mary? We'll have expanded inventory on hand for the day plus representatives from 
Aether, BHBR, REVIT
 and 
Worse For Wear
 at the store to answer questions and help with fittings. Come check out our upcoming custom women's motorcycle boot collaboration with BHBR, or try on an all-new motorcycle jean model from Worse for Wear. Plus, score great deals on nearly our 
whole catalog of women's gear
. This is a one-day, in-store only event. Don't miss it.
— Sunday Morning Ride Out —
Leslie from BHBR will be leading a girl's ride-out at 9AM—as long as the weather cooperates. The meet-up is at Tarpit Cafe in Greenpoint at 9 for coffee; kickstands up by 9:30. Cruise to the beach and take the back-way to Red Hook along the Belt Parkway to get to brunch by 11 at Union Garage.Email Leslie from BHBR with any questions.