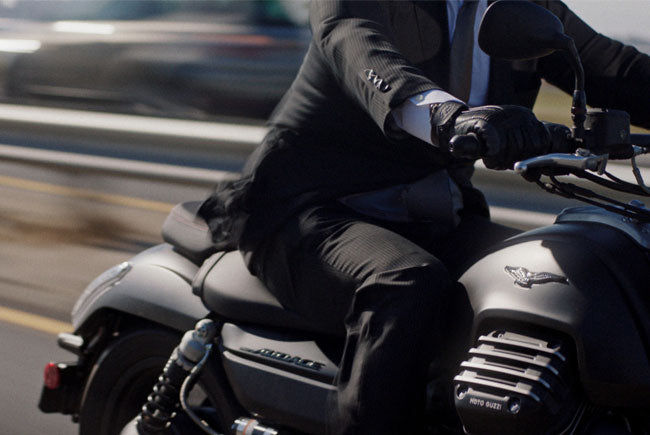 Video: This Particular Ride
The
DGR
 raises money for cancer research and men's health through a charity ride that has grown to global proportions. Union Garage has been involved since 2014, providing coffee and an early morning rallying point for local participants. And each year we've chronicled the event with a
splashy video
of the parade, from start to finish. Suits, classic motorcycles, dapper dogs in a sidecar—it's always a fun day with plenty of great visuals. This time, we wanted to try something a little different with our coverage. This ride owes its runaway success to the sheer spectacle it never fails to provide: legions of men (and
women
) dressed in their Sunday Best, parading en masse through their respective cities by motorcycle. It's hard not to smile. It's good clean fun for a great cause. But sometimes it feels — between the corporate sponsorship, shoe shine booths and all the official merchandise—that the cause is overshadowed by all the hoopla that accompanies it. To bring the event back into focus we turned to Steve Kupershmid, a customer, longtime rider and native New Yorker with a particularly personal connection to the DGR. Five years ago Steve lost his friend and brother-in-law, Don DeVito, to a 20-year battle with prostate cancer. After registering for the DGR for the first time this year, Steve was startled by the response he got—his family and extended social network collectively contributed more than $8,000 to his campaign, making him a top-ten fundraiser out of 50,000+ registered riders world-wide. He may have been even more surprised when we called him to ask if we could come to his house at 4AM to document him suiting up and riding into NYC from his home in rural Long Island. He graciously agreed to let us tell his story, and director
Jason Harper
brilliantly brought the concept to life in this new short film. To find out more and donate to the cause go to:
www.gentlemansride.com/rider/stevekuperschmid
// Director: J.M. Harper Producer: Chris Lesser / Union Garage Color Grade: Alan Gordon Sound: Vanessa Upson-Harper Sound Design: Cody Twitchell
*Special thanks to Noah Conopask, Steve and Andrea Kuperschmid, and the DeVito family.
Additional Footage Courtesy of Molifilms / Oil In the Blood