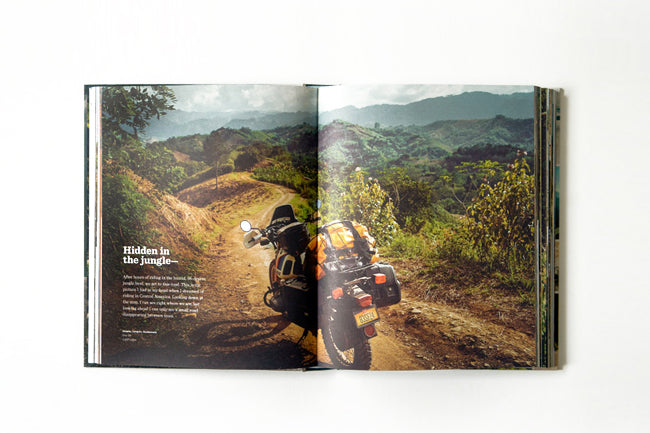 The Quarantine Care Pack
Books, Magazines, Maps, and Movies. Here's how we're getting through the lockdown.
*The retail showroom remains temporarily closed, but our online store is soldiering on. We are shipping orders daily from the stockroom and our staff is standing by to help you shop from home via our new Live Chat feature, over email, or by phone.
What we're Planning:
Motorcycle Road trips are integral to the DNA fo Union Garage, and nothing says road trip like a good old fashioned map. We're happy to have the entire catalog from Butler Maps on hand, just waiting to to ship out. 
These motorcycle specific maps chronicle the best roads and off-route tracks from coast to coast—and there's never been a better time to start planning your next trip.
Unfurl one of these beauties and start tracing your next adventure—lIterally, with your finger, at the kitchen table. Go ahead and put your coffee cup right down on the map while you're scheming, each Butler map is waterproof and tear-proof. They can take some abuse.
And if you're planning to tackle a Backcountry Discovery Route this year, now's a great time to stream one of the BDR's how-to stage-by-stage documentaries that it uses to promote and educate riders on each of its 10 on-road/off-road routes—including the 1,350-mile Northeast BDR, which is now available at RideBDR.com/NEBDR for live streaming. New Yorkers can jump on this route just by jetting up the Taconic Parkway to Hudson, NY.
Dunno about you, but come July we plan to be on dirt somewhere In Vermont heading towards Maine.


What we're Reading:
Sometimes you've just gotta turn off the screen(s). Here's an analog 4-pack of ideas for surviving the next few weeks indoors.
Lone Rider is the memoir of the ever-loving badass Ms. Elspeth Beard—the first woman to circumnavigate the globe by motorcycle. The sheer audaciousness of her trip is matched only by her humility in the retelling of it. She's so down to earth and matter-of-fact about her expedition—which almost killed her on several occasions, that it  almost lulls one into thinking it was no big deal. Make no mistake: it was a big deal, and her book Lone Rider is worth every penny of it's $20 cover price.
Two Wheels South strikes hardcover coffee table book gold with 300-some-odd pages of photos and take-home tips on how to pack, ride and survive a trip from Brooklyn to Argentina.
Total Control Training - The promise of this book is simple and substantial: "to significantly improve your ability to control any motorcycle." Based on the proven techniques of expert coach Lee Parks' critically acclaimed Advanced Riding Clinics, reading this book cover-to-cover will no doubt improve your skill (and safety) on a motorcycle.
Sideburn magazine is ostensibly focused on oval dirt track racing, but you don't need to be a flat track buff to appreciate it. Its interviews, bike features, original illustrations and regular departments like the "Trophy Queen" back page feature all make it exceedingly accessible. Plus they do fun stuff like recreate this photo with a pig from the official H-D archives. Buy Issue 40 if you want to see the original and get in on the joke.
*We're running a "Buy 3, Get 1 Free" 4-pack deal on Sideburn back issues. Just plunk 4 issues in the shopping cart and use the code TURNLEFT at checkout.
What we're Watching:
What do we all have to learn from a 62-year-old motorcycle ultramarathoner from Manchester England? You can decide on your own. But we owe him some gratitude, because Nick Sanders has just provided us with an hour-long rabbit hole to blissfully shove our heads down as we experience his last 5 months criss-crossing continents.
His ultimate goal on this last round-the-world expedition was London to Sydney, but he's just been forced to stop and take an indeterminate intermission because of you-know-what.
He was last seen via Instagram hopping a flight back to England to wait out you-know-what. But not before he released 40+ minutes of media from his trip so far.
For extra vicarious quarantine fun, head to Nick's Blog, scroll to the bottom and catch up reading his "Moments" reports one at a time to get a real flavor for his adventure thus far. With some highlights of characters and experiences that don't make it into the full wrap-up edit.
Anderson is a longtime long-distance man. In 1981 he set the RTW record on a bicycle - in 138 days. Then in 1997 he set the motorcycle record on a Triumph Daytona (19,930 miles in 31 days and 20 hours), and then he set the record again in 2005, shaving his time down to 19 days, aboard a Yamaha R1.
For a quick peek through the wayback machine just check out this clip of him, resplendent in a 1997 wildman mullet and full red leathers matching his Daytona.
For a guy who has evidently been on his bike with his head down, gunning for marathon distance records, and who's written books about the inherent loneliness of his adventures, he's become remarkably adept at poking his camera into folks' faces and getting them to open up. He meets some great characters along the way, and also manages to weave in historical context of the places he passes through, without coming across as overly cheesy or contrived.