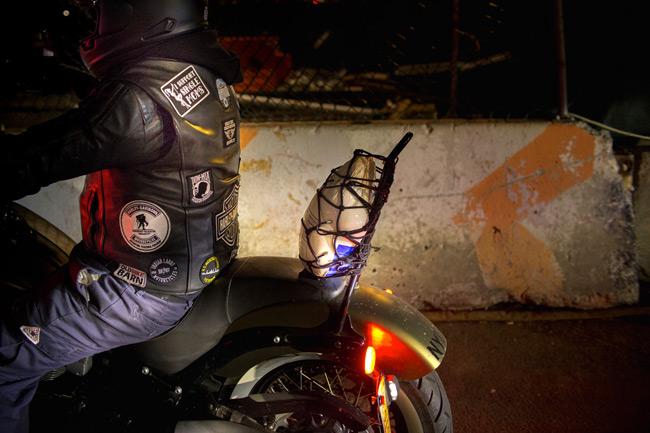 Video: The Union Garage Turkey Run
On the Tuesday before Thanksgiving we strapped 50 frozen turkeys to the backs of our respective motorcycles, and then transported the slippery little buggers over the bridge to donate them en masse to the New York City Rescue Mission.
In 2018 we had 30 riders brave a wintery mix on a cold November night. For the 2019 showing we capped out at 50 people, plus we collected a few remote donations that together tallied some 600 pounds of donated whole frozen turkeys to the Bowery Mission and the New York City Rescue Mission.
In addition to the birds, overflow donations were converted into a $600 check that was passed directly onto the charity. Thanks to Sean from Lobo Brooklyn for letting us take over his restaurant's cooler with 50 frozen turkeys. And to Shmula at Spiegel for giving us a place to gather afterwards.


We didn't plan to make a video production out of the event, but JP Kathoefer (@johnnypuetz) brought his camera. Big thanks to him for joining the cause and donating this video edit; and also to Danny Ojeda (@reel_shooter) for joining in and contributing some additional footage.
And lastly big thanks to the real heroes - the staff and volunteers at the NYC Rescue Mission and the Bowery Mission, who collectively provide 500 meals a day to New Yorkers in need. We're as non-denominational about our charity work as we are about people's choice of motorcycle. To wit, we had every type of bike come on this ride:  a family on Vespa scooters; choppers, big adventure bikes, little adventure bikes, Ducati hypermotards, Bonnevilles—the whole spectrum of New York City motorcyclist.
We didn't expect to get an ad hoc prayer service, but everyone took a moment to accept the gracious thanks that was given. Whatever sect or religion you do or do not subscribe to, the Bowery organization has an unquestionably noble goal of providing basic vital assistance to those in need, and we're happy to have helped organize a crowd-sourced holiday contribution.
If you've got any gas left in the tank this season of giving, consider donating directly. The holiday season is finally winding down but it's still a long winter ahead for those living on the edge.
//
The photo gallery below was donated by Peter Domorak, shot precisely and beautifully as always. Also as per usual: every image below was shot mostly one-handed while piloting a tangerine-colored Royal Enfield through traffic.