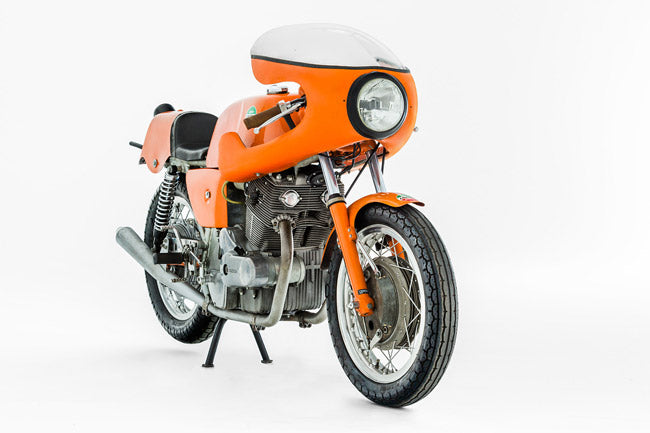 Italian Time Capsule: The 1972 Laverda SFC
What is it?
Meet the 1972 Laverda SFC. Only ever available to racers who were taking it to the track. This bike sat in a private collection in the South of France until it was crated up and shipped to Brooklyn. The SFC moniker stands for
Super Freni Competizione—
freni means brake in Italian, and back in the day having two massive leading-shoe drum brakes was the height of technological innovation. Laverda was so excited about the brakes they named the bike after them.
Hmm. This bike looks familiar. 
This exact 1972 Laverda SFC is in the current August issue of
Esquire
magazine—photos of it appeared both on an inside-cover image and also as a full spread at the start of a feature story about "The New Collectibles." In it, the magazine opines that collecting is about investing in quality objects and "rediscovering bygone bits of quirk." "Sure, collecting is about what appreciates in value," says the article. "But most of all it's about collecting your passions and acquiring an object that, even decades from now, you'll still appreciate and value."
It also may look familiar because it's simply such a primordial and period-correct performance race bike. Those clip-ons's are not an affectation to make it look fast, they're there to help it go fast. Specifically, to get the privateer jockey of this thoroughbred lower and tighter to the tank and shave precious seconds off lap times. This bike doesn't have a vintage electrical tape X on the headlight, but if it did, it would put all other electrical tape X's to shame.
What does the Expert say?
Marnix Van Der Schalk
, the an acknowledged authority on all things Laverda, wrote a 5-page, 5-star authentication report on the bike's pedigree. "Why are they so rare? First of all, these motorcycles were built to be raced and in most cases this is what they did. In 1972 they were raced successfully both nationally and internationally, but in many cases they continued to be raced by lesser gods in the years after." So basically all the 549 bikes of this series were raced to death.
What the hell is Laverda?
You're forgiven if you don't know. It's been essentially defunct for the last two decades. As the British site
Motorcycle News
aptly put it
in a recent brand retrospective: "if Ducati was the two-wheeled version of the 1970s Ferrari, then Laverda was a close approximation of a two-wheeled Lamborghini—especially as both brands got their start making tractors." The high point of Laverda's trajectory came a century after it started in 1873 as a farm equipment manufacturer.
  1976 saw the rise of the triple-cylinder Laverda
Jota
—a direct descendent of this SFC—which was crowned the fastest production bike of the year. To their enduring credit,
Cycle News
actually confirmed that fact in a road test, riding the bike at a flat-out 140mph. After that, Japanese motorcycles took over as Italian motorcycle manufacturing all but buckled and crashed. Today Piaggio owns the right to the Laverda brand (along with Moto Guzzi and Aprilia and Vespa) and is doing nothing with it.
Is this one for Sale?
Peter Boggia at our neighboring shop, Moto Borgotaro, has this SFC in his catalog and it is currently for sale. Here's his take: "This bike is interesting because all early SFC's went directly to the racetrack. Basically you could only buy one if you were a privateer or professional rider. But this one was bought by a woman—the lover (or wife, it's unclear) of a wealthy racer." "Very few exist that have all the original gel coat paint as this one does. This one has every bit of all the original wiring and has every bolt is marked Laverda - which is just a fluke as apparently they had bins of the bolts at one point, but when they ran out, they ran out. Later bikes had some or none of the official Laverda bolts. It also has the original AMAL carbs. The slides have no wear and the bike runs and idles perfectly, which helps authenticate the mileage." Yes it runs. After decades of sitting it only took a few hours of work to fire it up. To boot: the bike comes with every every piece of paper ever associated with it—from the factory certificate signed by Massimo Laverda to the original 1972 registration document from Reggio Emila in Italy.
So what's it worth?
It's worth what someone's willing to pay for it, and according the fact-checkers at
Esquire
that figure is likely somewhere between $85 and $125k. (Which, reality check, is insane). Other objects in the magazine's "New Collectibles" feature include a 1948 Series 1 Land Rover ($90-110k), a 1959 Gibson ES-335 Guitar a la Eric Clapton ($35-45k); a first-generation iPod $500-$15k (?!).
Our two cents.
Stratospheric for-sale price aside, we love this bike because it's such an interesting snapshot in time. It comes from close to the apex of a magical era for Laverda, and motorcycling in general. Before fuel injection. Before the Japanese brands started destroying all comers at the race track. Before disc brakes. Back in the day when smoking cigarettes was still permitted in hospitals and mustaches were worn un-ironically, this bike was the pinnacle of motorcycle go-fast engineering for its time. The coolest part of this Laverda is that it's such a perfect time capsule. It's like it rolled off the track after a race in 1970-something, radiating heat like a furnace and smelling of burnt rubber and oil, and then time stopped. It appears it hasn't been ridden since. There are still specks of once-molten now-hardened race rubber on the fiberglass.
  All these excellent photo take by 
Mr. Ryan Handt.
See more at
MotoBorgotaro.com.