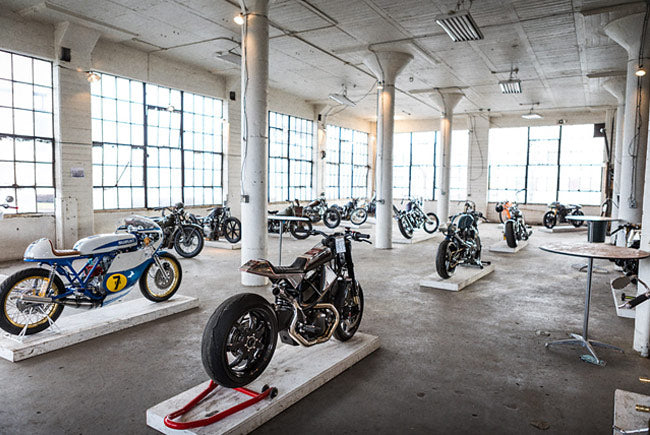 So Much Motorcycle: The One Show 2017
Ground-up custom builds compete for floor space at this unique show with ground-down old originals spanning every decade of the last century. The Vancouver Iron and Steel building in Portland held every type of motorcycle imaginable: choppers, GP replicas, café customs, scramblers, MX bikes, standards. More than one entry defied easy categorization—the mongrel Vespa, that one super strange CX, an electric flat track prototype, Jeff Wright's Kawasaki chopper, Deus/Woolie's Harley-based sport bike, a replica 1920's boardtrack racer powered by a modern single-cylinder Honda engine. Several trophies were doled out on Saturday night, with the highest honor, "The One Moto" show award to the bike best representing the spirit of the show, going to 
Matt Harris's
1923 Harley Davidson JD Salt Flats racer named "Tennessee Waltz" [caption id="attachment_5216" align="alignleft" width="1000"]
Matt Harris of 40 Cal Customs' "Tennessee Waltz" won top honors for capturing the spirit of The One Show. Photo: Ryan Handt[/caption] The One Show is a place where luminaries rub shoulders with high-school teams—them and a half dozen other builders nobody's ever heard but who nonetheless have produced some stellar bikes. And on top of that, there are enough original bikes positioned throughout to serve as a live history lesson in motorcycle design. And that's what collectively makes it such a special cacophony. [caption id="attachment_5221" align="alignleft" width="1000"]
Room to roam at The One Show. Photo: Ryan Handt[/caption] On February 9-11 this 135,000-square-foot factory space saw a convergence of bikes, food trucks, canned beer, gear vendors (
Stylmartin
and
Pagnol
were among those attending), an indoor electric minibike track, a stage with rotating bands and thousands of visitors over 3 days. [caption id="attachment_5218" align="alignleft" width="1000"]
Ad hoc art installations on top of a world class assortment of bikes really makes The One Show sing. Photo: Ryan Handt[/caption] Photographer Ryan Handt traded cold-and-snowy New York for cold-and-rainy Portland, Oregon, to chronicle the show room-by-room, and bike-by-bike. Asked for his favorite bike of the show Handt came back with a list of 20, but the one he couldn't stop talking about was the stretched out custom Harley Kucklehead from Christian Sosa, the Las Vegas based master metal fabricator. "My favorite room was in a northern upstairs corner. It had these huge 20-foot windows and this great light and a variety of bikes, and right down the aisle the one you saw first was the one from Sosa Metalworks," said Handt. "It had a gear-driven throttle system, a shifter made from a knife handle blade, a half leaf spring front end—I mean who does that? All of the time and detail that went into making every inch of that bike was just insane." (
Seriously, though.
) [caption id="attachment_5230" align="alignleft" width="1000"]
The Sosa Metalworks Knucklehead was for many the belle of the ball[/caption] Harley Davidson built the Knucklehead that powers this bike sometime between 1936 and 1947. The rest was wholly fabricated in 2016, right down to the oval tubestock used to build the bike's low-slung frame. Some bikes at the show look like they took months to build, some surely took substantially less effort. Some rode to the show under their own power, a few are questionably ride-able at all. But beauty lies in the eye of the beholder—and there was certainly plenty to behold at this year's show. [caption id="attachment_5219" align="alignleft" width="1000"]
Almost 200 bikes over 3 days along with vendors, live music and minibike races. Ticket cost to attend: Zero dollars. Photo: Ryan Handt[/caption] The One Moto show is a product of the See See Motorcycles empire—which now includes an 
apparel and accessories shop,
a
café
, a
KTM dealership
, and a new
outpost in Reno
. Plus an apparently pretty damn capable event production team. This year's attendance topped 17,000 people over the three-day weekend; plus another 2,000 counted at "the 1 Pro"—a flat track race at the Salem Indoor Speedway Sunday night, about an hour away. Maybe most impressive of all is the fact that the One Show—thanks to righteous sponsors like BMW, Icon and others—has managed to offer all it does absolutely. free of charge. Bravo, See See & Co. Now, see below for a mega slideshow of nearly all the bikes in the building. Give it some time to load... All photos by
Ryan Handt
|
@Motographia.