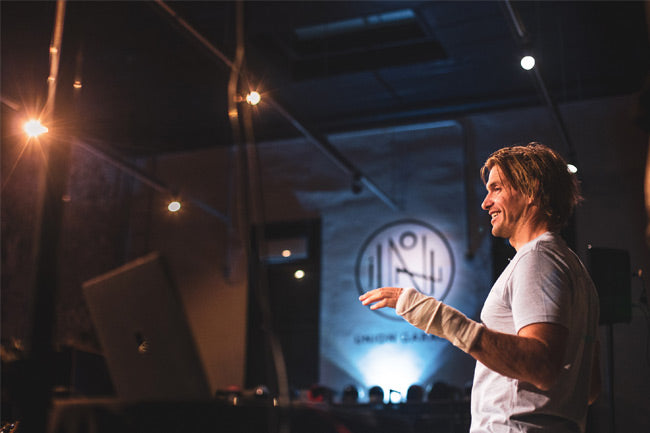 Ride Report Presentation with Lyndon Poskitt
This spring we were happy to host a TED Talk of adventure motorcycle touring with special guest Lyndon Poskitt—the creator of "Races to Places" and a 3-time Dakar Rally finisher. We were so excited for this special guest that we hosted him twice—first on Thursday, March 28, followed by a repeat presentation on Saturday, March 30.
Each presentation consisted of two hour-long blocks—one dedicated to "Races to Places", and one on the racing in general, and specifically on the hardest off-road race of all — the Dakar Rally.
The price of admission included automatic entry to win one of several door prizes being generously donated by our awesome event sponsors (and not coincidentally, co-sponsors of Lyndon's incredible 5-year rally bike campaign.): Enduristan, Klim, and Shoei.

At each of the presenation one lucky winner walked away with a brand-spanking new Shoei Hornet X2. Two more walked with an Enduristan Tool Organizer; and yet two more walked off with Klim Dakar Pro gloves — all gear used by Lyndon himself.

For those who missed the presentation, or who might even want to see it again, Lyndon has put a full video of the talk up on his Patreon page—the crowdfunding site that's helped him ride 'round the world as a self-funded YouTube privateer.




Pledge as little as $1 to sign up to watch the entire two-part presentation at your leisure. While 2.5 hours seems like a lot, Lyndon had no shortage of material. For his next challenge Lyndon is looking to mount a run at the Africa Eco Race—a stage race that traces the route of the original Paris-Dakar rally, which starts January 5, 2020, in Monaco, and finishes in Dakar, Senegal, 2 weeks later. Find out more and support Lyndon on his Kickstarter.


////
Never heard of Lyndon Lyndon Poskitt? You're not alone, but he's worth looking up. We first became aware of Lyndon shortly after he released his absolutely outstanding one-hour Dakar Rally documentary "
Malle Moto: The Forgotten Story.
" What made seeing that powerful short film so special was that right when it debuted Lyndon had gone back to Dakar, and for the 2018 Dakar he one-upped himself by bringing a small crew and producing nearly live 10-minute episodes from every stage of the race.
The net result of Lyndon Poskitt's 2017 and 2018 Dakar campaigns, besides scoring second place in both races, was nothing short of one of the most heroic efforts ever achieved in reality television.
And we've been fans ever since—most recently as Lyndon campaigned across Africa, and there are still episodes being released via Patreon. Being able to binge watch behind-the-scenes Dakar rally racing in real-time? Absolutely Priceless. The t-shirt to pay homage to the effort? That'll cost you $35, while they last. It's a brilliant 5-color screen-print, with another 2-color print on the back with a map of Lyndon's 7-continent campaign so far.


Poskitt is a lifelong motorcyclists and offroad racer who left the safety of steady job in aerospace engineering in 2014 to chase the dream of riding "Basil Bike," his purpose-built KTM 690 Rally Factory Replica, clear around the world. And over the last five years he's done just that. Bravo and thanks for coming to Union Garage, Lyndon. Can't wait for the book release!