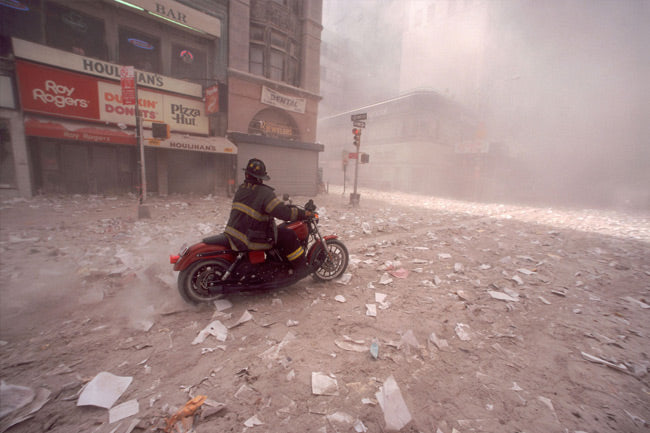 Real American Hero - Photo Fundraiser
The images he shot in the subsequent hours —a reel of which you can view here—offer a powerful first-person account of what it was like to plunge into the dust and terror of that day.
And one image stands out.
[caption id="attachment_8053" align="aligncenter" width="1000"]
NYFD First Responder Tim Duffy on 9/11 - Photo By Allan Tannanbaum[/caption]
It features FDNY first responder Tim Duffy, in full firefighter gear, riding a red Harley-Davidson into a warzone.
Shortly after this photo was taken, Duffy was buried under rubble when the North Tower collapsed. He not only survived, he continued helping others to safety that day, despite the choking toxic dust.
He survived, and so did his Harley—a 2000 Harley-Davidson Super Glide Sport, which he still rides to this day.
Two years ago he even took the Super Glide across the country on a fundraising mission for 1 Soldier, 1 Dog, 1 Team, a charity he founded that pairs shelter dogs with veterans and first responders suffering from PTSD.
///
We're proud to present a special fundraising effort made possible by photographer Allan Tannenbaum, who is offering copies of his iconic photo of FDNY first responder Tim Duffy. [caption id="attachment_8052" align="aligncenter" width="1000"]
Shown here is a framed version of the larger print being offered - 8x12 on 13x19 paper, in a 16x20 frame. All prints will be signed and captioned by the photographer.[/caption] This unframed print is being offered in two sizes:
- a 6x8 image on 8.5x11 paper for $75
- a 8x12 image on 13x19 paper for $150
100% of the sales from this promotion go directly to
1 Soldier, 1 Dog, 1 Team.
Click through either of the images above or
RIGHT HERE
to view the prints in our online store.