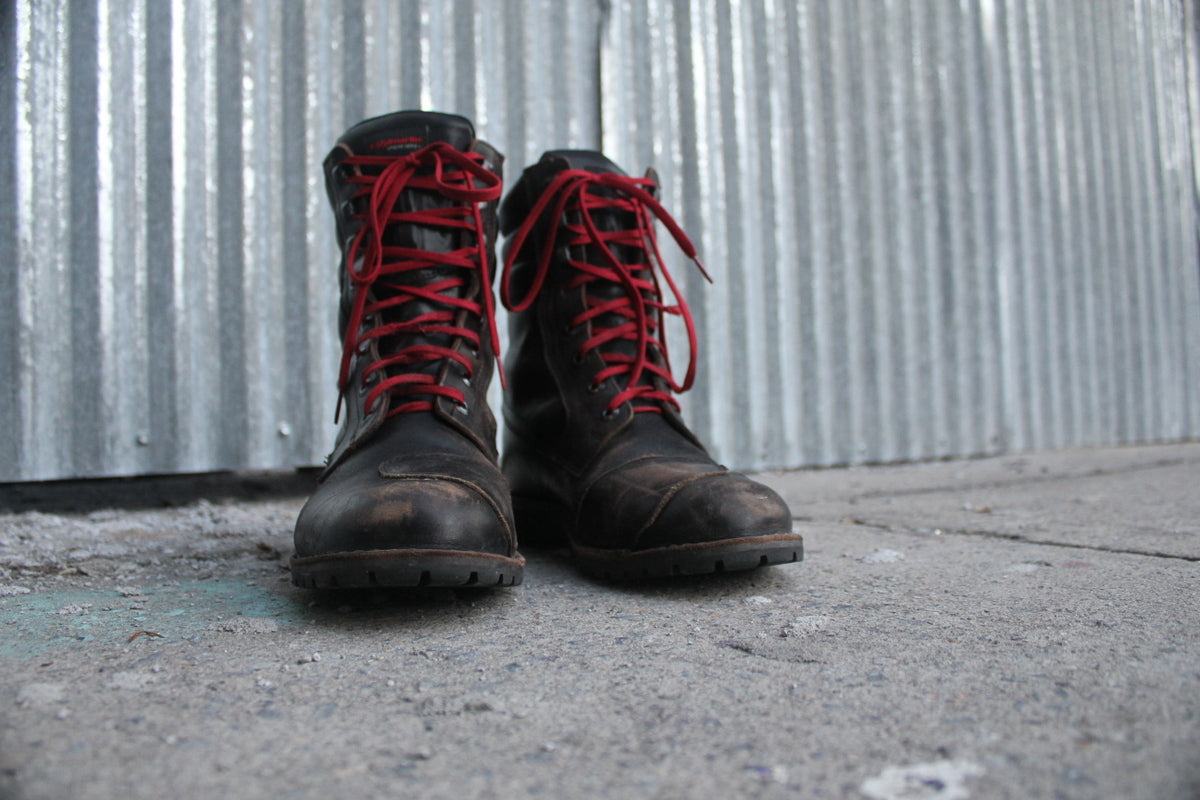 Tested: Stylmartin's New Indian Boots
/// The Good
Like any boot made from sturdy leather, the Indian boots take some breaking in before they're truly comfortable. In fact, the shifter patch flexing into the top of my foot while walking was downright painful for the first few miles. But once broken in the Indians quickly became among the most comfortable and capable boots in my closet.
The oiled brown boots tested here (they're also available in matte black) quickly took on a patina and personality of their own. Thanks to a quality Vibram sole the Indians provide plenty of grip on any surface, and thanks to top-down stitched construction that sole can easily be replaced by any competent cobbler once it's been ground down to nothing. I've worn the Indians for everyday use since last fall. This has included some light construction work, trudging through snow and riding around town. After six-plus months I can report they excel in every department. The toe box on this boot is big enough to make it a sturdy, solid boot, but small enough to easily slip under a shifter. While a chunky work boot might deliver a vague feeling at the shift lever, the Indian boot provides plenty of feedback. Same goes for braking—the sole is aggressive but still thin enough to feel the brake lever. While I've only ever encountered light rain while wearing these boots, plus some  snow and slush over the winter, these boots have never leaked on me. Stylmartin markets them as waterproof—a claim we're always wary of. I can't personally attest how they'd fare while riding through extended rain, or how they'd compare to the gold-standard
Sidi OnRoads
, but we've only gotten good feedback from customers about these boots' water-proof worthiness.
/// The Bad
These boots are great, but they're not perfect. Here are two quibbles worth noting.
More protection please.
It wouldn't take much to insert a thermo-plastic shin plate in the tongue of these otherwise battle-ready boots. Instead, the tongue comes with disappointingly little padding shod in very thin leather. Comfortable? Yes. But not if you catch a peg to the shin. Also, the ankle protection discs, while present, are not as big or as well-located as we'd like to see.
Skimpy laces.
These boots comes with two sets of laces per boot, which is nice and all, but they're all too long and a little too thin. I'd rather see one set of laces that didn't have to be wrapped around the top of the boot, hockey-skate style. One could already reasonably object to having any laces on a motorcycle boot (anyone who's ever gotten a shoelace caught up in a shifter knows what I'm talking about), making them two feet too long adds extra potential for complication. The laces could stand to be thicker, too. I opted for the red laces and brown boots and I snapped both sides after a few months of use.
 /// The Bottom Line
As far as good-looking, comfortable, functional and protective motorcycle boots go, there aren't many options that balance everyday use with real motorcycle-specific features. Even with its minor flaws, the Stylmartin Indian boot is a category winner. The $300 price tag may scare some off (they're double the best-selling $140 
TCX X-Streets
), but the Indians do offer an excellent value. If Stylmartin beefed up the boot's protective features and spec'd higher-quality laces, they'd easily justify an even higher price tag. If you love the casual, classic aesthetic of a handsome leather boot but want something more than the beautiful but—let's admit—rather flimsy ankle protection offered by something like a 
Red Wing Iron Ranger
, then look no further than the Indian.