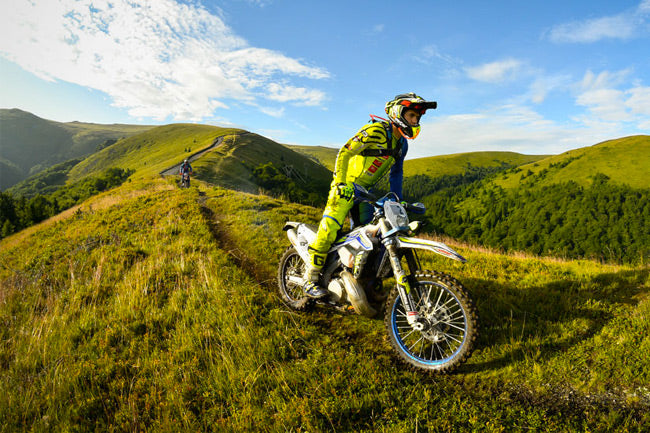 Movie Night at Union Garage
This event is sponsored by the ADVNYC pop-up shop—comprised of Klim, Sidi and Kriega—and if you haven't yet had a chance to come check out the largest collection of ADV gear ever assembled in New York City, don't miss out! The pop-up will be open until at least 10PM on movie night, with representatives from the brands on hand to answer any questions.
Red Bull Romaniacs (Run time: 30min)
First up, a 1/2-hour wrap-up of the just recently completed Romaniacs. This is the most challenging stop on Red Bull's hard enduro rally race series. This 5-day event starts with an obstacle course prologue, followed by four consecutive days of some of the most challenging terrain on earth. Riders tackle between 60 to 110 miles a day through the rugged Carpathian mountains. Now in its 15
th
year, the Romanics showcases the height of off-road riding skill and technology. And with Red Bull in charge of the television coverage, you can bet the half-hour wrap-up will be a fast-paced visual feast—one that you don't have to know anything about dirt bikes or enduro racing to appreciate.
Malle Moto: The Forgotten Dakar Story (Run time: 1hr)
If you've never followed the Dakar Rally, you're certainly not alone. Billed as the toughest off-road motorcycle race in the world, Dakar covers 5,500 miles over incredibly rugged terrain, crossing through three countries over 14 stages of racing. It's traditionally been one of the toughest races to follow, too. But a crowd-funded YouTube privateer is helping change that In 2017 Lyndon Poskitt competed in the harrowing solo category of the Dakar Rally. Called Malle Moto, riders must perform all their own maintenance over the course of more than two weeks of bruising off-road racing. This 1-hour documentary is cram packed with race history and first-hand documentary footage of how brutally challenging the effort is. Lyndon Poskitt has been producing a YouTube show called
Races to Places
since 2013, following a near-death experience and subsequent job-quitting life change. When he's not building performance KTM's under the Lyndon Poskitt Racing banner, he's racing them, and he has made a name for himself by using his race bike to travel overland to far-flung corners of the world. To date Poskitt has covered some 150,000 kilometers and crossed through 50 countries while racing in 5 international cross country rallies. He's currently in Capetown preparing for a cross-Africa expedition.