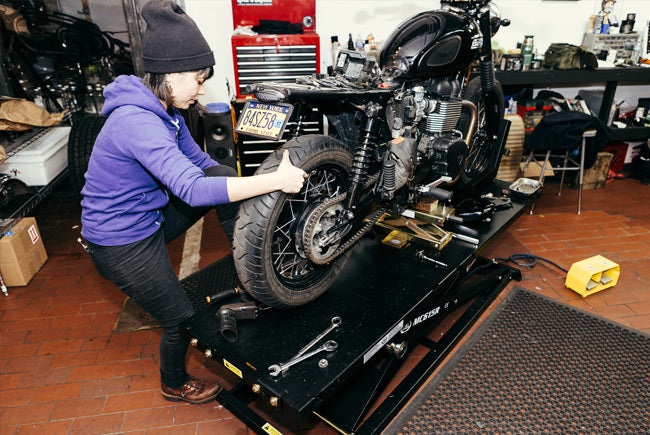 Moto Velocita: NYC's Newest Service Shop
After a decade of experience working in service departments from San Francisco to New York, Kerry Sano also just might be one of the most qualified and professional technicians you'll come across. She recently opened up a shop of her own called Moto Velocita in Bushwick. When Tyler Lunceford of Moto Pistole our former next-door neighbor 
moved to Scotland last summer
, he left behind scores of orphaned Triumph and Ducati owners who relied on him for service work. Nature abhors a vacuum, and while there are other competent shops operating in this same airspace, there seemed to be room for one more. Last fall Kerry began building out her new business in Bushwick, sharing and subletting space from 
Tim Harney
(fabricator, bike builder, worthy future Shop Profile).
  The opening of Velocita traces its origins to a community college in San Francisco 17 years ago, where Kerry was taking classes in Astrophysics ("I was a Space Camp kid") and driving around in an old BMW 2002 that demanded periodic mechanical attention. She took a couple of transmission classes at her school for fun, and a then an automotive paint class. Her instructor encouraged Kerry to apply for a scholarship being offered by NASCAR, which she did, won, and subsequently moved to North Carolina to begin a winding path as a professional mechanic.
"I've definitely had to deal with some hard-charging guys who thought they could intimidate me because I'm a woman. Those guys absolutely make me nervous, but they don't intimidate me."
She prefers to work on more modern bikes—the bulk of her expertise lies with Ducati and Triumph—however with her new shop she is casting a wider net and offering service work on a broad range of bikes. Like Moto Pistole, she'll help take care of motorcycles well out of warranty. And she has enlisted a journeyman vintage Japanese mechanic, Hidetaka Takasaki, to help her in this start-up phase—incidentally, at the same time he's winding down his NYC operation. "Taka," AKA "The Honda Whisperer" according to
a feature in Men's Health
a few years back—has been a fixture of the NYC vintage motorcycle scene for more than 15 years. The former Honda factory mechanic is now preparing to move with his family back to Japan, but until the spring he's working out of Velocita, and imparting some knowledge before he goes.
We caught up with Kerry on her way to the plumbing supply store to get commercial espresso machine pats for 
Tar Pit
, the six-year-old East Williamsburg cafe that she co-founded and now owns outright. Kerry speaks with a measured cadence of someone well-practiced in the art of explaining things in a direct and easy-to-understand way. She answered some questions for us about who she is, where she came from, what her new shop in Brooklyn is all about, and why you can trust her with your motorcycle (and your life).
NASCAR school?
"It was a Chrysler/Dodge diversity program, they had a black truck driver in their race program at the time and they were trying to get more diversity in the sport," says Kerry. "I didn't know anything about mechanics aside from the few classes I took. I had to read an auto mechanic textbook cover to cover before I applied." Kerry won the scholarship and got a full ride to a 1.5-year program at NASCAR Technical Institute in Mooresville, North Carolina. "I still talk to some of my instructors. I met some team owners. I took classes on engine building, diagnostics, troubleshooting, chassis building, learned how to cut out bodywork, rebuild carburetors, transmissions, run a dyno — it was a program to build a race car from the ground up as well as some practical car knowledge thrown in."
Did you try to get a job on a race team after finishing the program?
"I tried. I'd show up, hang out, put in my time," says Kerry. "A few of my friends there did go work for teams, and they were always all these 6'2/250-pound guys—basically the opposite of me." Kerry says she got tired of trying to break into the good old boy network. After a stint as a technician for a privately owned auto garage in North Carolina, and being "flat-out rejected, repeatedly" for jobs with NASCAR teams, she change course and moved back to San Francisco. On a lark she got a job with a Bay Area performance shop that specialized in Ducati and also took in Triumph, BMW and MV Agusta.
How much experience with motorcycles did you have up to that point?
"None at all. But that's when I made the leap," says Kerry. "It was random chance, I had friends that rode, but I still hadn't yet. And I heard this shop was hiring. The boss said 'I like that you're new and can be taught the right way rather than have to unlearn a bunch of bad habits.'" Kerry started off at 
Desmoto Sport
on a trial basis and ended up staying for almost five years—rebuilding "millions" of Ohlins shocks and forks, learning motorcycle engine building, and race prep. "I've built I-don't-know-how-many motors. I wanted to be the engine builder." And of course she started riding. A lot.
So then you were hooked on motorcycles and never looked back?
"Yes and No — after five years there something was missing in my life so I quit and moved to London to go to art school. I lasted a year but couldn't get the student loans to keep going. As a foreigner you had to prove you had cash in a bank account to live there, and I couldn't. Having said that I can't imagine my life without a motorcycle in it. I didn't ride while I was in London but thought about it every day." So Kerry went back to California, bought a purple '97 Kawasaki ZZR600 and took two months to ride cross-country and move to New York. She'd spend the next year looking for a job while stringing together freelance gigs, like after-school science tutoring for elementary kids. "Then I worked in a bunch of different motorcycle shops. I worked at 
Motorgrrl
when I first moved here. Then I ran the service department at Vespa SoHo and after I left there I went to work for 
Ducati-Triumph New York
, where I managed the service department."
Have you always wanted to open up your own shop?
"Not really—a big part of the joy for me is just working on bikes. All the business stuff takes some fun out of it. The mechanics side is what I love. I'm learning a lot from Taka, and I want to start working more on dirt bikes and KTMs. The bike I ride the most right now is a
KTM 690
and I love it." After so many years of working for others, Kerry says it felt like time to branch out on her own. "I could become disillusioned, change careers, or be successful doing it on my own, my own way." And so Velocita was born.
What's your vision for your new shop?
I want to have a business I am proud to be a part of. I want to support the community in a positive way. One of the joys of owning my coffee shop is that it has become sort of a salon or hub for the neighborhood and I love that. There is something so satisfying about being part of the community you support not just being its lord. Although I like to think of myself as a princess....
You already own a cafe and now are starting a motorcycle shop—any thought of combining the two?
"I wouldn't mind having coffee available for my customers, but I don't want to have people just hanging out all day while I'm working on bikes. It can be distracting and when it's someone's life on my lift, I take that very seriously. If the cafe could be in a separate area that might work but at the moment that's not happening."
How is it working in and now running a business as a woman in an industry that skews so heavily male?
"When I was working on cars in North Carolina, I had women who said they didn't want me to work on their cars because 'it was a man's job.' The boss would just say yeah ok, then turn around and give me the job anyway." "NYC is more machismo-centric than I expected, butI think I've been doing it long enough here that in general it doesn't faze me anymore. At first I was so confused. I came here from San Francisco where women were expected to lead the pack on a bike as often as a man. Women owned race shops, women owned dealerships and women rode hard. NYC was so surprised to see me at work in the beginning - test riding anything that came through the shop or working on bikes"
"I've definitely had to deal with some hard-charging guys who thought they could intimidate me because I'm a woman. Those guys absolutely make me nervous, but they don't intimidate me. They are just showing their true colors and that's too bad for them," says Kerry. "Or sometimes people will be emailing with me, and I can tell when they come in or talk to me on the phone that they're surprised by who I am." "Back in 2002 [at Desmoto] some guys would come in and be like, 'oh this is weird,' or they'd just stare at me while I worked," says Kerry. "Over the years it's gotten better. Or perhaps I've gotten better at ignoring it." "I think some people still feel like mechanics are always trying to rip them off," says Kerry. "They see a woman and there is an automatic sense of trust, but also a 'does she know what she's doing?'"
Wait, you're not all trying to rip us off?
"I think that a lot of people assume automatically that if you're a mechanic you're going to lie to them. I like to break down whatever I'm doing down into clear, understandable terms. I send people pictures of their parts. I keep them posted on the job. I'm not here to fool anyone. Communication is the biggest thing I see lacking in the industry." "Motorcycles are a dangerous sport—a dangerous pastime. I don't want to send anyone out with metal-on-metal brake pads. It's not that I'm trying to rip you off, I just don't want your life on my conscience." ///
Moto Velocita is open by appointment at 93 Forrest Street in Bushwick, right off Flushing Avenue about three blocks from Roberta's Pizza. Like all good shops expect Kerry to be booked solid as soon as spring rolls around. And as anyone who's had to wait weeks (or more) for a mid-summer service appointment already knows, the off-season can be the best time to get your bike worked on.
WEBSITE: 
www.motovelocita.com
PHONE: 718-710-0545
INSTAGRAM
@velocita_moto
FACEBOOK
motovelocita1