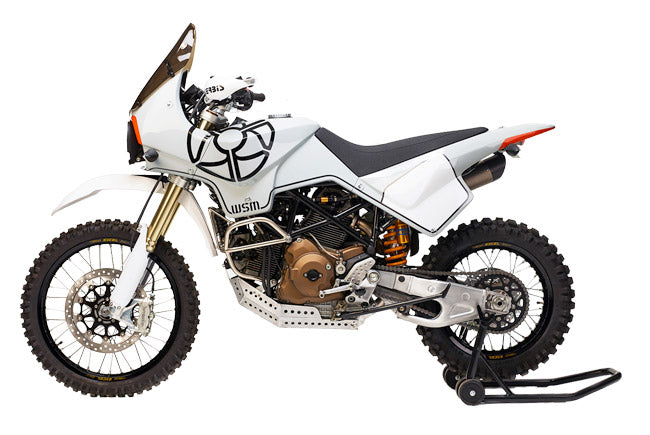 MEET YOUR MAKER: An evening with Motorcycle Deisgner Walt Siegl
This smorgasbord of bespoke motorcycle worship starts with two of the latest creations from Walt Siegl Motorcycles which will be on hand the night of the event.
The first is the WSM's latest series creation, the L'AVVENTURA adventure bike. This absolutely stunning 345-pound off-road machine is powered by a sport-tuned 1100cc Ducati L-twin cradled in a lightweight custom chassis.
The second bike is the latest WSM LEGGERO, which will be unveiled for the very first time on Thursday night. The build was commissioned by REV'IT! and Rizoma USA, and we can't wait to see it, either.
But we're not just going to sit around drooling over these bikes and scratching our heads, we're going to have the man himself on hand to tell us a little about himself, his process, his inspirations and—if we're lucky—reveal some of the secret sauce that makes his bikes so damn desirable. Union Garage's own creative director, Matias Corea, will moderate a live Q&A with Walt starting at 8:30PM.
None of this (seriously, none of it) would be possible without REV'IT! and Rizoma. Not only have these brands partnered to bring the latest WSM Leggero to life, but they've also pulled out all the stops to make this a very special event.
>> Please RSVP to reserve your spot. 
Food and beverages have graciously been provided for by REV'IT! USA. The nominal $10 ticket fee reserves your place, and enters you in the 10PM drawing to announce the winners of over $1,000 in door prizes from REV'IT!, Rizoma and Union Garage.
* Full disclosure, we are blatantly (with permission) stealing this event format from Maglia Rosa, a bespoke Brooklyn bicycle shop that brilliantly pioneered the concept of bringing in luminary builders to share their stories in an intimate setting, over a few cocktails. All due respect goes to our brother from another mother, Maglia Rosa founder Manuel Mainardi!