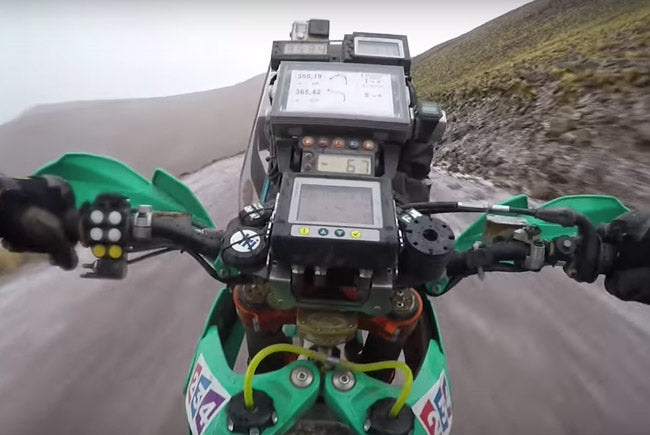 Malle Moto: Competing Solo at the Dakar Rally
UK rider Lyndon Poskitt has been bringing the 2018 Dakar race to the masses by releasing stage-by-stage first-person coverage on
his YouTube channel.
His daily Dakar episodes cover everything from finding breakfast and brushing his teeth to oil changes, suspension setup, and most importantly—the racing.
His first person account really lets the viewer in on what it's like to ride in such a wide variety of terrain, the fatigue of the whole ordeal, the frustration of navigating and hitting waypoints along the way, and the adrenaline of a good crash, of which he's had multiple.
Poskitt is no stranger to moto-blogging—he's been producing an online series called "Races 2 Places" since 2013, which has led him through 50 countries over 90,000 miles on his motorcycle, a heavily modified KTM. Last year Poskitt rode to the start line of Dakar and competed in the race's grueling Malle Moto category—an insane/unsung hero class of solo competitors, who race without the aid of a support team, and must perform all their own maintenance along the way. For a primer,
watch Poskitt's short documentary
 (below) on the Malle Moto class at last year's Dakar. Then jump onto Lyndon's YouTube channel and fast forward through 20 episodes get up to speed. The final stage of the 2018 Dakar just completed today, January 20, and Poskitt won the final stage in the Malle Moto class. Going into it he was 2nd place in the grueling solo category, but we won't spoil it—catch up on the episodes yourself to see if he overtook Olivier Pain, a Frenchman competing in his 10th Dakar, for top ranking in the "Original" class. Poskitt's final rankings really has no bearing on how novel and exiting it is to follow along live on a multi-stage rally. Highly reccomended binge watching! Start Here with the documentary on the "Original" Malle Moto class, then run through the daily updates for a first-person experience that might just inspire you to start saving for a run at Dakar—after all 80% of registrants are amateurs.