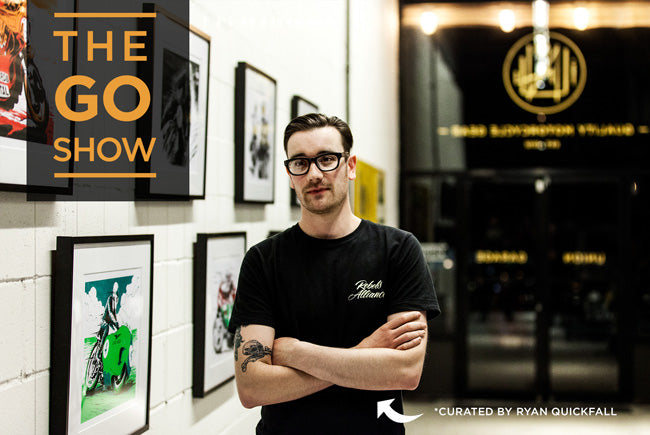 The GO Show: a motorsports-inspired art gallery
The GO Show turned into a strong collection of work from five talented artists—and the store has never looked better. And look out, art world, we even got a 
review from an international arts collective blog
, and a commendation for hanging the work so straight! The exhibition will remain on display at the store through the end of March. Thanks to everyone who came out for the opening, to all the artists who went through the effort to contribute their work, and to patron of the arts 
Sixpoint Brewery
for its continued support of independent events at the store.
Ryan Quickfall is a UK based illustrator and the curator of The GO Show. The four other artists included in The GO Show were the first and only four on his initial list of those we ought to invite—and they all obliged by sending in work for the effort. Quickfall's own work is steeped in B-Movie posters, comic book art, retro skate graphics and absolutely anything motorcycle related. Using his signature style of solid black line work and bold colors, Quickfall's art is readily recognizable in illustration and graphics for apparel lines, branding projects, ad campaigns, event posters and book covers. He's a regular contributor to Sideburn magazine and rides a Survivor Customs Rotax Flat Tracker. "I'm sort of a two-headed beast right now," he says. "I have my commercial illustration work, which is how a lot of people think of me, and how I've gotten to work with some many people. But I'm also spending half my time these days working on my own, without a client's brief to stick to, doing whatever I want." Quickfall says the work of his four contemporaries all are influential to his own work, and this show has given him an opportunity to see some their work "in the flesh" for the first time. "Rachel, Duffy, Christopher—they're all hitting the higher end of the art spectrum. On the other end of that is the illustration side of things, and I feel like that's where Caballero's work ties in with me." "They all have completely different ways of approaching it, but all have a motorcycle theme in common."
Rachel Wolfson Smith left an established track as an art professor to strike out on her own. She traded landscape painting for wild (and sometimes surreptitiously campy) mural-scale graphite renderings of dramatic car and motorcycle crashes that are rooted in themes of emotional trauma, and Renaissance painting compositions. "That goes back to my traditional painting background," she says. "There's something about those really strange renaissance and medieval paintings that was so on-purpose. So thought out." "In the big ones with the really complex crash scenes I find the compositions very regal. If they were in color they'd be neon and pink. But in black and white there's this austere elegance about them—when it's just complete mayhem. Working as a valet in college turned Wolfson Smith into a car enthusiast. It also fed her inate curiosity of people. "You see this person, then get in their car, and you can't help but look for clues. Was it clean, stuffy? Were there French fries on the ground? I swear I never poked around but I'd always turn the radio on to see what was playing." She consciously does not include people in her work because she doesn't want the them to be distracting, and prefers to leave room for the imagination. But she says there are clues in the cars that people drive, or their license plates, and the scenes themselves tell a story. Years of valet work helped her narrow down and later purchase her "dream car": a 1999 BMW M Coupe. She's since sold it, but she still has her Yamaha XT 250. "Motorcycling makes me feel a little bit like a spy.... There's this hyper alertness that takes over and gives you a different perception of things. It's a great observation deck in there." As the artist in residence at the Austin Fire Department Wolfson Smith says she's not certain what direction she'll go in next, but for the moment cars and motorcycles "keep popping up" in her work.
After art school in his native New Hampshire Christopher Myott moved to Boston, where for years he apprenticed and worked as a woodworker while continuing to paint. later he worked on his own, making furniture. It wasn't until he bought an old farmhouse and moved back to his hometown that he began painting full time. His colorful abstracts are easy to recognize. "They're oil paintings but they feel like drawings," he says. I paint a lot of motorcycles because I tend to paint what inspires me. And when I'm excited by something I get completely saturated in it. If it's motorcycles, then I'm riding them, fixing them, painting them…they're everywhere." Art and motorcycles have collided in curious ways for Myott. That might sound like hyperbole, but consider this fortuitous tale of "barn find" begetting art; and vice versa. While helping clean out the old art store he frequented in high school—a local business that gave Myott an art school scholarship, in fact—he discovered an old BMW R27, buried in the back. The owner insisted Myott take it. He brought it home, got it running, and then rode it back to return it to the art store owner. Not only did the old man insist again that Myott keep the bike, he gave him two more old BMW's basket cases. Serendipity struck again when he painted a Walt Siegel motorcycle without realizing that Siegl's shop was nearby in New Hampshire. The artist and the builder later connected, and a whole series of paintings depicting WSM custom motorcycles emerged. In his latest collection Myott has focused on motorcycle settings. "I'm trying to paint the experience of owning a motorcycle, which sometimes means spending more time fixing than riding. That's why my paintings have socks in the setting, and tools on the table: I'm painting my life."
A couple years after he broke out as one of the most dominant new skaters on the pro tour, Steve Caballero bought his first form of motorized transportation: a brand spanking new 1982 Honda MB-5. It produced 7HP from a 50cc two-stroke, and he's been a motorcycle owner ever since. A Kawasaki Ninja 250 followed, and then a 1990 CBR600. Then he slowed it down with a 1963 BSA 650 Lightening, and a 1959 Ariel Square 4, . And then came dirt bikes. "I was a late bloomer—I didn't get into dirt biking until 2001, when I was 35. Skating has kept me so young that in my mind, when I'm on my dirtbike I just want to keep getting faster and keep going." As an artist, Caballero finds inspiration in cartoons, hotrod, motorcycle and pop culture, which he synthesizes into something bold, colorful and all his own. Since he began seriously pursuing art in 2005 he has relied on daily sketches to germinate finished pieces. "I just like being creative and progressing, whatever I'm doing," says Caballero. "Art has been a good way to pursue that—especially when I'm hurt—and skateboarders get hurt a lot."
  The work of Patrick "Duffy" De Armas is influenced by American classic car culture, motorcycles, hot rods, and mid 20th century advertising design. He makes mixed-media collages which layer fragments of various designs on top of one another in the pursuit of building a contemporary understanding of a niche cultures and time periods. Duffy has a chopped up Sportster and an 85 Shovelhead, and an enduring love of the Pontiac Firebird Trans Am, which he immortalized in his "Black Magic" series.
Bonus: see video below.
Duffy sent out six pieces for the show. Five one-off digital prints all embellished with acrylic ink, and "American Comfort," a righteous Firebird Quilt that was part of the Black Magic series. "Using cars as a main subject in my work allows me to connect with the viewer through a topic most of have a connection to. Most people have special memories of their car, their dad had a cool car, or their uncle, the grandparents, their mom, their neighbor down the street when they were a kid," says Duffy. "My works explore several different themes and after a few moments of enjoying the artwork, the viewer can then start to see the multiple layers embedded in the words, graphics, and patterns throughout the composition."
With Support From: