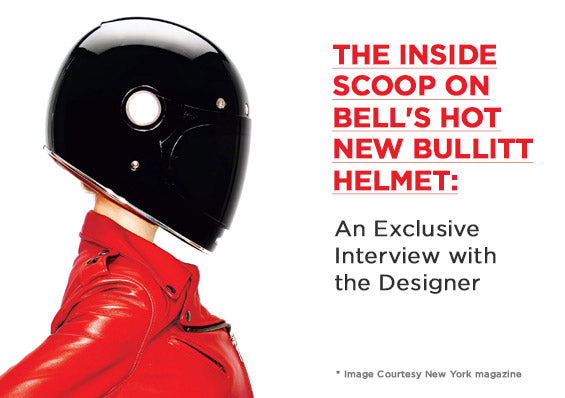 7 Questions for Helmet Designer Chad Hodge
At first glance the Bullitt looks like an NOS Bell Star, but a closer inspection reveals it's a lot more than a relic from the 70's. It come in three shell sizes, sports a clandestine ventilation system with intake and exhaust ports, comes standard with an integrated face shield and has replaceable cheek pads and top liner. And maybe most importantly, it carries both DOT and ECE 22.05 safety certifications. The Bullitt slots into a growing and healthy market of retro full-face helmets. Its most notable competitors are the
$150 Biltwell Gringo
, which came out last summer, and the opulent, oxblood-leather-lined $1,200
Ruby Castel
, which has been out for a year now. Coming in at $399 with an integrated hinged shield included (both the Biltwell and the Ruby come sans optical protection) the Bullitt is frankly a little more than we were hoping for, but well within the fairly priced ballpark. While it would seem that Bell is a little late to the party, keep in mind this is their heritage. What is now known as retro Bell once called their current product offering. Plus, here's a fun fact: The Bullitt has been on the drawing board since 2009. And here's another one: it wasn't Bell's drawing board, but that of an industrial design student named Chad Hodge, who spent half a year developing the Bullitt as his senior thesis, during which time he fabricated a nearly fully functional hand-made prototype. We didn't ask him what grade he got, but he graduated, and was later hired by Bell. In our book, that's a successful proof of concept. But it didn't happen overnight. After school Hodge moved to New York City where he's been busy designing everything from airport terminal installations at JFK to medical equipment, packaging, and apparel. His helmet design worked its way around the blogosphere but nobody who contacted him about producing it wanted to go all the way. Not until 2011, when Bell approached Hodge about picking up the project and developing it into a full production helmet, complete with painstaking safety certifications. Hodge now lives in Brooklyn and works as a product designer for Bell. We caught up with him to find out more about what went into making the Bullitt.
> Let's start where a lot of people are going to start, with the price. What do you say to those who balk at the Bullitt's $399 price tag?
First off, the helmet is polarizing. People either love it or they don't. I get that. As far as the price, I think people see what they think of as a novelty helmet and automatically assume that it was made with that in mind—just some retro novelty helmet without much thought put into it. But the Bullitt is totally a modern helmet by safety and comfort standards. And that's new thinking because it's styled completely different than most modern helmets. It's at the same price point as mid-level-plus helmets. It uses the same head form as The [$399] 
Bell RS-1
, and it has removable cheek pads to get the fit just right. So people shouldn't just look at it as a vintage helmet, it's more of a modern helmet with vintage styling.
> Some people may be surprised—we were surprised—that this helmet wasn't created in-house by Bell. Was it by accident the Bullitt looks so close to the original Bell Star?
The Star was definitely a big inspiration. I studied a lot of helmets from that era and took design cues from things I liked that I thought would work. The Star was the original full-face helmet so it was the one that created that look.  Like all helmets of that time, the form is a simple spherical shape so it definitely looks similar because there aren't a lot of bells and whistles.
> But aren't there some Bells and Whistles built into the Bullitt?
For sure—the four vents on top are supposed to be a play on the old snaps. There is also a magnet on the inside of the chin bar that connects with a leather tab on the shield, so if you run it without the shield you can still keep the helmet's clean lines. I tried to cover every aspect of the design to make it versatile—bubble shield, flat shield, no shield at all with goggles or glasses. And we've got five different shield colors and a ton of color combinations.
> Before Bell called you up you had other offers to produce the helmet, but passed. Why?
Nobody wanted to go all-in and produce a DOT-certified helmet. And that was my whole thing—producing a retro looking full-face helmet with modern safety features.
> How hard was it to make your design DOT compliant and why didn't you also go for SNELL?
DOT wasn't the hard standard to pass, ECE was. It's one of the strictest standards in the world. The eye port has to be a little bigger, and the impact a little more too. You're just massaging until you get it to pass. We had to tweak things here and there to get it just right. Some people are worried about the small chin bar, but it's passed all the impact tests and is solid. We didn't go SNELL because that is usually reserved for traditional street and track helmets and it didn't make much sense to go that route. The DOT/ECE rating is a really good, safe rating so I think most people will be really happy with that. I went to China a couple times during the process and we got the first working prototype a couple months ago, and now it's going to be available in the spring. What's really cool is we kept the final product super close to the original design. It took a lot of work. And a lot of things we did aren't even visible, like different foam density here or there. That's where working with Bell was essential. This is what they do.
> The Bullitt is named after a 1968 movie that, although it stars Steve McQueen, and is of the right era for a retro looking helmet like this, doesn't have any motorcycles in it. Why call it the "Bullitt?"
"Bullitt" has always been my favorite car chase movie of all time. If I were going to name it after my favorite motorcycle chase movie it would have to be "Mad Max," or Goose, the guy in that movie who rides a modified KZ1000. But that just wouldn't be as cool as "Bullitt."
> What's your own background with motorcycles?
I started riding when I was 18 in Kentucky. I bought a Kawasaki KZ750 twin for $400. It only ran when you push-started it, and because I had to bump it every time I ended up not riding it much. Actually it was in such bad shape left it in Louisville when I went to school. After that, I got the XS1100 and I've ridden that year-round since. I was pretty much broke all through college so I just rode that bike constantly. It's been through several incarnations but is pretty well sorted out now. It just looks like shit because it's lived outside for the last 10 years. But I've been slowly rebuilding my first bike and am almost done with it. I'm really happy with how it's turned out.
Ed Note: We can confirm Hodge's 1100 is indeed a street sleeper that goes like stink, and that
the reincarnated KZ750
he's finishing in his shop/design studio in Bed-Stuy, Brooklyn, is going to get some attention once he wraps it up this winter.