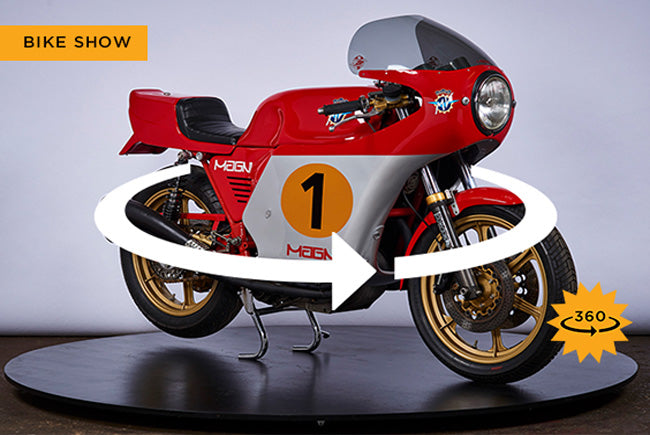 Interactive Motorcycle Show: 70's Italian Sporting Bikes
This one-day motorcycle show was launched in conjunction with a fresh new Alpinestars pop-up shop. If you made it you would have found great complimentary food coming off the grill, icy Aperol Spritzes to take the edge off the June heat radiating off the street, and you'd of course have been able to see these beauties in the flesh. Big thanks to show curator Peter Boggia at Moto Borgotaro for helping establish an outline. If you missed the it make sure to check out the event video by Rob Serrini.
This online version of the show is the next best thing—and in many ways better. Spin the bikes. Zoom in. Read both about the individual bikes and the brands that brought them forward. Use the full-screen option for best effect.
---
---
---
---
Click through the above images for some insight and context into these brands. From there you can bore down to the individual featured bikes organized by marquee, or you can jump directly to the bikes from here.
After a decade of working for Ducati, patiently waiting, Taglioni was finally able to put his beloved Desmodromic system into a production bike with this: the 350 Mark 3 Desmo. The bike first debuted in 1968 and would see the company into the 70's, where in 1972 a variation of this basic engine design would win famously at Imola under Paul Smart.
This "silver shogun" 350 Desmo production model produced just 27hp, but the megaphone exhaust was a popular upgrade to gain a few extra ponies. For the discerning Italian motorcycle enthusiast looking to zip smartly along country roads with full use of this plucky 350's extra-wide power band, the Desmo 350 was just right. That it had the same silver-flake finish as the Imola-winning 750SS made it all the sweeter.
---
The 750S was the second big twin Ducati put out after introducing the platform in 1970 with the 750GT. That first "Gran Turismo" model was more restrained in its styling, available in either solid red or black, came with upright bars for a comfortable riding position, and a decently sized pillion seat. The 750S got none of that nonsense—bright yellow paint, a humped solo seat and low clip-on handlebars. And in some rare cases, sort fairing and a Z-stripe paint job.
---
Based on Paul Smart's Imola-winning bike of 1972 (and Bruno Spaggiari's identical second-place bike), only 401 of these street-legal "Green Frame" unicorns were ever produced. In its day this bike was a revelation—sporting Desmodromic valves, an incredibly stiff chassis that used the engine as a stressed member, dual 18-inch wheels, and triple disc brakes. And of course, the famous green frame scheme.
---
The 900SS Desmo was a direct response to the latest crop of superbikes from Suzuki, Honda and Kawasaki that were sweeping podiums by the mid 70's. Seeking to juice the lineup after its disappointing 860GT, Ducati equipped this big 900SS with a sexy, swept-back fairing, sporty solo seat and Desmo heads.
---
By the mid- to late-70's a decisive trend was driving motorcycle styling towards more angular fairings and bodywork. In this way, the Darmah was a big departure for Ducati, and it was well received when it was introduced in 1977. That it had a tiger painted on the side cover didn't hurt.
When Mike Hailwood signed up to ride a specially prepared Ducati 900SS Desmo at the 1978 Isle of Man TT, nobody gave him much of a chance. Although highly decorated from a successful racing career that he'd started as a young child, Hailwood had burned out a decade earlier, and hadn't been on a bike since.
---
The Laverda SFC was a very special bike and remains so today—it's clearly the most sought after of all the 18,500 twins the company produced in the 70's.
---
The Laverda SF's moniker is Italian for Super Freni, or "Super Brakes." Laverda originally developed the dual leading shoe drum brakes for the first SF series in its own factory—a rarity when most other companies were outsourcing such components. Later it would sport dual discs and be known as an SF2.
---
In 1976 Laverda produced a high-performance version of the triple-cylinder 1000cc platform it had introduced a few years prior. To combat increasingly stiff competition from a gang of new Japanese multi-cylinder superbikes, the spiced-up Jota (named after a fast Spanish gypsy dance in triple time) got wider racing cams, bigger carbs, a close ratio gearbox and a modified race exhaust.
---
This is the second incarnation of the same basic 500cc-twin platform Laverda introduced 3 years prior. That upright model, the Alpino, suffered from dowdy styling and a high price tag.  Enter the Montjuic, named after a road race circuit in Barcelona where Laverda had racked up a number of victories, the bike was recast as a spunky race replica and it quickly outsold its pokey predecessor 3:1.
---
This very first 150 V7 Sports issued by Moto Guzzi came with striking lime green bodywork and frame highlighted with a bright red paint job. Love or hate the color combo, the Telaio Rosso was deliberately hard to miss.
---
After the colorful debut of 150 first-edition V7 Sports (the Telaio Rosso Edition), Guzzi went on to sell about 3,500 standard models over three years of production. While these bikes might pale slightly in comparison to the hopped up "red-frame" edition, the real comparison should be made to Guzzi's outgoing loop-frame, 700cc V7 Special that the V7 Sport was brought in to replace. More than just picking up 50cc's and 10 horsepower, the V7 Sport really represented an entirely new motorcycle.
---
If the V7-Sport is where the legend of big, fast, rock-steady Tonti-frame Moto Guzzi V-twins began, the bikini-clad 850 Le Mans is the genre's ultimate culmination.
---
The Ducati Story — Ducati 350 Mark 3-D (1968-1972) Ducati 350 Desmo (1971-1972) Ducati 750S (1972-1974) Ducati 750SS (1973-1974) Ducati 900SS (1975-1982) Ducati Darmah (1977-1982) Ducati MHR (1979-1984)

The Laverda Story — Laverda 750S (1969-1970) Laverda SF (1970-1976) Laverda SFC (1971-1976) Laverda Jota (1976-1983) Laverda Montjuic (1979-1981)

The Moto Guzzi Story — Moto Guzzi V7 Telaio Rosso (1971) Moto Guzzi V7 Sport (1971-1974) Moto Guzzi 750S (1974-1975) Moto Guzzi Lemans 850 (1976-1978)

The MV Agusta Story — MV Agusta 750S (1971-1974) MV Agusta 750 America (1975-1977) MV Agusta Magni 861
Bonus: The Benelli 750 Sei //