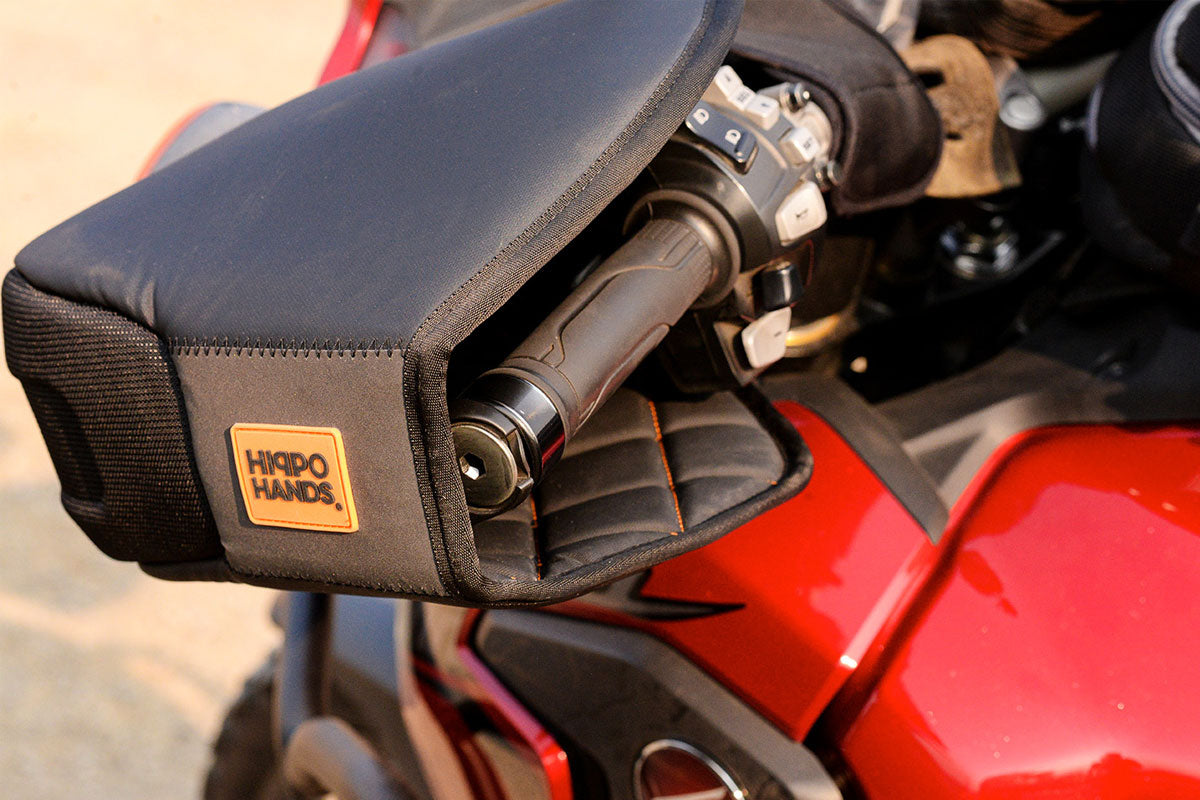 Hippo Hands: A Secret Weapon To Win At Winter Riding
Hippo Hands is the maker of the original motorcycle hand cover. With roots going back to the 1970's, when founder Craig Vetter (of fairing fame) first duck-taped his sleeping bag around his handlebars during a particularly frigid ride.
Thoroughly modernized, the new lineup of Hippo Hands fits a wide range of motorcycles and riding styles, and we've just added the whole Hippo family to our shelves.
Functionally, the new Hippo Hands have molded outer panels for better structure, 3M retro-reflective panels, plus of course insulation, and waterproofing. These best-in-class hand warmers are great for anyone looking to expand their comfort zone and ride safely and comfortably through the shoulder seasons.



The new Hippo Hands Backcountry model was designed for Enduro and dirt bikes but will work on pretty much any motorcycle out there.

For New Yorkers in particular, let's address the elephants in the room.

First is this the ultimate dorky motorcycle accessory? Yes. Loud and Proud.

And second: Does your experience with hand covers on a motorcycle start and end with seeing countless homemade versions, often made of recycled gallon jugs, taped to the handlebars of food delivery bikes and mopeds? Probably. 
But the more important question: Is this the best way to keep your hands warm, dry, and comfortable while glibly riding earlier in the spring and later into the fall and winter than you'd otherwise be able to manage? Yes.


The "Duc" model from Hippo Hands is designed specifically for Ducati Multistrada and Hyperstrada models with turn signals integrated into their handguards.
Clearly, this product category clearly isn't exactly rocket science. Block the cold and wind and rain from hitting your hands, and your hands will stay warmer.

Hat's off to Hippo Hands for honing this otherwise crude product category into a refined product lineup that installs and removes easily, and does what it sets out to do. No milk jugs or duct tape required.

The mid-sized Hippo Hands Rogue model provides ample protection from the elements while still allowing some freedom of movement for standing on the pegs.
 
Hippo Hands has a four different models that fit a range of bikes. The Alcan, optimized for BMW GS bikes and the like, is the deepest in the range, with a full 12 inches of coverage going all the way up the rider's forearm.

The slightly smaller Rogue model by comparison is just slightly smaller, offering 10.5 inches of hand-swallowing depth, and may be slightly be better suited for riders who spend a lot of time on their pegs and working through a rider range of motion.

The smallest and most minimal of the lineup is the Backcountry model, which is shallower at 9-inches-deep than its bigger brothers is best suited for naked standard bikes, such as the Ducati Scramber, or lighter-weight dirt bikes, where the rider will be moving around the bike to keep control of their bike on a trail.

Last, Hippo Hands offers a Ducati Specific "Duc" model for Ducati Multistrade and Hyperstrada owners. The Duc model features transparent paneling that lets the factory hand guard indicators shine through

*Note: Hippo Hands strongly recommends the use of factory or aftermarket hand guards to help support its product. We've sourced an easy, universal, and affordable aluminum handguard that's easy to pop on and off almost any motorcycle.