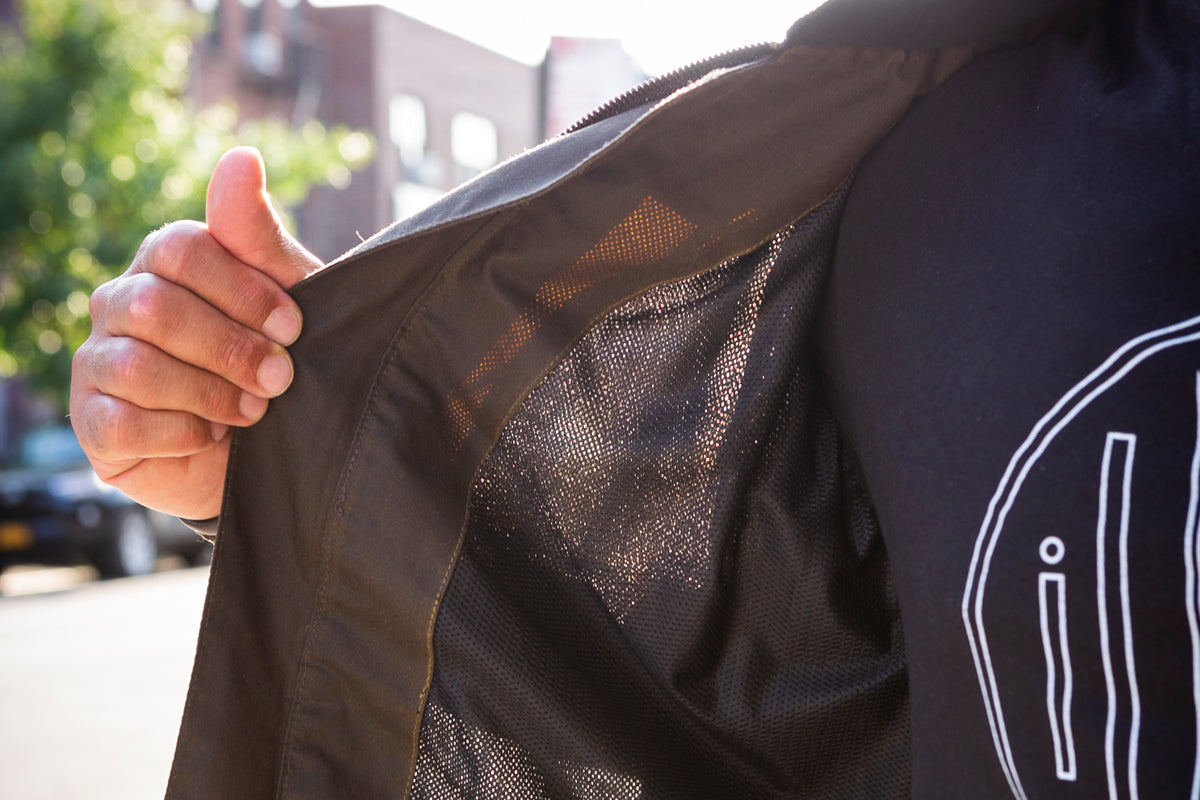 Gear Guide: 10 Best Summer Jackets 2022
Ventilation: Get Some. 
Riding in the heat of summer (AKA, sitting on a running engine in the sweltering sun) can be a huge drag if you're not getting proper airflow.

The natural survival instinct is to ditch the jacket altogether, and achieve instant comfort by wicking sweat away with a twist of the throttle.
But here's the rub: while nothing beats riding in a t-shirt on a hot day, if things go wrong, you can bet they'll go really, really wrong.
Picking out a summer riding jacket is a balancing act of minimizing material and maximizing airflow, all without sacrificing protection. And, of course, when it comes to the style quotient—the goal is to not also sacrifice your own self respect.

Cheap off-brand mesh jackets can feel close to that t-shirt-in-August gold standard, but depending on their material spec, and how well they're constructed, they could melt (yup) or fall apart in a crash. 
We've curated a list of class-leading vented summer jackets from some of the best brands in the business—all in stock and ready to ship.
First up: 7 Single-Layer Summer Specialists
If you're looking to stay as cool as possible, bar none, our coolest-running jacket is probably the KLIM Induction 2.0. Leave for a long adventure on an early summer morning, and this jacket almost lets in *too much* air, so you'll want to plan to layer accordingly and adjust as you go. It's more technical than a lot of our selection, but it earns a place atop our picks here on pure objective observation—this thing flows air like a sieve.

This space-age screen door of a jacket is constructed with liberal helpings of KLIM's "Karbonite" mesh paneling, which is a high-tenacity open weave material that the company claims has a far higher melting point than standard Nylon. The Induction comes with a AA CE abrasion rating, giving us confidence in recommending it as a safe and super functional summer option.
Close runners up include the much more laid-back looking Merlin Chigwell Lite, which is modeled after a classic short-waisted waxed cotton jacket, complete with quilted shoulder detailing, but with mesh paneling in non-essential abrasion zones. It also gets a respectable AA rating.

Also worthy of consideration are any of the REVIT single-layer mesh summer jackets—the urban chic Tracer Air 2 "shacket," the sportier Airwave 3 jacket, and the in-between Eclipse jacket.
All the REVIT jackets above come with a single "A" rating, meaning they're good for relatively slower speed city riding, but not as well suited for highway speeds. For an AA REVIT option, check out the Tornado 3, below.
On the more technical ADV side of the single-layer summer jacket spectrum, the KLIM Baja S4 offers an unparalleled combination of ventilation and protection. The 4-way shell is made up of Schoeller 4-way stretch fabric, the same class-leading Karbonite mesh used in the Induction jacket, and it's studded with abrasion resistant Super Fabric at the shoulders and elbows.

This is the Brass Knuckles of summer motorcycle jackets, and even though it has "TECHNICAL RIDING GEAR" tattooed across the back, it is a badass enough jacket to pull off riding as a city commuter any day of the week. This one is AA rated but probably scores higher than most AA jackets we sell.




The Klim Marrakesh is the most unique of the bunch thanks to its 1000D Cordura 4-way stretch construction. It's more of a super comfortable armored sweatshirt, with outsized ventilation and safety features – each one (as with all KLIM jackets) comes with a full 5-piece D3O armor complement, included. All that comfort and protection (this one's AA rated, too), and it's a dark horse in the summer jacket category. Layer underneath and/or overtop to easily extend this utility piece's seasonal range.

Bonus Round: 3 Vented Summer Jackets with Benefits (Layers)
The 7 jackets listed above are "full-send" summer specialists with no accommodations for encountering rain, or cold, besides what over- or under-layers you might already own.
These next 3 all come with excellent summer performance, but have baked-in extended range by way of a removable liner.

The Aether Draft takes a novel approach to the age-old liner question in that it puts the waterproof piece on the *outside* of the jacket, rather than making it an internal liner, as most do.

 In this case the liner, in classic Aether style, is a low-key seam-sealed over-jacket that can be stowed in a rear rabbit pocket when not in use, or deployed to offer full torso waterproofing, with some nice reflective touches to boot.
Thoughtfully, the outer rain/wind shell even has pass-through protected zipper welts to access the jacket's actual pockets underneath. By configuring the jacket this way Aether is able to maintain a trim cut without needing to account for a puffy internal layer. Plus unlike other options there's no waiting for the jacket to dry out, as it never gets wet in the first place.
Unlike all our other jackets in this gear guide, which are made by companies big enough to have to sweat European safety regulations, the Draft jacket is not rated. We'd guess it's somewhere between A and AA, thanks to generous use of leather at the shoulders and elbows.

The REVIT Tornado 3 and Merlin Shenstone, by comparison, use an internal full-sleeve seam-sealed waterproof liner to keep the rider dry. Aside from that these jackets couldn't be more different.


The Tornado is more of a summertime Adventure jacket, which by definition doubles well as an urban option. It'll take you further into the fall than any others in this shootout because its liner also adds the benefit of lofted insulation.
The Merlkn Shenstone is essentially the same spec as its sibling Chigwell lite, above, except it gets a few more pockets, and also gets a full-sleeve Reissa-brand breathable/waterproof membrane, which zips in or out easily to extend its range in the wet.
 
While putting mesh paneling on a traditional waxed cotton riding jacket is sort of like putting windows on a submarine, we've come to appreciate the compromise of utility and aesthetics that the Shenstone brings. And as always, Merlin delivers a lot of jacket for relatively little coin—this one gets an AA rating, comes with a 5-piece D3O armor set, and with the liner zipped in will stretch into spring and fall—not just summer, where it also excels.
Last but not least: a late-add, with the all-new John Doe Storm perforated leather jacket. Coming in at #11 with a bullet, the Storm jacket flows air as well as any leather jacket we've seen to date. Not bad for an all-around good-looking option with AA-certified protection to boot.