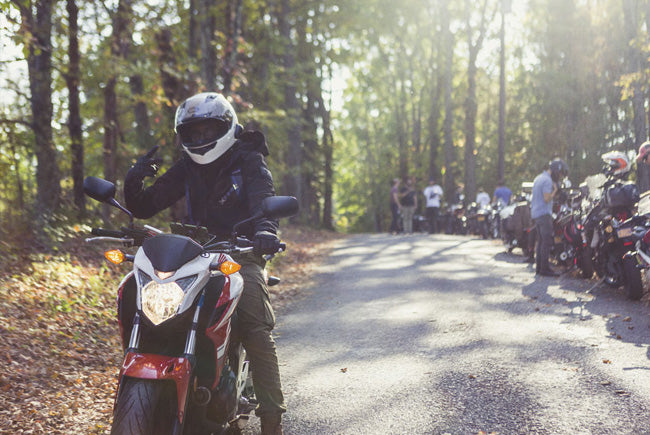 GBGR: Photo + Video Wrap-Up
By the good grace of directer and guerrilla documentary filmmaker 
Roberto Serrini
, who generously donated his time and energy for the cause, we're pleased to present this video wrap-up of the weekend. We also had photographer
Ryan Handt
 posting up along the route. Attendance maxed out at 50, and riders showed up with everything from a 1970 Harley XLH to a 2018 BMW GS. The only bikes we discouraged were Groms and mopeds that wouldn't be able to keep up for the rollicking 400-mile weekend going from NYC to the Catskills and back.
See the gallery above for a general photo overview of the weekend. The short version goes like this: ride upstate, camp, eat, fire, drink, sleep, wake, ride, eat, ride, eat, nap, ride home. The gallery below is of rider portraits of most of the riders on the trip. We missed a few folks, but here's a good representative cross-section of smiling faces.
But the weekend ride wasn't just a hedonistic motorcycle ride focused solely on good times burning premium octane fuel on two wheels and enjoying a few meals with friends. It was all that, but it was also a fundraiser. The net result of the ride was a group donation to the American Cancer Society in the name of Don DeVito. Who was Don DeVito? He was an outsized personality with a storied career as an A&R executive with Columbia Records. Artists he worked with include Bob Dylan, Billy Joel, Aerosmith, and Bruce Springsteen. More importantly, Don was a loving husband, father and a friend to many. And he was the brother-in-law of our good friends Steve and Andrea Kuperschmid. DeVito died in 2011 following a long battle with prostate cancer. Last year we produced a poignant
short documentary with filmaker Jason Harpe

r
 that explored Steve's motivation behind joining the 2016 Distinguished Gentleman's Ride. In 2017, Steve joined us upstate for something a little different.
The weekend excursion collectively raised a tidy total of $5,000 for the American Cancer Society. Prostate Cancer will affect 1 in 7 men, and last year accounted for 26,730 deaths in the U.S. alone. We're proud to say that a full 100% of the funds raised are now earmarked specifically for prostate cancer research.
We'd like to extend our genuine gratitude to all 50 riders who signed up to support this ride. > Huge thanks also to generous sponsorship from
Belstaff
, which matched every individual donation toward our grand total of $5,000. > Another huge thanks to
Chef Ken Aldin
, who donated his backyard as our campground, and his valuable time cooking two fantastic meals for the whole group. > Big-ups to 
Bread Alone Bakery
, too, whose morning meet-up hospitality and donation of much-needed coffee and a delicious breakfast spread will not soon be forgotten! > We'd also like to thank Steve Kuperschmid for helping inspire and support the cause. > And a very special thank-you goes to Carolyn DeVito, who drove all the way up to our campsite in the Catskills to cheer us on. We're already looking to repeat some variation of this ride, so if you like what you see here stay tuned for more. The best way to hear about these events is to follow us on
Instagram
and to sign up for our email newsletter—see the box at bottom of this page.