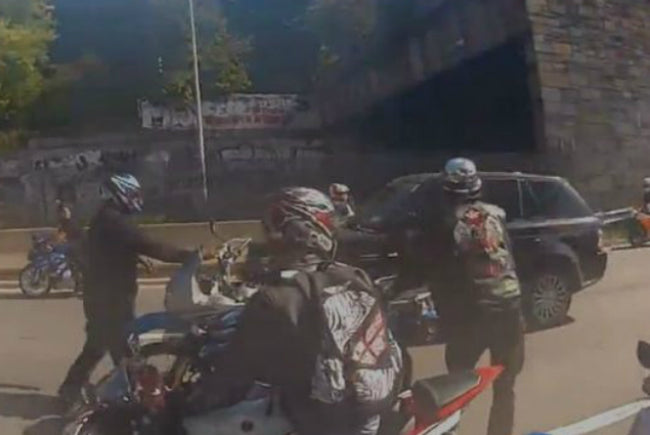 For Shame: The Undistinguished Gentleman's Ride
With blue skies, white clouds, plenty of sunshine and a crisp autumn bite to the air, it was nothing nothing short of perfect fall motorcycle riding weather on the last Sunday in September. And there were two group rides worth noting. First, the 
Distinguished Gentleman's Ride
—an event  in which motorcyclists gather with their bikes for a group ride while wearing three-piece suits, ascots, scarves and other assorted fancy nonsense to ride around their respective cities, en masse. This year a small number of
New York City riders
organized to take part in the worldwide event. Riders dress up, goof off, ride around town and raise money for charity. And they take
lots of pictures
. But there was another group ride in the city last weekend that, like it or not, is going to give all New York City motorcyclists a bad name. This one was organized by a group called Hollywood Stuntz, which has a history of organizing mass rides with the intent to choke city streets with traffic. [caption id="attachment_687" align="alignnone" width="635"]
This moron started the whole thing[/caption] The YouTube video below (which has chalked up 2 million-plus views in two days) shows the unfolding of a deplorable scene. It is unclear exactly how it started, but the video clearly shows a sport bike being ridden by one Christopher Cruz, 28 (who has since been arrested on menacing and other charges) intentionally stopping short in front of a black late model Range Rover. Cruz was one of dozens of riders swarming the SUV. After the SUV bumped Cruz's bike, the massive swarm of riders slowed to a stop, blocking all three lanes of the West Side Highway, with the Range Rover in the center of the angry hive. The SUV was being driven by Alexian Lien, 33, of Manhattan, who had his wife Rosalyn in the passenger seat and his two-year-old daughter strapped into the carseat behind him.
Presumably fearing for his family's safety (a few of the riders that had gotten off their bikes to confront him and some reports say one of them smashed his passenger side mirror) Lien hit the gas and blasted through the group of riders surrounding him, striking at least three bikes and running over at least one rider and and leaving him with two broken legs, and possible paralysis, reports the
NY Daily News
. As the Range Rover sped off the gang got back on their bikes and gave chase. Lien's instinct to run would seem to have been justified. After he was forced to a stop in traffic after a few minutes of being chased, one rider dismounted and tried opening his door while another slashed at his tires. Lien once again stomped on the gas, knocking over another motorcycle in the process. When Lien was finally forced by flat tires and snarled traffic to stop again at 178th street in Washington Heights, four miles from where the chase began, a rider dismounted and used his helmet to smash in the driver's side window while another rider can be seen trying to punch through the passenger window, behind which Lien's daughter was sitting in her car seat. And that's where the video stops.
According to the New York Times
Lien was then pulled from his car and beaten in front of his family, requiring a trip to the hospital to mend the lacerations he suffered to his face. So why are we talking about this ugly mess? First, to state for the record we are appalled by the whole damn thing. Obviously. It all started because this gang was trying to cordon off the West Side Highway so they could have the road to themselves—to pull wheelies. This is the kind of behavior that's given motorcycle riders a bad name, no matter how many of us refrain from wild dog-pack antics. It's also instructive to note the contrast between the two rides that went down in New York last weekend, which couldn't be much greater. Unfortunately the ride that made nationwide news was about a bunch of idiots perpetuating
a tired stereotype
 about motorcycle riders' penchant for criminality. The other story speaks to a whole different trend—that of a massive influx of new riders, many of them young, crazy about motorcycles, and looking for any excuse to go out and ride. [caption id="attachment_701" align="alignnone" width="630"]
The NYC Distinguished Gentleman's Ride last Sunday.[/caption] Sure, the
Distinguished Gentleman's Ride
may seem a bit cheesy—DGR's mission statement says it's "all about classic bikes, laughter and men"—but this grassroots event that just started last year has grown from 64 cities in 2012 to more than 110 this last Sunday and surely more next year. It has been and will be successful because it takes something as inherently silly as a mass motorcycle ride and makes it even sillier. And being able to laugh at yourself is a hell of a lot more inviting than pretending to be an outlaw biker, or worse—being an actual outlaw biker. It's a real shame about the motorcycle riders who harassed, cornered, chased down and violently assaulted Alexian Lien last Sunday.  Hopefully this will all die down soon and we'll be able to make a better name for New York City motorcycle riders. Until then, be sure to have up-to-date registration and insurance information on you as there will surely be a backlash of checkpoints and "safety checks" from the NYPD.