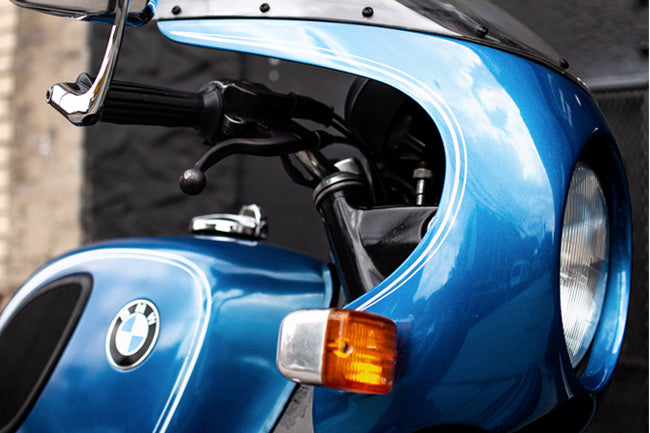 For Sale: BMW 1976 75/6
This beautiful Monza Blue BMW is for sale at the store. It's owned by a longtime friend of the shop who bought it from an estate several years ago. After putting "way too much money" into the bike, and not riding it enough, he has reluctantly put it on the block. This 1976 75/6 came with a sidecar bolted to it, 20 years of dust on it, and evidence of last being registered sometime in the mid 1980's. The bike was brought back to running condition, freed of the sidecar (which has long since been sold), and it's gotten some sensible upgrades to bring it from Barn Find to Daily Rider.
It has new YSS rear shocks, a rebuilt front end, a new instrument cluster housing (with German language dash) and rebuilt internals via Palo Alto Speedometer. Addressing a common bane of these old bikes, it's been fitted with an upgraded Enduralast charging system, and an electronic ignition.
It's got a stainless steel brake line, an extended deep oil pan, and aluminum turn signal pods off an early /5. It came to the current owner fitted with a paint- and Pinstriped matched Monza Blue BMW "S" fairing, with working clock and volt meter installed. The bike comes with factory steel BWM crash bars and luggage racks (installed), and black Krauser hard cases (not pictured). It's got 28,000 original miles and is ready for 28,000 more. True to BWM's exacting original manufacturing tolerances, the bike feels like its got the majority of the power from its 750cc air-cooled twin engine as came with from the factory.
  The bike is due for a top-end re-seal, and the original seat is showing its age, but it runs fine as-is and that can wait until the offseason to address the weeping pushrod tube seals. It starts, idles, and runs great, and it just got an oil-change service and clean bill of health. The asking price: a very reasonable $5,500. The fairing with working instruments alone is worth $1,000. The owner is open to reasonable offers, but would prefer to sell to someone who's going to reseal the top end over the winter end and run the bike as-is. Maybe even upgrade it with a highly recommended 1000CC Siebenrock. It's simply too pretty an original machine to have the fenders scrapped, knobby tires installed, and the engine painted black. If interested, please contact
support@uniongaragenyc.com
and we'll forward your email to the owner.