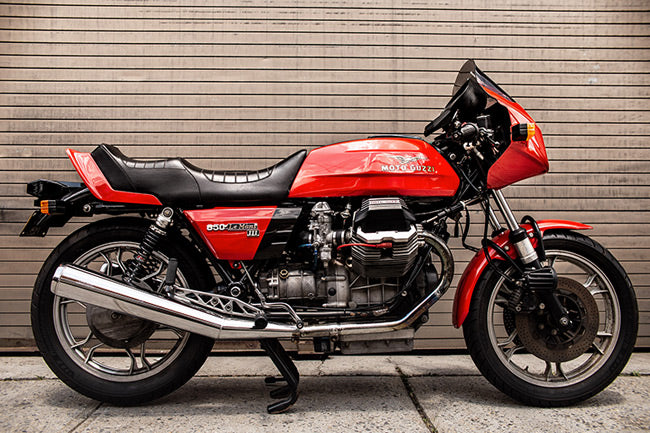 For Sale: 1984 Moto Guzzi LeMans Mk III
A lot has changed in the last 35 years, but this fairly pristine LeMans Mark III has only logged 7,792 original miles since Reagan was in office. As it's been barely broken in, you can expect it to have much of the 75HP it left the factory with.
Despite its lack of miles, it boasts some smart upgrades: > LaFranconi Competizione exhaust system > EnDuraLast 450 Watt charging system > EnDuraSpark electronic ignition > Rebuilt front calipers, stainless steel brake lines > Powdercoated valve covers > Tommaselli clip-ons > Repainted with new decals 5 years ago > Dual Denali LED Auxiliary Lights > New YSS Shocks Rear Shocks. This beautiful red Guzzi is on display at the shop through the month of August. And it's for sale for $10,000.
Yes, the asking price is more than a modern Moto Guzzi V7. But the new bikes only put out some 50hp and are generally anemic compared to this Dellorto Carburetor equipped Italian V Twin. Ride it as is, with or without a mullet, or sell off the pristine fairing and seat and use the bike as a turnkey base for a hell of a custom build. Inquire within, or send an email to support@uniongaragenyc.com.