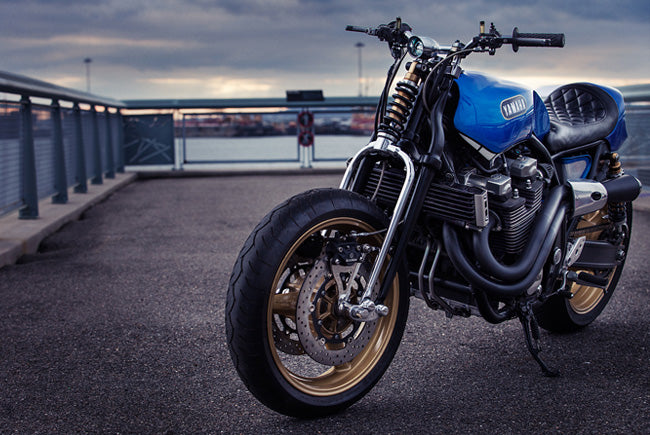 Featured Bike: Keino's Yamaha XJR13000
Custom builder Keino Sasaki has a penchant for Harleys and is maybe best known for the custom bikes he produced during and after working with the late Indian Larry, who he appreciated under before striking out on his own. But that's changing as he continues to produce ever more eye-catching creations from a broader range of bikes. He completed a
solid Triumph Scrambler
a few years back, just put the finishing touches on a
Vincent Rapide
, and last year unveiled this stunning blue Yamaha XJR1300—a bike that came to Red Hook directly from Yamaha as an entry in the company's
Yard Built
custom commission project. Although his very first bike growing up in Japan was a Yamaha—an 80's red-and-white TY125—this in-line four-cylinder behemoth is far outside Keino's regular repertoire. The first thing you'll notice are the striking lines created by a custom tank and tail section, which were hand formed and from stem to stern. But even though the bike looks like it has a factory finish, look closer and you'll see Keino touched almost every part of the bike—custom rear sub frame, custom Brembo brake setup, custom bars, and a custom springer fork (Keino says 30 percent of it is still a stock Paughco springer, the rest was heavily modified).
The dual high-pipe exhaust is custom, too, and perfectly symmetrical form one side of the bike to the other. And the exhaust shields look like cast alloy but in fact are hand-formed steel with a special a ceramic coating designed to minimize heat transfer.
After completing a promotional tour with Yamaha through Europe, and recently taking home best factory custom at the IMS Motorcycle Show at the Javit's center last month, the bike is back in Red Hook and currently in residence at Union Garage until someone buys it and takes it home. Photographer Ryan Handt recently took the bike out for a spin in Red Hook and came back with these stellar images. Plus, we posed five quick questions for Keino.
UG: How's it ride?
KS: Great—it's really powerful, super nimble. The front suspension works really good, even though it's a springer. The hydraulic shock absorber from Works Performance takes the bounce out of it and it's very linear feeling, front and back.
Did you remove the stock Ohlins to down-spec the rear shocks?
I love the look of the stock piggyback Ohlins but I wanted consistency with the new front end, so I got rid of them for Works Performance rear shocks.
How did the springer affect geometry?
It made it a little more compact because there's no offset, but the rake and trail is pretty much the same.  That's why handling is unchanged, but the turning radius is less. The XJR or any modern bike has a really beefy neck, but springers were meant for old school skinny frames. That's the trade off, but I I went for it just for the visual impact. I know that some purists would hate that kind of idea  - instead of going forward, going backwards.
"Some see it as a controversial approach but I don't care. Sure, I'll go backwards. Some people go upside down. I just appreciate it. The whole concept was to go against the grain of what's supposed to be done, what it's supposed to look like."
Where'd the tail light come from?
The tail light is off an old MG. I don't' know the year. I picked it up at a swap meet a long time ago. The one I had was a little cracked so I had to research to get the replacement lens. I really liked the shape—the square cast glass. Whole rear section is basically built around that tail light.
So it's for sale now?
Right now I'm trying to find a home and good hands for it. It deserves to be displayed and ridden. I'd hate to see it sitting collecting dust in my shop. *All photos courtesy
Ryan Handt.