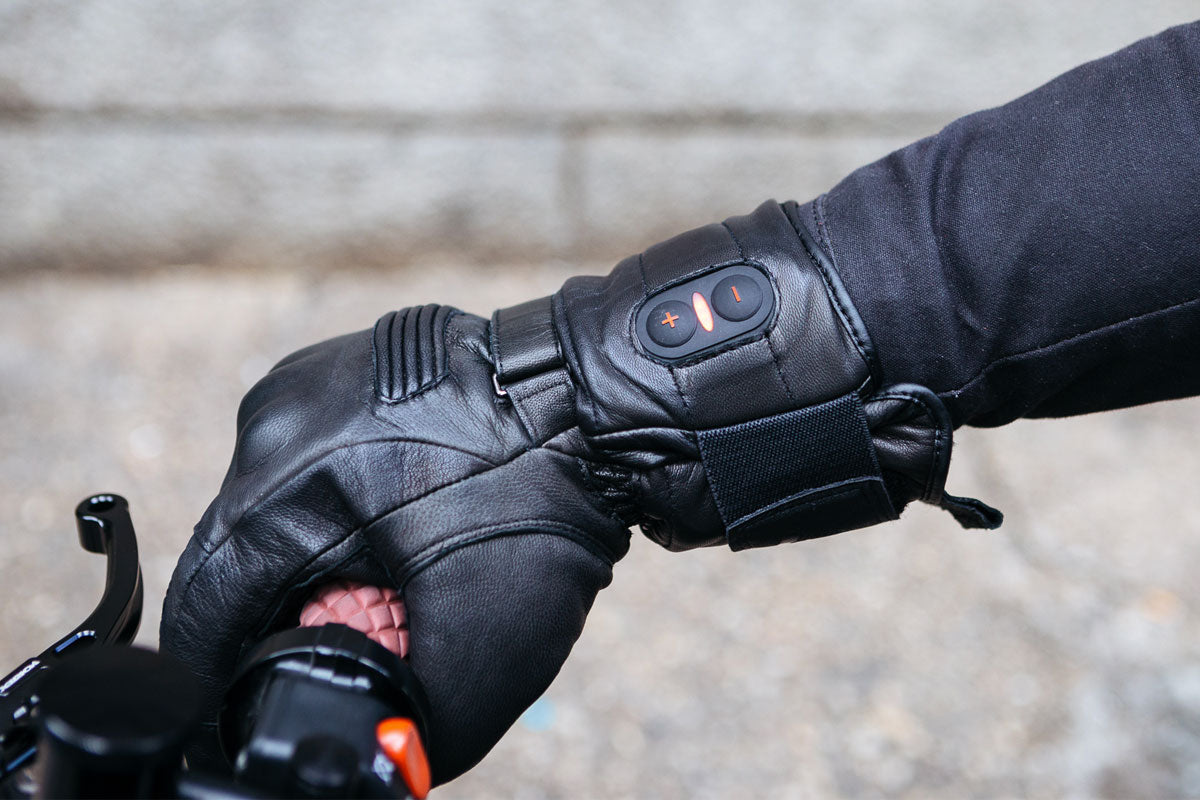 Cold Weather Glove Guide
It's common wisdom among motorcyclists that when the temperatures drop, the hands—always, the hands—are the first thing to go. But with the right gear, the ride doesn't have to end.
We've got a whole gamut of winter glove options to keep you riding year-round, but finding the right solution first requires understanding the problem at hand—Puns!—illustrated here by a wind-chill chart for motorcyclists. 

At the store the process of picking out gloves starts with the same litany of qualifying questions: Where are you riding, and for how long at a stretch? How far into the "off season" are you looking to go? What existing gear do you have, and what's your experience riding in cold weather? And, ultimately, what's your personal pain threshold?
That last part of the puzzle can be subjective and tricky to ascertain. But we've got options to cover any combination of answers.
Depending on what gear you're starting with and how far you're looking to go, we can start adding precious degrees of warmth with simple glove liners. From there we can bump up incrementally through a range of quality options.
// Conventional Cold-Weather Gloves
Our proper winter glove catalog ranges from $99, with the easy to wear, short-cuff Revit Cassini H20, and is bookended by the king-of-the-jungle KLIM Badlands GTX Long (pictured below), a battle-ready winter warrior that's ready for anything. 


As these gloves beef up insulation and girth (going from short-cuff to full gauntlet designs), they become more cumbersome. This is the inevitable tradeoff for staying comfortable on the bike.

If the Badlands GTX is out of your budget, KLIM offers an excellent lower-priced option with the Vanguard Long GTX. This glove gets 3M insulation, a Gore-Tex membrane, and a softer knuckle armor panel. So it's still no slouch, but comes in at a more reasonable price point.




To note: The short version of the Vanguard GTX doesn't make this list because it's not insulated, even though it is waterproof. Still, if you're using hand guards, or have heated grips, it's still water- and wind-proof, and for certain circumstances (eg: shorter commutes) is still a viable "off-season" option, even though its sans insulation.
Shop all Insulated Gloves here, or see below for more crib notes. 
This trio of urban oriented cold-weather options from REVIT (above) offers a great range of choices for urban or lighter-duty around-town riding. They all follow the same "form factor" -- with an armored shell, waterproof membrane, and knit cuff to fit snugly under your jacket sleeve.
The top-dog Kryptonite GTX sports Gore-Tex waterproof credentials and 3M Thinsulate insulation. If you're looking for a more classic leather aesthetic, the Boxxer H20 is worth a look. And the best bang-for-your-buck option is the Hydra H2O line (also available in a women's version) which sports good insulation and a waterproof membrane in a comfortable textile chassis that won't break the bank.
One of Revit's latest urban winter options is also one of the easiest insulated gloves to wear. The Cassini H20 offers a waterproof and lightly insulated option, and is available in three colors—green, dark gray, and of course black.
Also worth considering: Alpinestars Corozal DS (below). The short-cuff Corozal is a waterproof (by way of a Drystar membrane) and insulated sport option that's easy to get on and off and works with absolutely any jacket. 

// Nuclear Options
If you've found breaking point with conventional winter warfare, it's time to consider the big guns: heated gear. 
We have looked at all the various 7-Volt options available, which let the user use an in-the-cuff battery, instead of plugging into their bike's 12-volt charging system. 

Alpinestars makes an inexplicably high-priced $479 option, and KLIM makes a nice Gore-Tex option called the Hardanger -- but that's moot because they're out of stock until summer 2023. We even looked Gerbing's new 7V option, but found it to be extremely uncomfortable, with a ridiculously large battery.

This wide-ranging product survey leads us back to our original and one true love in this category—the Highway 21 Radiant Heated Gloves, which we've been carrying for several seasons now. And as of late 2022, they're now available in a rich brown color option, as well as classic black.

Even without the power turned, on, these puppies are plenty warm on their own thanks to 3M Thinsulate insulation and a Hypora waterproof membrane layered under the full leather construction.
We've found the battery design to be diminutive enough to not cause discomfort, and extra batteries are readily available to extend your range.

As with any electronics, sometimes they fail. Thankfully, the company has supported us quickly with any and all warranty requests. So even when there are issues, we've been able to deal with them quickly and get riders back on the road.

We've also got 12-volt options that let you use the excess electrical capacity being generated by your bike. Choose from the shorter 12-volt Gerbing Hero or the burlier Gerbing 12-volt Vanguard gauntlet.
These 12-volt gloves won't run out of power until you run out of gas, and they can be paired with heated jacket liners and controlled with a dual-zone thermostat to dial in just the right amount of heat to keep you comfortable and in control, no matter how low the mercury drops.
Or use whatever (preferably waterproof) glove you already have, and insert 12-volt glove liners from Warm & Safe, which are cross compatible with our other 12-volt systems and provide a great option for pumping nuclear heat into a pair of quality gloves you already own.
We stock the full range of Klim glove liners, which are logically named for their corresponding level of thickness and girth, from 1.0 to 3.0. Besides the obvious benefit of adding a few degrees of warmth and insulation, glove liners can also actually make it easier to slip on your existing glove, which can get tricky when you're dealing with any degree of moisture and a built-in waterproof membrane.

Besides the Klim Glove Liner 1.0, shown above, which is silky thin and presents the best chance of fitting inside your existing regular glove, we also stock its two older siblings.

The Glove Liner 2.0 features Polartec Power Stretch material that insulates the wearer from the cold while also dispersing moisture across its 4-way stretch fabric. The 3.0 Liner is quite thick, and won't fit inside all gloves, but if you can make it work you'll appreciate the benefits of the Gore Windstopper, supercharging almost any glove into a full fledged winter option.


// RUN  FOR COVER!
Of course one sure-fire way to evade the ugly numbers on the wind-chill chart is to evade the wind altogether. You can do this by leaving the bike in the garage and taking the car or train, or by investing in a surely dorky, but sure-to-work motorcycle hand cover.

We carry the full lineup of Hippo Hands products, which install quickly without tools, and shield your paws from the elements.

The new-and-improved "G3" version of the largest Alcan model now comes with a full sleeve gasket, even further blocking out the possibility of a backdraft.

Even the Hippo Hands Backcountry model, nominally designed for enduro or dirt bikes, will do a great job of blocking the wind, and comes in about 2/3 of the size of the winter-cheating Alcan model.

Depending on how far your'e riding, and whether your bike has heated grips, riding with Hippo Hands means you might even be able to get away with summer-weight gloves, even in the dead of winter.





Questions? Comments? Call or come by the store, use the chat widget on the right-hand side of this page, or shoot us a note at support@uniongaragenyc.com.