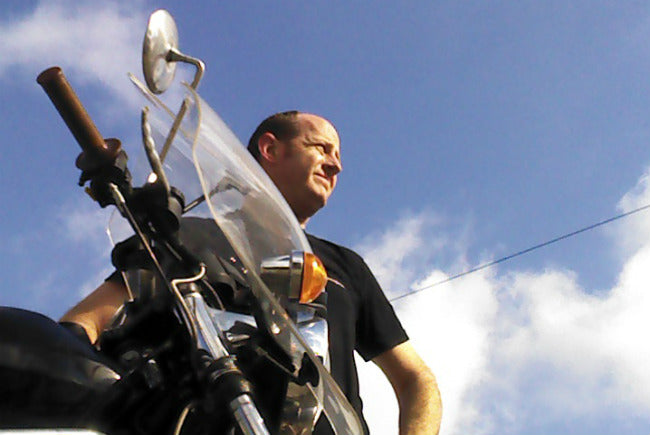 An Open Letter to a Valued Customer
Dear John, We hate you.
In the last couple weeks you've deserted us here in the depths of a Northeast winter to make a run for the West Coast on the trip of a lifetime, solo. You're so selfish. It's too cold to go outside on foot let alone on a motorcycle, but you've ridden so much in the last 10 days you're going to need new tires by the time you get to San Francisco. Sure, you had some unexpected mechanical expenses before you left. But
Moto Borgotaro
fixed you up and now you've probably got the best running Moto Guzzi 850 T-3 this side of 1979. More importantly, you are in the midst of rallying that finely tuned freight train across the country. Do we feel sorry for you? No, John. Sorry. We don't. What's that? You're starting to get road weary? Dude, after 3,000 miles you are as "at-one" with your bike as you will ever be, and you're going to get to ride PCH from LA to San Francisco 
tomorrow
. That's one of the top-10 rides in the world by any estimation. Let's compare and contrast: I'm about to ride a bicycle through the snow to a bodega to buy beer just so I can make myself feel better about not being you. Buck up, Johnny. You're going to survive.
Since you left New York we've been buffeted by sub-freezing temperatures, black ice, and windchills so fierce they cause ice-cream headaches. Meanwhile you've been barreling through the balmy Southern Confederacy and humming along wide-open desert roads in the southwest, catching genuine gumbo in Louisiana and BBQ in Texas. Does your face hurt from smiling so much? Does it?
I know, I know. You had a wet and miserable first few days. Cry me a river. You headed out on a cross-country trip in friggin January, and somehow managed to hole-shot the weather and leave for Virginia on a 50-degree day. Who does that? Oh, and it's been a "working vacation" for you, and I'm sure you're bushed. Must be tough being a brand ambassador for 
Purity Vodka
, where your work is to spread the gospel of  what we'll admit is some damn fine hootch to some of the best bars in cities along your route. You're the Johnny Appleseed of bespoke spirits on a motorcycle trip. What a hard-knock life, you bastard.
John, you were one of our first customers, and now you've abandoned us for a permanent position on the West Coast. You came to us for boots, gloves, rain gear, a helmet and accessories for your trip. You never beat us up for a deal or bullshitted about price. Not once. You helped promote the shop and hell if you didn't get us a little hooked on Old Fashioneds made with 34-times-distilled Swedish vodka. We're going to miss your inappropriate jokes, your stories of crashing motorcycles into taxis and your frequent visits to the shop. We'll also miss your appreciation for quality gear—and your loyal patronage, too. Dammit, we love you John Pomeroy. —Union Garage
As of this writing John has made it to California and is about to wrap up his trip. Keep up with him at Alcoholoracle.tumblr.com