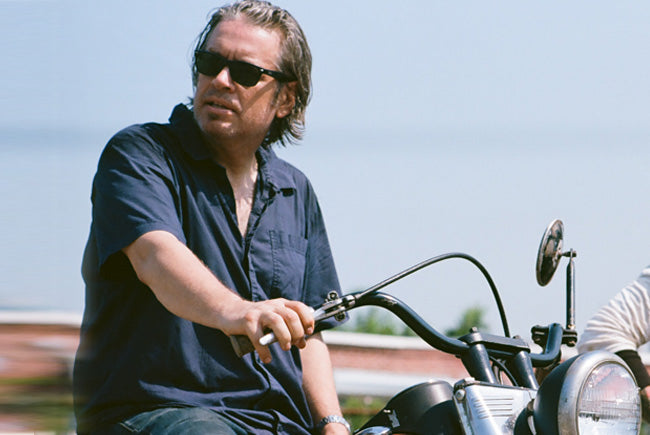 7 Questions for Girard Fox, Organizer of "The Lot" Motorcycle Show
Think of it as an "open invitational" where all are welcome. If you've got a newer bike, there will be ample street parking near this industrial block of Greenpoint. And if your bike rolled off the production line before or around the time of the first Reagan administration, roll right in and put it in the lineup. All pre-1983 bikes are eligible for prime parking inside the lot and will be prizes awarded (including Union Garage Gift Cards and swag from Biltwell) for a variety of categories such as Furthest Distance Ridden, and People's Choice. But for Fox, it's not really about the prizes or awards. Instead, it's about nursing a life-long fondness with all things motorcycle. Hosing a vintage bike show in an open lot is a new format for Fox and Warner, but not their first rodeo. The partners formed
Basketcase Productions
back in 2013 in order to get event insurance for three consecutive shows at
Brooklyn Bowl,
where Fox is the chef and Warner is the GM. [caption id="attachment_5969" align="alignleft" width="1000"]
Poster for The Lot by Daniel Irons, Photo of Girard Fox by James Tyler Reed[/caption] We caught up with Girard Fox to talk about the show and his own vintage bike addiction. But first, as the least self-promotional event promoter you'll ever meet, he merits a proper introduction. Fox got his first bike in 1973, at age 12. It was a plumber's pipe-frame special, with a Brigs & Stratton pull-start lawnmower engine. To get to the jumps where the older kids would take their dirt bikes he remembers riding three miles straight down the train tracks running through his Minneapolis neighborhood. One memorable day a railway worker standing on the back of a caboose fired rock-salt at Fox from a shotgun. "I still can't believe an adult was shooting at a 12-year old," says Fox, mystified all these years later. But it wasn't enough to keep him away from motorcycles. The hook already had been set. In 1980 he got his first real bike, a Norton Commando, and a couple years later at age 22, he picked up a Kawasaki 750 GPZ, which he proceeded to ride from San Francisco to New York and back over the course of 6 weeks. Fox has been a sucker for bikes ever since. And not just one marquee or category—he's a polyamorous motorcycle nut. He's owned Ducatis (a 748 and a Multistrada), a BMW R100 ("modern" when he owned it in the 80's), and as time has marched one way Fox has gone the other—he currently owns three pre-1950 machines, all of them in running condition: a painstakingly rebuilt
1922 Henderson
, a 1946 Indian chief, and a
1949 Harley-Davidson Panhead.
Is it true that you took a decade to build your Henderson in your Kitchen?
Yeah for some of the ten and a half years it took the bike lived in the kitchen. It was all over the house. I'd go to antique swap meet every year, and every year, they'd ask how the project was coming. By the 6th year everyone stopped asking. I stayed quiet about it, too. Then it was a joy in 11th year to ride to the swap meet and surprise everyone.
What took so long?
There are a few people in the world making reproduction Henderson parts, but I wanted to be all original parts. It was truly a labor of love. I started off keeping a log of every penny I spent on the project, but at some point I couldn't tolerate it and threw it out. The actual dollar figure spent on that bike isn't fit for anyone's eyes including my own. But at least I now have a running 1922 Henderson to show for it.
And after all that you elect to race the it on the beach?
Yes I've been racing it at the Race of Gentleman. In fact I still have to clean it for the show. Tim went to the race first and convinced me to do it. I spent a good week going back and forth on the decision. Ultimately, I didn't want to wind up an old man regretting he ever tried this cool event, and now I seem to be hooked. I've never raced anything in my life, but you get down on the beach, and there are 3,000 people with cameras watching, and you realize: '
I have to beat this person
!' I won my first run and it's been pretty infections ever since. [caption id="attachment_5968" align="alignleft" width="1000"]
Girard Fox adjusts his goggles before a beach run on his 1922 Henderson 4-cylinder. Photo: Godspeed Co.[/caption]
Why after three consecutive successful shows at Brooklyn Bowl did you decide to change things up?
After three years I feel like we had said what we could say in the space that was allotted to us. One thing we always loved about it was there was an impromptu outdoor element—a separate show out on the sidewalk. Classic bikes, modern bikes, hot rods. A custom bicycle group showed up the last few years—there's always a real parade out on the street. We always wanted to harness some of that energy. So we found a space where we could throw out the idea of curating and say: 'Everyone with an old bike is part of the show.' [caption id="attachment_5966" align="alignleft" width="1000"]
Girard Fox and Time Warner in front of "The Lot" in Greenpoint that will fill up with pre-1983 bikes this Saturday, 8/19. Photo: James Tyler Reed[/caption]
How else is this year's show going to be different?
Other thing about being outdoors is that we can make use of the space and have some live bands. Even though Brooklyn Bowl is a great music venue, we'd take over the whole space with bikes—including the stage. In this lot we'll have a whole range of rotating bands, and in between we'll have a DJ spinning music.
So who's coming?
Even though it's 4th year, this is our first show of this type. I have a few friends who've said they're coming. We've been putting the word out but we don't know exactly what to expect.
When should people who want to enter their bikes show up on Saturday—2pm sharp? Before?
No not at all, come anytime between 2-6 and find a place. That automatically enters your bike for any prizes or trophies. Otherwise for more modern bikes, hot rods, plenty of off-street parking. On Saturdays it's a pretty vacant area.
When: Saturday August 19, 2017, 2PM - Midnight
Where:

Meserole Ave & Moultrie St

, Brooklyn, NY 11222 
Who: Free and open to the poublic. Pre-1983 Bikes invited in for display
Why: Because motorcycles