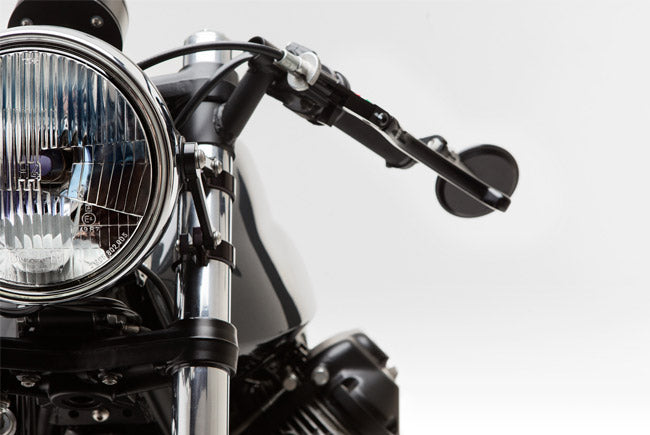 2015 Moto Guzzi LeMans Custom
The custom faceplate on this single gauge echoes industrial designers like Dieter Rams and Dietrich Lubs, who believed in concentrating only on essential aspects of an object, and not overburdening it with anything more. Even the Bauhaus font used on for the two solitary reference numbers rein- forces this ethos, with a mark at 4000RPM denoting the start of the power band, and another marking the end. It's all that's needed, and it's punctuated with the only glimpse of color on the entire bike.
And just as the typeface on the dash has been stripped of any superfluous serifs, the bike itself has been freed of any needless adornments.
*ALL PHOTOS BY RYAN HANDT*
But most of what makes this motorcycle special is hard to see straightaway. The essential lines and knuckle-like motor shape have the same distinctive and striking look as the original LeMans. And that's exactly the point. Although there are no turn signals, the taillight remains. This was a very conscious decision because of what Boggia suggests is the most striking aspect of the whole design.
"It's all about how the LeMans tank runs into the seat and into that particular taillight," he says. "That's what the original designer spent so much care in creating. This isn't a reinvention. There's no chopping and rearranging, because the lines were right on these bikes to start out with. Period."
But underneath that classic iconic silhouette this bike is anything but a stock restoration. Take a close look and see that the lower rails of the frame have been eliminated entirely. It's long been believed that these were redundant members of the famously rigid Tonti frames. Even still, the headstock was reinforced extra trusses were added to the frame for good measure. Cradled in this over-built nest of girded steel is a 1,000cc motor that's been tweaked, ported and primed. Even
its timing chain has been upgraded—the function taken over by precision aluminum gears. Like Swiss watch making, on steroids.
Add it all up and this bike exudes pure power, even while at rest. Roll back the Tomaselli throttle and let it snap back. Here and feel the extra-heavyweight slides moving up and down inside the Dell'Orto carburetors, like the mouths of some great unseen fish mutedly snapping at the surface of a dark pool. Then hit the starter button and roll the throttle back again and watch that black water roil and boil as the Guzzi fires up. Give it gas and its custom reproduction factory race exhaust responds with an angry, unholy roar. This bike has received many nicknames around the shop. Boggia's working name for the bike was Appolonia, after the dark Italian beauty in the Godfather II. It's also variously been called 
Hellsgate
, for how it sounds, and
Black Silk
, for how it rides. High performance ceramic bearings have been installed in the powder-coated original LeMans wheels, as well as in the U-Joint inside the driveshaft. But the real secret in this bike's performance lies is its transmission—a critical ingredient in the overall recipe, says Boggia. Upgraded suspension helps keep all that power glued to the road—with YSS rear shocks and a period-correct Ducati M1R front end with progressively wound springs.
"The LeMans factory racing close- ratio gearbox with straight-cut gears delivers max power when you really want it—on the meaty part of the torque and power band of a Guzzi."
And it stops as good as it goes, thanks to twin 300-milli- meter floating rotors, four-piston calipers and a massive radial master cylinder—all by Brembo.
The bike's custom wiring harness originates from a state- of-the-art German-made Motogadget M-Unit—a widget about the size of a pack of cigarettes that uses micro- processors and self-resetting fuses to streamline design and eliminate traditional relays. And that gauge with the custom faceplate? It's also by Motogaget and in addition to serving as an analog tachometer it'll allow the rider to toggle through multiple displays—speed, distance, rate of acceleration or deceleration, neutral status, oil pres- sure, and more. And those cheesey red dice valve caps? "That's just a nod that with all this high-minded design talk we can't take ourselves too seriously," says Boggia. "At the end of the day these are still just motorcycles."
The LeMans custom seen here is a very functional pattern prototype of a bike that will be offered for sale in a limited-edition production run of just five motorcycles. Each will include a complete warranty and be delivered as-new, with only fresh break-in miles.
See more:
www.MotoBorgotaro.com
*ALL PHOTOS BY RYAN HANDT*