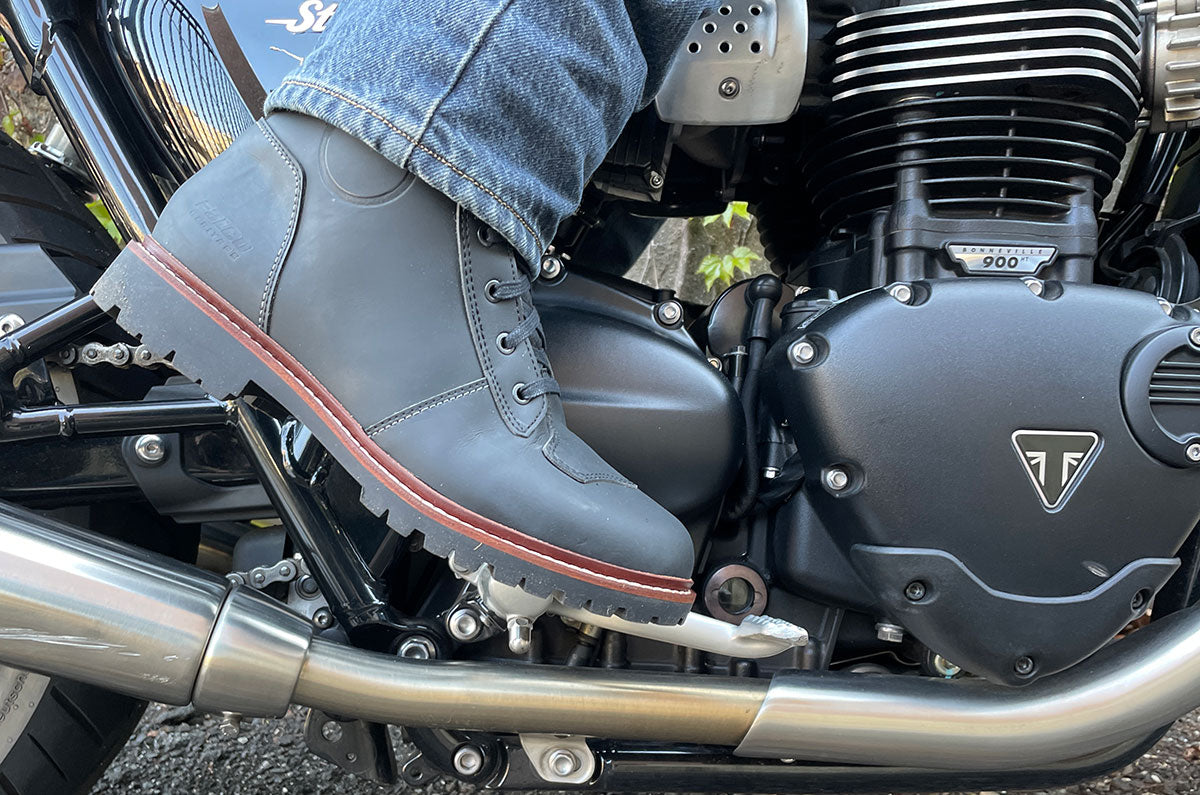 New Boot Goofin'
Our boot catalog just underwent a major overhaul, adding no fewer than seven new models of CE-rated motorcycles shoes and boots.
Plus, we now carry the standout REVIT Arrow summer riding shoe, in all three color combo's.
// First up: Meet Falco
Six of our seven new boot models for the season are from newcomer (to us, and the U.S.) Falco Footwear. WTF is Falco? Great question!
The Falco brand got its start back in the 1990s in Northern Italy—a traditional hotbed of boot manufacturing with deep motorcycle roots.

While the full Falco lineup ranges from European road/touring booties to a couple of taller adventure options, we've found the latest middle-ground, lighter-duty models to be the brand's most interesting offerings.

All new Falco boots come with D3O armor, CE certification for motorcycle use, and are available in-store or online now.

If we had to pick just one, it's hard to go wrong with the Rooster Boot — an Italian-made waterproof and well-protected side-zip that's offered in two colors options, and at a very reasonable price point.


Notably the Rooster's protective toe cap offers more coverage than others in its class by smartly extending a little further down over that 5th metatarsal (pinky).




Other new Italian-made options on our boot shelf include the Nomad, a svelte minimalist urban sneaker, and the Legion boot, a clean and dapper option designed with James Bond in mind.

The Falco Nomad comes in a classic all-black, or a brown synthetic upper version with the same matte black sole.


The Legion boot is distinguished by its lack of laces or traditional side zip. Instead, Falco positions the zipper along the back of the boot, which allows for full-profile ankle armor pucks at both the inside and outside of the ankle. 



We take it as a professional obligation to scold anyone looking to ride a motorcycle in a pair of Blundstones. While undeniably comfy and cool, any boot that can be slipped on that easily will just as easily fling itself ejected from the wearer in the event of an unexpected get-off. We'd rather have your boots stay on your feet for protection than see them being outlined in orange spray paint, 20 yards from the scene of an unexpected motorcycle accident.

The Legion 2 stands in as a paddock-style, minimalistic city boot. Stylistically, it's unlike almost any other boot in our catalog—save for the lace-less Belstaff Duration, which is notoriously out of stock. 


Meanwhile, landing squarely on the other end of the style spectrum, the the Falco Ace comes in like a New Balance on steroids. This novel light-duty option is intended for casual everyday use, on or off the bike.

With high-top sneaker styling cues, a lightweight injected rubber sole, and easy-side-zip entry, the Ace offers something new for the rider looking for a moto sneaker that's as comfortable running stairs as it is clicking through gears.
The Ace (above) as well as the light-hiker Falco Patrol boot, and the women's Viky (pictured below) are made in Falco's factory in Romania.

The Patrol boot is the only new model from Falco that *does not* come with a zipper. This allows for full-profile armor pucks, and (because it's a relatively lower-cut boot) is still easy enough to get in and out of.


A lightweight injected sole makes this well-cushioned light hiker extremely easy to wear, whether walking or riding.

Last but not least, the Falco Viky boot offers a welcome addition to our women's lineup, with a lightweight sole that adds precious extra standover height while still maintaining a slim silhouette.


// Bonus Round: a Breath of Fresh Air from REVIT
The only thing the new Falco footwear lineup is missing is a boot *without* a waterproof liner.
Riding with your knees in the breeze will generally mitigate overheating boots, but for those sweltering summer days, sometimes a little air-conditioning is called for.

Enter the Arrow summer riding shoe - a fully perforated leather summer-specific sneaker from REVIT that's easy to get on/off and wear all day, on or off the bike.




The Arrow is offered in three different color combinations; each of which comes with an alternate color set of replacement laces.

Summer is around the corner and these boots will sell out this season.